The Yongnuo YN433 is a Micro Four Thirds Camera for Live Streaming
Yongnuo, a Chinese maker of lenses, lights, and cameras, has released a new camera designed for live streaming called the Yongnuo YN433.
First spotted on PhotoRumors, the interchangeable lens camera sports a Micro Four Thirds image sensor and runs on an Android operating system, much like Yongnuo's YN455 and YN450M cameras. Unlike the YN455, which features an EF lens mount, the YN433 accepts micro four thirds (M43) lenses.
The Yongnuo YN433 seems to be designed with video shooting and streaming applications in mind, specifically live broadcasting and video conferencing. To that end, the YN433 supports an external USB network card, but according to specifications, the YN433 surprisingly lacks WiFi and Bluetooth connectivity.
The camera includes a full-size HDMI port, a USB-C port, and a pair of 3.5mm jacks. It also has additional USB-C ports for connecting storage devices and power delivery. Per an eBay listing for the YN433, setting up a live stream is straightforward. Users insert a power supply, connect to a computer over USB, press the front-facing mode button until the "UVC" mode indicator light turns on, and then open accompanying live streaming software on the connected computer.
Additional specs describe that the YN433 uses a 20-megapixel M43 image sensor paired with an 8-core 2.2GHz processor. The camera includes 64GB of internal flash storage and 6GB of RAM. Alongside USB-C power delivery, the YN433 can be powered using an LP-E6 battery.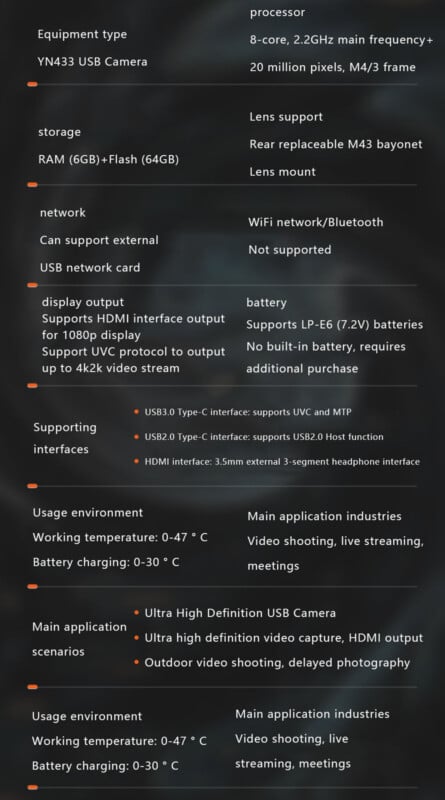 While not explicitly designed for still photography, the YN433 can capture still images and includes built-in modes for time-lapse photography.
As of now, there is no mention anywhere of any autofocus system, so it may be that the YN433 is manual focus only. There are also no video modes, file types, or frame rate specifications provided in the limited information available at the time of publication. Given that the YN433 has the same processor and sensor as the YN455, 4K video is likely capped at 30p.
Pricing and Availability
The Yongnuo YN433 is available through multiple resellers on eBay for $568 as "Buy it now," although customers can also make an offer and try their luck.
---
Image credits: Yongnuo