Yongnuo 14mm f/2.8: An Ultra-Wide-Angle Autofocus Lens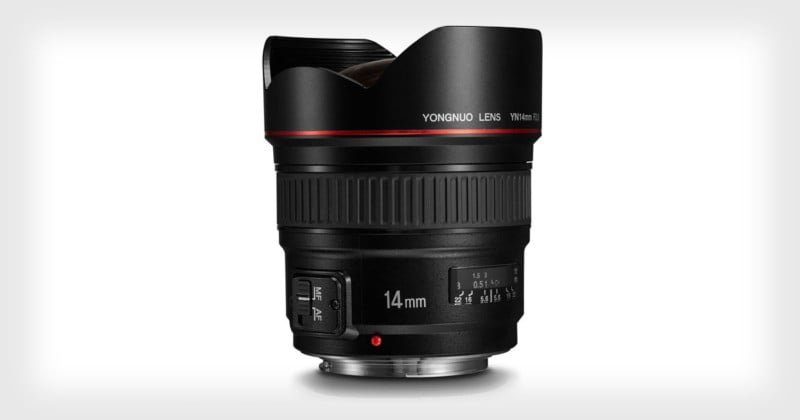 There will soon be a new option for people looking for an affordable ultra-wide-angle lens. Yongnuo is reportedly set to launch a 14mm f/2.8 lens with autofocus capabilities.

Nikon Rumors reports that the lens is coming "soon" and that pricing and availability are not yet known. It'll likely be available for Canon and Nikon DSLRs.
Yongnuo is the China-based camera equipment manufacturer that made camera accessories before becoming known for making cheap clones of Canon and Nikon lenses.
Here's the design of the upcoming 14mm lens and its MTF chart:
The Sigma 14mm f/1.8, Rokinon 14mm f/2.4, and Rokinon f/2.8 lenses are three options that are currently popular among landscape and astrophotographers looking for third-party options. The Rokinon 14mm f/2.8 costs $259 but is manual focus only.
Here are some more photos of the Yongnuo YN 14mm f/2.8:
Yongnuo often quietly lists new lenses and products on eBay, Amazon, and B&H without much fanfare, so keep your eye on those sites if you'd like to pick up this lens.