Lume Cube Tube Light Mini Review: Little Light, Big Potential
Lume Cube has been producing some interesting and creative lighting solutions for both photographers and videographers over the last few years that add an impressive amount of versatility to their users toolkits including the Tube Light Mini. That being said, the question remains that given the number of competing RGB lights on the market, are they good enough, and are they worth it?
In the last few years, we've seen almost explosive growth in the RGB LED Light market, and that's been a good thing as it's pushed the competition to create better, cheaper, and more innovative function, performance, and designs. But as a result, the Lume Cube Tube Lights will have a lot of challenges ahead to stand out from the rest.
Lume Cube Tube Light Mini: Design and Build Quality
Out of the box, I have to admit the little light was quite impressive. The $169 RGB Tube Light Mini comes in at 12-inches long and weighs just under a point (0.75lbs to be precise) making it smaller and lighter than some of the other Tube and Handheld LED lights I've tested over the last few months. Where many of the other lights will have a handle or grip attached to one side of the light that also contains the control panel/buttons, the Lume Cube goes a different route and has the LCD panel and controls embedded directly into the back of the light for a more streamlined and sleek looking design.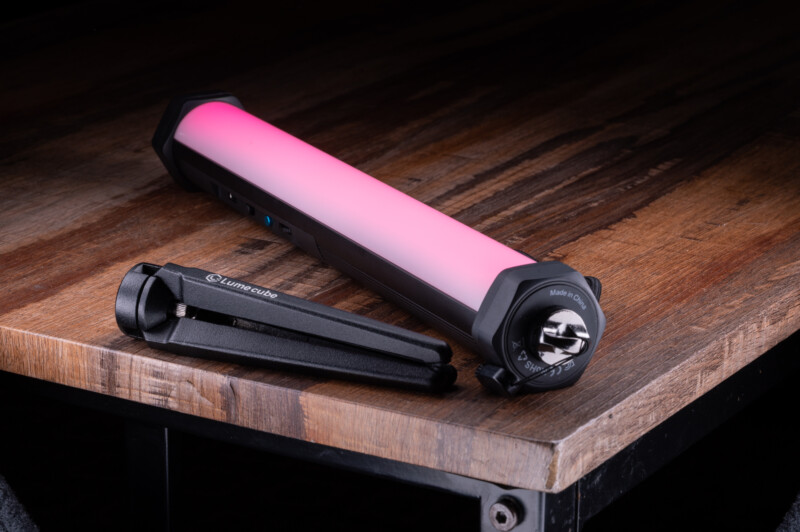 On either end of the tube you'll find 1/4″-20 fixture mounting where you can connect the included accessories (a wrist strap and/or mini tripod) or connect it to any other mount/device that supports that thread size including most standard tripods and light stands.
During my testing of this light, I even connected it to my BlackRapid shoulder strap so I could quickly move around with the light from location to location without having to worry about it being left behind.
The body of the light itself is made from a pretty tough aluminum and is supposedly designed to be drop and shock resistant. I was rather rough with my testing in the dirt and desert in California and I can confirm the light easily survived a few drops and small tumbles into the dirt and rocks without any cracks or even scratches, and yes, it's weatherproof so you can even get it wet without worry. Still, regardless of its ruggedness, you should probably be a little careful with just to maximize its longevity.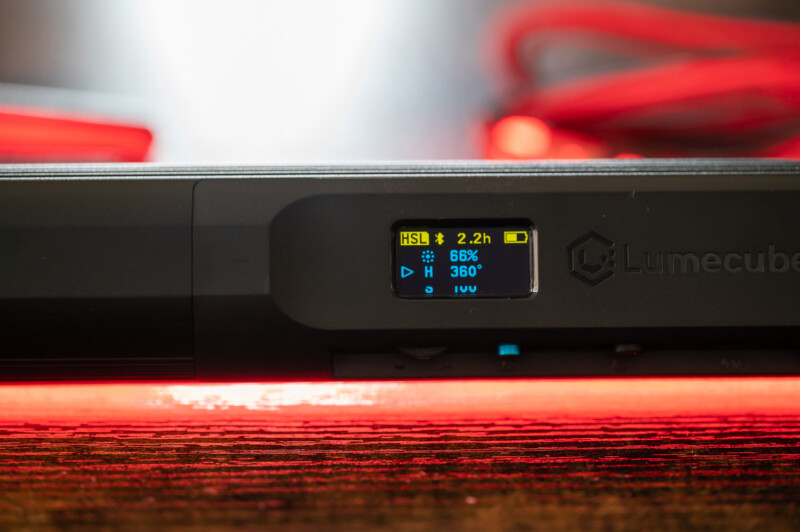 Something that won me over almost immediately was the controls and LCD panel on the back of the light. The LCD Screen was incredibly easy to read and navigate when making changes to the light, and this included a battery read out with estimated battery life left clearly indicated (2.2 hours in the shot just above).
In addition to the easy to read screen was an incredibly easy to use and navigate control situation. Located just "below" the screen is the USB-C port for charging, the on/off switch, a blue "select" button, and an easy to use jog dial/switch for scrolling between settings and values.
Given my frustration over how clunky these controls tend to be in many other lights, using the Lume Cube RGB Tube Light Mini was honestly such a pleasure by comparison. Making quick changes to settings on the light itself was incredibly fast, taking only a few seconds no matter if it was just to adjust the intensity, color temperature, or even hue and saturation levels.
Something I wasn't expecting from this light was an included protective hard-shell carrying case made with a moulded interior that includes a tough rubber covered grip for easy carrying. Inside of the case is space for the light, the usb charging cable, the mini tripod and the wrist strap. The top cover of the case also includes a small elastic mesh which can be used to store additional cables, external battery packs for on set charging, or any other small accessories you may need (and can fit in there) while shooting.
The included USB-C cable isn't very long, but it is made with a durable nylon like protective and durable outer layer for added protection which was a nice touch. The wrist strap was also made with the "parachute cord" like material with an adjustable slider that made it easy to cinch up for extra security whenever you have it strapped on.
The tabletop tripod was honestly one of the bigger surprises for me in this bundle. While they aren't expensive to buy separately, the fact it is included in the base price was pretty impressive, and the tripod itself was pretty tough and grippy with small rubber feet at the ends for slip resistance. The Tripod attaches easily and brings some extra ease of use when shooting products or placing the light in tight or awkward positions (well, vertically at least). Either way it worked quite nicely.
But what about situations where a tripod won't work? In many occasions on set, I've seen lights like these simply taped directly to a ceiling, wall, or pole to hold them into position for a challenging shot. This is where I was kind of shocked at the Lume Cube LED light as the ends are actually magnetic.
As strange at it felt, you could actually just slap the light up against any (magnetic) metal surface and even verticall and it would hold itself up pretty safely.
During a video shoot, we actually placed the light above the subjects for a few scenes using the magnetic mounts, and as long as it wasn't bumped around too rough, it stayed put. If you jostle whatever it's connected to too much though, it will fall off so be aware of that, and should you use this light magnetically mounted, you may want to place a bit of gaff tape around it also, just to be sure.
An additional feature I was honestly surprised to see included in this light, and hadn't seen in many others before this, iss the optional power-bank usage. In a pinch, you can plug another device into the Lume Cube Tube Light and charge it up –like powering your phone.
Mobile App
Finally, while the light can be pretty much 100% controlled through the buttons on the back, it also connects over Bluetooth and can be controlled using the Lume Control app. In situations where you've placed the light in a high or tough to reach position, you can simply break out your phone (while the Bluetooth is enabled) and control every single setting (including powering the light off/on) from your hand across the room.
Pairing the device was fast and easy with controls that are very easy to read and understand on the very first screen. Once you click the light you want to use, you're presented with the battery life information and then the brightness and color temperature slider (ranging from 2700 to 7500Kelvin) with advanced CCT, Hue, Saturation, and intensity controls directly below. This includes a color wheel for fast "approximate" color selections as well as four presets, and then the best part, the Eye Dropper tool.
The eye dropper tool will open up your camera and let you focus on a particular color, and the app will identify it and match it as closely as possible in an instant. This feature alone was enough to sell me on its usefulness on set for creative shoots. While it wouldn't allow for manual color code entry, it was still pretty dang impressive for a prosumer level light.
Finally, at the bottom of the app users can find a side scrolling bar for the preset special effects options that are included with the light which includes a standard Strobe, Lightning, Fire, Candle, TV, Police Light, and Loop mode.
Lume Cube Tube Light Mini: Usage and Performance
Using this light was easy and intuitive. The only thing it had going against it is its "low-ish" power and 102 minute full-power battery life.
As PetaPixel reported at the product's launch, the Tube Light Mini has 124 LED lights in it for a max output of 950 Lumens. So, unless you're shooting some high ISO work or using a long exposure, you'll be using this light as a rim or fill light for the most part — this is especially the case if you have just a single light.
As you can see from the goofy photo of myself above, in studio testing with some Profoto strobes you can still get some decent performance (at close distance) with the Tube Light. This particular shot was captured at 1/200 f/8 ISO 400. As long as you keep the light close, you can get get some very sharp and clean low ISO shots. Using it as the main light however, I found myself pushing the ISO upwards of 2500 to 3200 ISO or higher. The good news is with most of todays modern cameras and the new Noise Reduction tools, you can still get some very impressive shots at those settings.
The controls and mobile app were very easy to use, especially in scenarios where you had to change the settings rapidly. I can't stress enough how much I loved the controls on this light compared to the other models I've been testing. It simply brought joy, but I digress. Using the light as a standard strobe accent (2700 to 7500K) as well as the access to a full spectrum of RGB light was incredibly handy. The Lume Cube even has a nice green/magenta tint control for better scene color matching when you're using it with other blended lights.
For the most part, I used this light as a highlight or rim light outside of a few high-iso portraits and macro/product shots with very pleasing results. For a scene (which will be released in about a month) on a video shoot we even tucked the light inside of a magicians box to light the assistants face up properly as the normal studio lights were casting awkward shadows when cast from outside of the box. It was almost dumb-luck that the light fit almost precisely to the size of the box AND it stayed put using just the magnetic mount.
Maneuvering and positioning the light is fairly easy given its light weight and small size. On set I kept it strapped to my BlackRapid or wrist mount for handheld use, leveraging the magnetic mount to clip it on random objects or light stands already in position for some extra kick. For the product shots I either hand-held the light or used the included tripod (as you can see below).
Basically, while the power may be lacking when compared to strobes, the convenience of not having to have a bulky light stand, modifier, and gel combo to get the color I want makes the Tube Light all the more attractive.
Below are several sample images captured using the Lume Cube RGB Tube Light LEDs;
Lume Cube Tube Light Mini: Late To The Race But a Much Better User Experience
RGB Tube lights have been available for a long time now, but most have been on a much higher price tier and require a learning curve to use effectively. Those on the more affordable side have been functional, but frustrating and not the greatest quality, so it's arguable that Lume Cube entering the market now and with the $169 12-inch Lume Cube Tube Light Mini is a good thing, as it gave them the time to iron out many of the user-complaints and make a creative lighting device that just plain works.
While it may not have the power to be a true main light for most photographers, the Lume Cube Tube Light Mini actually works rather fantastic as a compact, lightweight, and durable rim and accent light for most creative image and videography needs you can throw at it. And yes, as long as you aren't afraid to bump up that ISO it can still be used as the main light in your images. There's definitely a lot to like about these little lights thanks to the the easy to use app and physical controls, magnetic mount features, usb power bank, and admittedly, it came in clutch in more than one occasion while working on set of a music video ensuring its place in my location kit from this day forward.
Are There Alternatives?
There are a wide variety of alternatives on the market. The first of which, the Camolo RGB Handheld Light Wand, is very similar it is to the Lume Cube design, and only $45. At the time of this review I haven't tested or seen the Camolo first hand, but I've reached out and will update once I hear back.
Jumping up slighting in price we have the $89 Godox TL30M RGB Tube light and $149 Godox TL60 RGB Tube Light, followed by the $187 Savage RGB Light Painter Pro and $179 GVM BD60D 15W Bi-Color RGB LED. Still on the budget friendly mark we have the $199 Aputure MT Pro 1′ RGBWWW LED and the $299 Zhiyun FiveRay F100 RGB LED. Finally we make the big-budget leap to the $850 Astera FP1 Titan Tube 72W
Should You Buy It?
Yes. While it's clear there are a lot of alternatives in the RGB LED tube light market, at least from my personal testing the Lume Cube Tube Light was more than worth its price just based on it's durability and ease of use in so many fluctuating situations.