Photographer Captures Mid-Air Food Delivery Between Falcons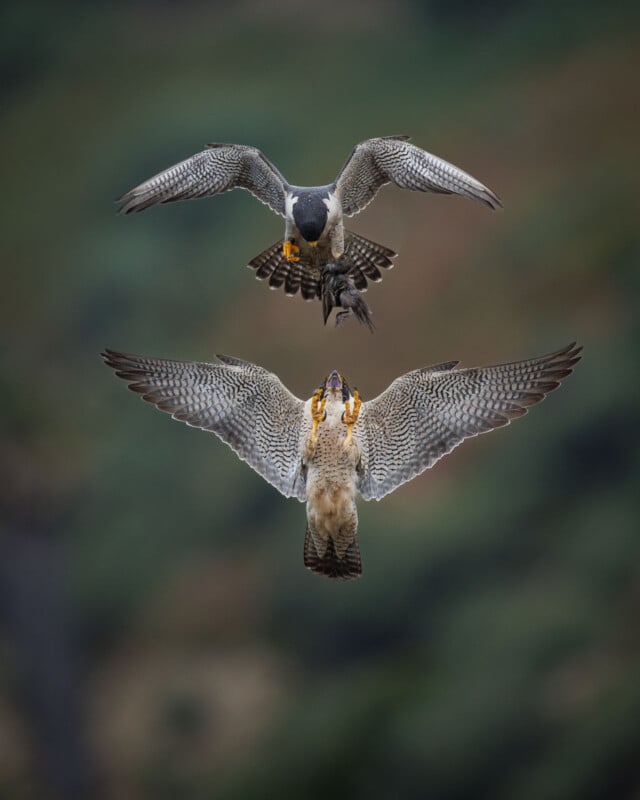 A photographer captured the split-second a pair of peregrine falcons handed over a meal to one another — showing their nearby chicks how to hunt.
Alex DelVecchio, known as Vex Media online, tells PetaPixel how he waited for the right moment to capture the incredible photo — and how he captures other wildlife in his local area of San Pedro, California.
An Epic Falcon 'Handoff'
"These peregrines are well-known in the local (and not so local) wildlife communities. I recently moved to San Pedro, California, and when I mentioned that to other wildlife photographers, they always responded with, 'Oh, you have the peregrines down there!'" Alex tells PetaPixel.
"At the time, I didn't know what they meant, so I went to check them out at a local park, and sure enough, there was a mating pair that return every year to raise their chicks. These two have been named by the locals. Maxine is the female, although I forget why, and Touzie is the male, named after his band, which reads '02 Z,'" DelVecchio explains.
He says that it's an excellent place for photography, and because of that, it attracts about a dozen local shooters during the week and even more, some from out of state, during the weekends. The birds nest in the cliffs beneath the public park, so many great vantage points exist.
Scouting and the Importance of Information
DelVecchio recently quit an unfulfilling job and has been trying to make a go with wildlife photography, which has long been a hobby for him.
"Every day I would go down to this park to see the peregrines," he says. The falcons' mating season begins in February, so since then, DelVecchio has been a frequent visitor to the park.
He says that he's talked to the locals to learn more about the falcons and other areas where there are wildlife photo opportunities, including the foxes seen throughout this article.
Spending a lot of time around the falcons proved essential to capturing the fantastic mid-air transfer photo.
"After a while, I was able to notice and predict their behavior a little better, like when and where they'd perch, take off, hunt, etc.," Alex says.
"There was a quiet period of a few weeks when they laid eggs, but when we saw them out again, we started specifically watching for the food transfers. The male will go hunt and bring back a kill to hand off to the female. During mating season, it's a simple handoff on the cliff. The male lands with a kill, the female comes up and takes it, and flies away with it. Then the male will watch over her as she eats," he continues.
However, this primarily stealthy behavior becomes a learning moment once the newborn chicks are older. The parents turn feeding time into school, and photographers like Alex get to watch the class.
"After the chicks have hatched, they do these transfers in the air in front of the nest so the chicks can see it. This is how they teach them what hunting looks like. Later when the chicks fledge, they will hand off food to them in mid-air as well," he tells PetaPixel.
Persistence, Experience, Gear, and a bit of Luck
For his wildlife photography, DelVecchio uses a Canon EOS R3 full-frame camera and an RF 600mm f/4 L super-telephoto lens.
"Most of the time, I have this slung around my shoulder with a Peak Designs strap, and I use a shooting bag from Armageddon Gear. They actually make long-range rifle shooting bags, but I find them to work as excellent supports with my photography as well — a lot of the locals are also taking an interest in this method now," Alex says.
"Sometimes, if I know I'm only after a specific shot, I may bring my Really Right Stuff tripod and gimbal to sit and wait for a perch shot. The day I took this photo, I was waiting with the camera pointed at a perch. The male was gone, but the female was spotted in a nearby palm tree which typically means there will be an upcoming transfer," he continues.
This type of information may seem insignificant at first blush, but it's this sort of observation that allows wildlife photographers to get ready for something special, sometimes a moment that lasts a split second and may not occur again all day.
"Eventually, I heard the distinct sound of the falcon call as the male was returning with food and we watched the female to see where she went. I tracked her leaving the tree, flying down a cliff, then swooping up to grab the kill from the male. I held down the shutter release through about 250 photos of the transfer and when I reviewed them, I saw this shot that happened to be perfectly aligned with me. I was ecstatic to have had this angle," DelVecchio tells PetaPixel.
"We'd witnessed a bunch of transfers before this, but they are always at random positions; sometimes too low to be able to focus on, sometimes too high so the background is boring, but this time it was almost straight out in front of me, at a height that allowed for the background to be complementary as well! It was like many great wildlife photos in that it was a result of patience, persistence, and luck…and of course, making sure not to miss the moment," he adds.
As for camera settings, he "always" uses Canon's animal tracking autofocus mode with continuous (Servo) AF. He shoots using the R3's electronic shutter at up to 30 frames per second continuous shooting speeds. For the particular photo that caught PetaPixel's attention, DelVecchio shot at 1/2,500s, f/4, and ISO 500. He edited his photo in Adobe Lightroom Classic.
DelVecchio's Photographic History and Ambitions
When tracking down contact information for DelVecchio, PetaPixel ended up on his Instagram page, (https://www.instagram.com/vex_media_photo/) and was struck by the other great wildlife photos that Alex has in his portfolio.
"As far as my own photography, I've been a hobbyist photographer since 2012. With wildlife I'm typically looking for a photo in which the viewer can extrapolate the moment, imagining what's happened before and after. I'm also drawn to details — art in nature type stuff — and engaging portraits. I try to avoid common angles, looking down on land animals, or looking up on birds whenever practical," he explains.
He has a background in film, so he also says he looks for cinematic color palettes, framing, and compositions. "I want a clear subject, a simple background, and definitive colors," says Alex.
While his passion is wildlife photography, he has also recently gotten into landscape photography. He also has some awesome surf photography, by the way.
"Honestly, I'm only just now really digging into photography full scale trying to make it my living. I'm still finding my style/preferences and I'm having a great time allowing myself the freedom to explore my creativity. My goals are to tell stories on YouTube and, ideally, teach workshops. I have a background in teaching production workshops to YouTubers and love passing on knowledge and breaking down concepts to make them easier to understand. It's incredibly rewarding to give people the ability to pursue their own goals by teaching them the skills they need to do so," he says.
More from Alex DelVecchio
As Alex tries to turn his photographic passion into a new career, he's a good photographer to keep an eye on. He's on Instagram and YouTube, an avenue he aims to pursue more seriously in hopes of combining his educational background with his photography adventures.
---
Image credits: Alex DelVecchio / Vex Media