Review of the Canon RF400mm f/2.8L and RF600mm f/4L Lenses
Camera Labs' Gordon Laing was given the opportunity to test the two largest and most expensive lenses for Canon's mirrorless RF system — the Canon RF400mm f/2.8L and the Canon RF600mm f/4L — and has evaluated how they stack up in stills and video tests.
Although both lenses place at the top when it comes to their price — the RF400mm f/2.8L costs $12,000 and the RF600mm f/4L is priced slightly higher at $13,000 — they are comparable to the equivalent Canon lenses designed for EOS DSLRs as well as the corresponding models from Sony. Laing, a photographer and camera reviewer who had the opportunity to test out the two impressive lenses, notes that these types of super-telephoto lenses are aimed at professionals or sports and wildlife enthusiasts who have a bigger budget and those who don't need this kind of performance can find much more affordable alternative options.
Laing paired the two lenses — which share the same price, optics, control, and design as the original EF designs, with the exception of built-in EF to EOS R adapter — with the Canon EOS R5.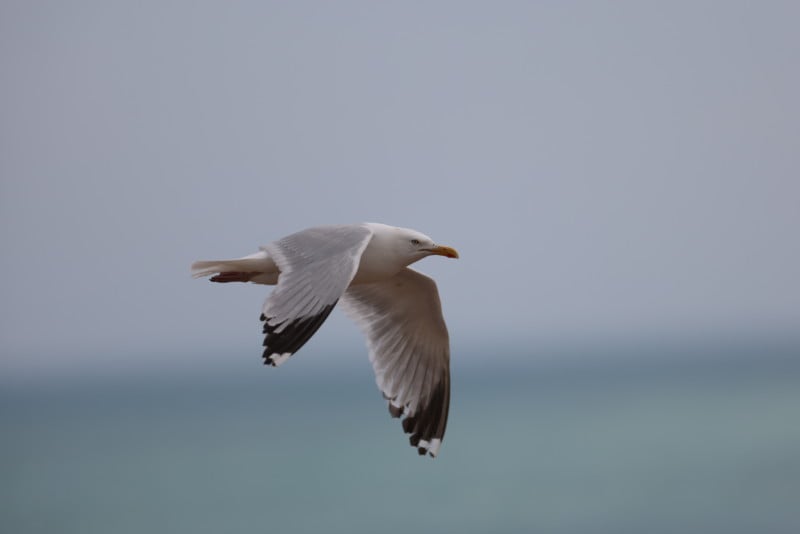 Visually, the difference between the two lenses is noticeable when it comes to their size and weight. The RF400mm f/2.8L measures 6.4 x 14.4 inches and weighs 6.4 pounds while the RF600mm f/4L measures 6.6 x 18.6 inches and is slightly heavier at 6.8 pounds. However, with the addition of lens hoods, Laing felt the RF600mm f/4L is now noticeably heavier by comparison. Although slightly lighter than the older EF models, after a while of handling these lenses it becomes clear that it's still not an easy task to use them handheld for long periods of time.
In focus tests, both lenses have fast autofocus both for stills and videos, while manual focus comes with three different speeds on both lenses and delivers an equally smooth experience. The stabilization offered on both lenses comes invaluable — and delivers usable shots even at 1/6 of a second and delivers significantly less shaky video footage — as shooters can soon find it hard to hold such heavy lenses without introducing heavy shake.
The two are not the easiest lenses to shoot portraits with due to the long distance between the shooter and the subject. As noted, the lenses are designed and excel in sports and wildlife where the distance is crucial for the scene — be it someone observing wildlife from afar or capturing an athlete on the field in action.
Laing points out that shooters could make use of the older EF design lenses with an adapter, however, these two models with their built-in adapters have been designed with mirrorless in mind and provide native RF communications which support faster burst speeds, finer aperture increments in video mode, improved stabilization, and allow shooters to use faster focusing with the upcoming Canon bodies with dual power drive. The price of the RF versions is the same as the older EF versions, which makes picking the newer versions an obvious choice for Canon mirrorless shooters unless they already own the older lens models.
"They are not trying to be affordable," concludes Laing. These lenses are for shooters who need top-end performance at very long focal lengths.
More of Laing's reviews and educational videos can be found on his YouTube channel and at Camera Labs, and his photographic work can be viewed on his Instagram.
---
Image credits: Photos by Gordon Laing and used with permission.