Godox's New $1,200 Bi-Color LED Video Light Promises Huge Power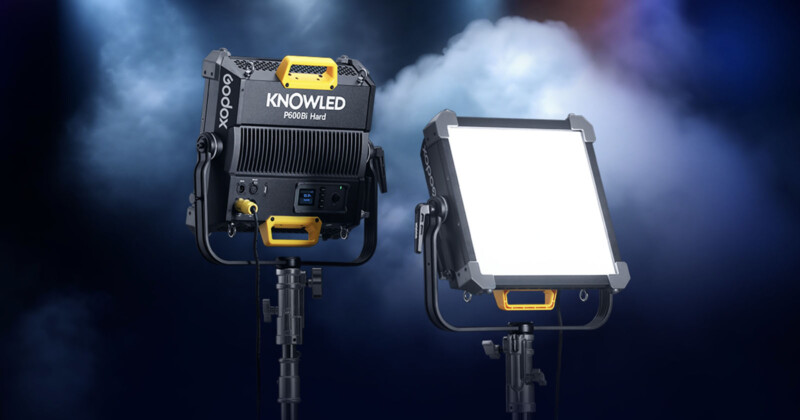 Godox has announced the P600Bi Hard KNOWLED LED Light Panel, a bi-color light panel designed with videographers in mind that offers 650-watt output in a wide range of color temperatures.
"With class-leading engineering, the precisely designed optical lens extremely increases the light-emitting distance while ensuring flawless blending results, providing an efficient and flexible solution for large-space lighting," explains Godox.
The Godox P600Bi weighs 10 kilograms (22 pounds) and promises significant power. Despite being a capable large-area light, it can also deliver high-intensity light at close distances. From a meter away, it produces 93,800 Lux illuminance (5,600K). At 2,800K, the max output is 80,700 Lux at one meter, and at 6,500K, it's 94,200 Lux.
The light panel has built-in 2.4GHz wireless communication, allowing for remote control using the Godox Light App. Wi-Fi's wireless range is 100 meters, whereas it's 30 meters when using Bluetooth. It also allows for DMX512 control and has a DMX terminator and automatic frequency hopping, which is helpful when working on a complex set with many lights and gear.
The P600Bi Hard panel allows for smooth dimming in 0.1 percent increments and has CRI and TLCI ratings over 96, promising consistent color performance. Godox also promises that the light's flicker-free capability works well when capturing slow-motion footage.
A powerful light requires intelligent thermal design. Godox uses aerospace-grade material, including a thermal pad, to ensure effective heat dissipation during extended use, which provides consistent performance, even when the light is used at max output.
The Godox P600Bi Hard includes 11 optional built-in lighting effects to simulate different lighting scenarios on set, including flash, storm, cloudy, fire, explosion scenes, and more.
The Godox P600Bi Hard works alongside two- and four-light array support systems to support multi-light setups. It also works alongside a cylindrical softbox (P600BHSS) and rectangular softbox (P600BHS22).
The Godox P600Bi Hard LED light panel ships with the light housing, ropes, a hex wrench, a U-type bracket, an antenna, and an AC power cable. The light is available now for $1,199.
The new P600Bi Hard isn't Godox's first "KNOWLED" series light announced this year, following the release of RGBWW TP-series tube lights in February.
---
Image credit: Godox