The Nikon Z8 is a Z9 in a Smaller Body: The 'True Successor' to the D850
Nikon has announced the Z8, a full-frame mirrorless camera that is basically identical to the Z9 but in a smaller form factor. Nikon is also positioning it as the "true successor" to the D850.
If the Z8 had to be distilled down into one easy-to-digest concept, it would be this: the Z8 is a Z9 without the built-in vertical battery grip. Side by side, there are a few differences such as the memory card slots and ports, but the core of the cameras are essentially the same. The Z8 features the same 45 megapixel sensor without a physical shutter and is capable of shooting 8K at up to 60 frames per second, but it's 30% smaller than the Z9 and 15% smaller than the D850, one of Nikon's most popular DSLRs.
A Z9 Inside
The Z8 is powered by the same internal components that make the Z9 such an impressive camera. It features Nikon's EXPEED 7 image processing engine combined with the full-frame 45.7-megapixel backside illuminated (BSI) stacked sensor with a super-fast scan rate that allowed for the total removal of a physical mechanical shutter.
Nikon says that this configuration allows it to shoot completely silently and with virtual no rolling shutter distortion. The removal of physical parts also reduces wear and tear over years of use. It also results in a blackout-free shooting experience. The Z8 can capture 12-bit RAW video internally in a variety of formats and frame rates, too.
The autofocusing system is also basically identical, with the only change being that the Z8 ships with an airplane tracking feature. Overall, Nikon calls it the most powerful and precise autofocus system it makes, which has been developed with deep learning technology. The company says that focus is immediately responsive and reliable and offers a range of functions from fully Auto-Area AF, Nikon 3D tracking, and a fully customizable Wide Area AF.
Nikon adds that these modes take advantage of the enhanced Subject Detection capability for photo and video that recognizes humans, pets, birds, trains, cars, motorbikes and bicycles, and now — as noted — various types of airplanes.
The rear LCD is the same 3.2-inch horizontal and vertical tilting four-axis touchscreen found on the Z9.
For Photos
Nikon says that the combination of the 45.7-megapixel sensor and the EXPEED imaging system allows it to render exceptional color, dynamic range, and overall image quality and is able to perform high-speed calculations at up to 120 cycles, even in low light, with minimal noise.
The Z8 is also able to shoot in a 10-bit HEIF file, which Nikon says is a superior file format to JPEG that is about equal in file size but with about one billion more colors.
For RAWs, the Z8 can shoot to Nikon's high-efficiency RAW format plus a new HLG RAW option for use "on compatible devices."
Nikon says the Z8 has features made specifically for portrait photographers including the "Portrait Impression Balance" function which the company says allows for the precise control of skin tone accuracy. It also has a new Skin Softening function and improved white balance.
For shooting action, the Z8 features burst speeds that give 20 frames per second when shooting full-resolution RAW and JPEGs, 30 frames per second shooting full-resolution JPEGs, and 60 frames per second shooting cropped DX-format JPEGS. To go even further beyond, the Z8 can also shoot up to 120 frames per second at 11-megapixel JPEGs with high-speed frame capture plus. The Z8 also offers pre-release capture which starts its buffer before the shutter is depressed fully.
Finally, the Z8 features vibration reduction image stabilization that it says is enhanced with "Synchro VR" to achieve up to six stops of compensation with compatible lenses.
For Videos
The Z8 isn't just a photo camera, it's a very powerful video-creation tool. As mentioned, Nikon gave it the ability to capture 8K at 60 frames per second in N-RAW as well as "expansive" 4K capture options ranging from oversampled 24p and 30p, all the way to 120p with sound.
It can record up to about 125 minutes in 4K at 60p and up to 90 min in 8K at 30p. ANd of course, the Z8 can capture 12-bit RAW footage as ProRes RAW 4K60p or up to 8K60p in N-RAW.
N-RAW, Nikon's RAW video format, is approximately a 50% smaller file and also creates a 1080p proxy file designed to make editing easier. Nikon says that capturing RAW footage allows for the most image data and the highest bit rate for maximum range and flexibility.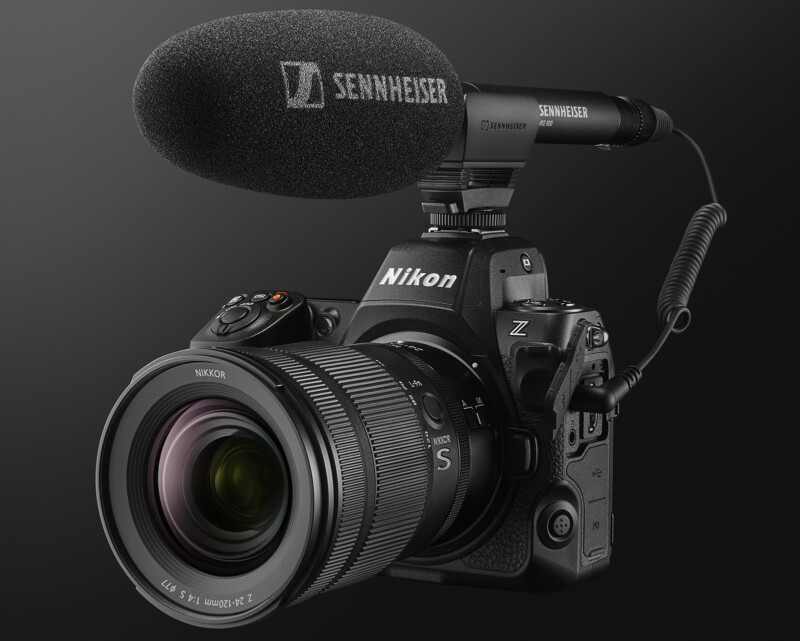 For even more latitude with color, footage can also be captured internally in 10-bit ProRes 4:2:2 HQ. Other profile options are available in-camera, including an enhanced N-Log, HLG as well as the easily gradable flat color profile.
On the hardware side, the Z8 features two USB-C ports which are dedicated to charging (PD or Power Delivery) and communication for accessories. The camera also, gratefully, includes a full-size HDMI port.
Additionally, all of the updates that came to the Z9 in the massive firmware update last year are present in the Z8 at launch, including the high-res zoom function for 4K, highly visible red REC Frame Indicator, focus peaking, zebras, waveform, linear focus capability on many NIkkor Z lenses, fine ISO control, customizable AF speed tracking, timecode sync, and 24-bit stereo audio.
Built Strong
Nikon is positioning the Z8 as a professional camera and, as such, it needed to have a robust build quality. While it's not quite the Z9, Nikon fully weather sealed and gasketed the camera in such a way that it says it exceeds the durability of the D850. It can be operated down to -10 degrees Celcius (14 degrees Fahrenheit) and the materials it is made from include a new pro-grade carbon fiber composite and magnesium alloy, which Nikon says are used in the construction to reduce weight and enhance durability.
"To resist dust, the optical filter includes a dual coating to repel dust in front of the sensor, in addition to a sensor shield that protects the sensor when the camera is turned off," Nikon says. "The Z8 makes it easier to capture in low light environments, with illuminated buttons, warm display color option, low viewfinder brightness adjustments, and Starlight View which enables focusing down to -9 EV."
The Z8 differs from the Z9 when it comes to memory card support. The Z8 keeps one CFexpress Type B port but replaces the backup with an SD card slot, which Nikon says was done in support of widespread availability.
For those who like the option of a battery grip, the Z8 will support the MB-N12 grip to provide approximately 1.8x more battery life while adding a vertical grip and vertical shutter button and controls. Nikon says the grip is also weather resistant to the same level as the camera and allows for hot-swapping batteries.
Sample Photos
Pricing and Availability
The Nikon Z8 will be available on May 25 for $4,000. The MB-N12 battery grip will be available sometime in May for $350.