Nikon Z9 Review: It Makes Other Cameras Feel Like Antiques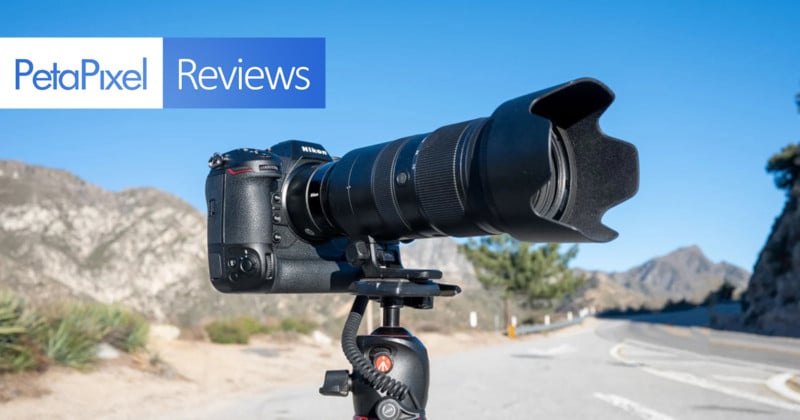 The Z9 takes a massive leap forward in technology and levels the playing field between Canon and Sony both in its construction and capabilities. While Nikon may have been late delivering a professional mirrorless system, the 120 frames per second (FPS) burst, 8K video, impressive battery life, and "always-on" EVF more than make the wait worth it.
If you were to read directly from the specifications sheet, the Nikon Z9 blows the Sony A1 and Canon EOS R3 out of the water with its FPS shooting speed and 8k video capabilities (not to mention its much lower price). Even if it falls behind slightly for high ISO shooting (compared to the R3) and resolution (compared to the Alpha 1), there are many other impressive features crammed into the Z9 package that these shortcomings become rather negligible when you look at the overall package.
The new Z9 leverages a new EXPEED 7 processor for image captures and continuous live view speeds that have been unheard of in the past with next to no rolling shutter distortion. Having tested this a part of this review, I can confirm this to be insanely accurate. Added to these enhancements is an autofocus system that is probably the fastest I have ever had the pleasure of shooting with that is capable of tracking high-speed motion in sports like hockey, a hawk chasing its prey, and cars zooming towards the camera on the highway.
---
Thanks to Lensrentals for providing some of the optics used in this review. The company's full list of available lenses can be perused on its website.
---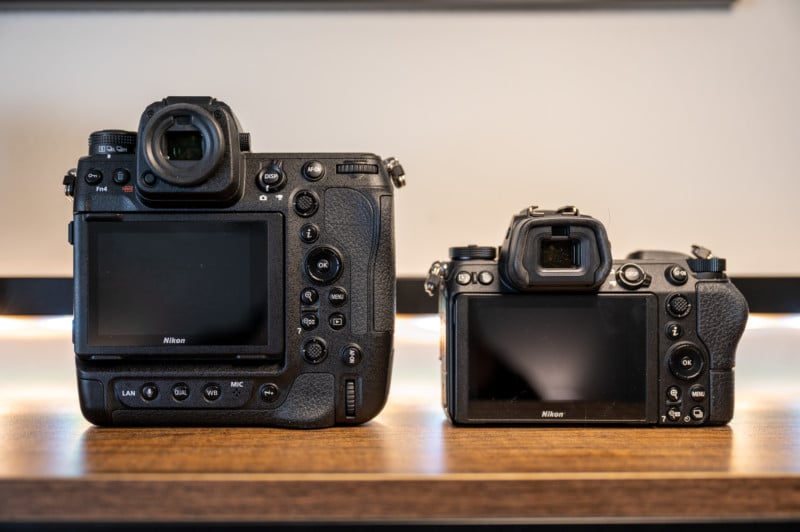 After getting used to the new system and spending a few days with it in the field along with the the Z 70-200mm f/2.8VR S and Z TC-2x Teleconverter, returning it to Nikon and going back to using my Z6 and Z6 II cameras has been kind of painful and legitimately brought a tear to my eye.
Before we dive in, I want to point out that while I tested the 8K and ProRes video functions of the Z9 a few times, we tend to focus on still photography here at PetaPixel, this review will focus on those features primarily.
Design and Usability
The design of the Z9 is fairly consistent with what we have come to expect from the professional bodies from Nikon like its D6 and D5 predecessors. Compared to the Z6, the camera is quite a bit larger and heavier and weighs in at about 1,340 grams (about 2.95 pounds), even though it is not equipped with a traditional mechanical shutter mechanism.
With the built-in battery and vertical grip, the camera feels quite good and comfortable when held in either portrait or landscape orientation, with access to all the controls and buttons you need to shoot naturally in both positions. Anyone who has used the new Z mirrorless cameras or D5 and D6 will find the location of each of the controls where they would expect to with only a few exceptions. For example, the playback button has moved below the "MENU" button for easier image review without having to look away from the EVF.
A welcome change with the Z9 is the improved 3.2-inch LCD display that can be tilted across four-axis (finally) making it possible to see shots in awkward angles in both horizontal and vertical orientations. In addition to the new flexible mounts, the details on the display that are active will automatically shift and change positions for easy reading as the orientation of the camera changes.
Something I found amusing about the electronic shutter with the Z9 is because it has no physical shutter, any sound you would hear is entirely artificial. You can make adjustments to the "shutter sound" that can be enabled or disabled at will. While silent shooting is an amazing feature (especially in scenarios like press conferences, live broadcasts, and weddings), I imagine a near future where a smart and industrious fan manages to find a way to hack and customize the shutter sounds and add the option to use historical and nostalgic camera clicks from Nikon's past. Or, you know, Nikon could release it as a firmware update — fingers crossed.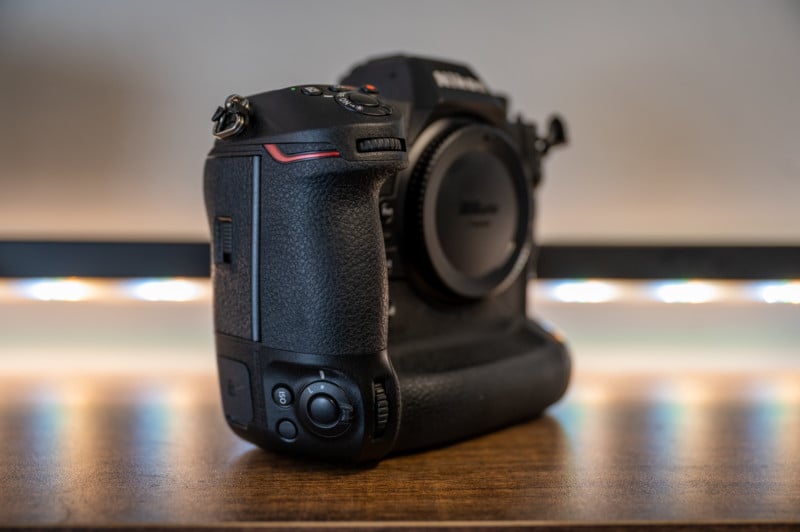 A new feature that is finally available with this flagship camera is the addition of a sensor screen shield that can be set to automatically deploy whenever the power is turned off and adds an extra layer of protection from dust and the elements of the mirrorless sensor whenever you want to change lenses. Canon has had this feature for a while, but Nikon's iteration feels more robust since it's a part specifically designed for this purpose and does not just make use of the mechanical shutter (which to reiterate, the Z9 does not have). As someone who mostly shoots outside for environmental portraits and action, this is an exciting and very welcome addition that I hope makes its way into future generations of the rest of the mirrorless lineup from Nikon.
A minor feature I was personally excited about was the 10-pin remote controller connection on the front of the camera body, which makes it possible for me to use my old intervalometers from the DSLR days once again and therefore makes it easier to shoot steady while using the 400mm effective view with the teleconverter connected.
The grip feels fantastic and is a perfect fit in my hand and the balance of the camera felt very even regardless of the lens or orientation of the system when held.
The buttons on the back and the small display on the top can be illuminated by pulling the on-switch over an extra notch, making it easier to see where everything is in lower light situations. This includes a night mode that will change the display from its normal bright state to a subdued red for "astro" viewing.
Lastly, let's talk about the speed that is available on this camera. When I reviewed the Alpha 1 last year, it blew me away how it was possible to just keep shooting and shooting in a burst mode, to the point where it felt as though my hands were going to cramp up before the buffer would fill. I got that same feeling again and then some when shooting with the Z9.
Out of the box, the camera can shoot at 20 FPS RAW in high-speed mode and 10 FPS on low with multiple options in between those two settings. In addition, the camera is capable of capturing up to 120 FPS when shooting 11-megapixel JPEGS only, making it an absolutely insane game changer for capturing high-speed motion like sports, wildlife, and auto racing for the purposes of web-resolution finished images. After the latest firmware was added, it is possible to get upwards of 1,000 frames in a burst (compressed RAW/JPEG/HEIF format) without hitting filling the buffer.
Battery Life
A quick note on battery life: we've mentioned this before, but whatever method CIPA is using to calculate battery life in cameras needs to be completely overhauled because the 800 shots they rated this new 3,300mAh battery to last per charge is woefully inaccurate. It might actually be the most inaccurate rating yet.
On the day I tested the camera's autofocus system on cars, I shot well over 1,200 frames in bursts, and then several other auxiliary shots, and the battery was listed as having an 88% charge at the end of the day. To me, that is wildly impressive battery life compared to the previous generations of mirrorless cameras from Nikon (or any other manufacturer).
Autofocus Performance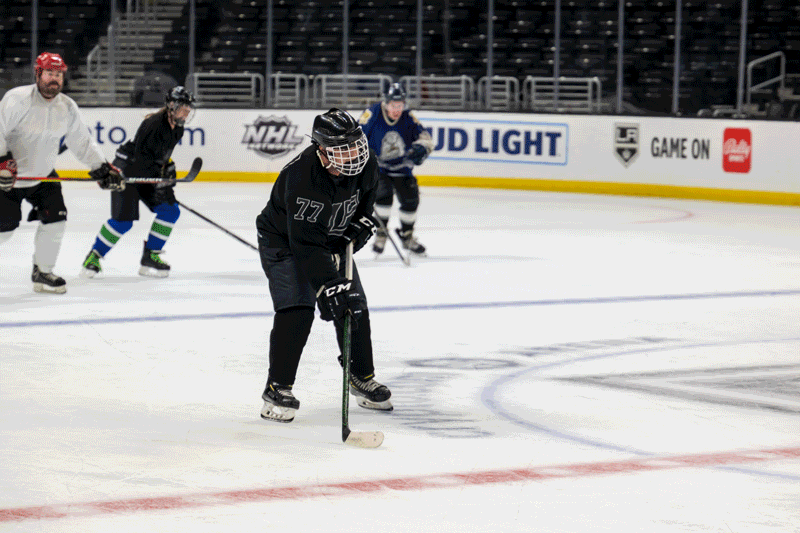 To call the Z9's autofocus (AF) an upgraded system from the previous generation of Nikon cameras would be a massive understatement. There are a wide variety of AF modes and settings available, each that can be fine tuned and have provided recommendations based on what sort of subjects are being shot.
Like the other recent Nikon cameras, the Z9 comes with the eye and body detection AF for humans and animals, even from an impressive distance away (as proven with the 400mm shots of some hawks below). According to Nikon, the AF system in the camera can recognize up to nine different subjects in a frame, allowing for quick switching of the eye focus using the joystick to move left or right in a shot.
Keep in mind, however, that this functionality is not present when using the 3D AF tracking mode. While it can find and lock onto a subject's eye, it can shift to another part if the subject moves around in the frame or is blocked by another. There is a pretty impressive selection of AF and tracking modes available with the Z9 and you can get a lot more detail on each in Nikon's Sports AF suggestion guide.
With the addition of the AF button on the side of the camera, it is very easy to quickly change AF modes on the fly should the need arise. I brought the camera out to a charity hockey game, attempted some impromptu bird watching, and tracked fast-moving cars on a winding road in the hills of Los Angeles as part of this review, and found in all situations the camera gave me impressive results.
To test the car tracking mode (and burst fire in RAW), I locked the camera down on a tripod and fired it via a remote controlle once a car came around the bend, selected using the touch screen on the back of the camera. From there I just held the trigger down until the vehicles were out of the frame (coming and going). For the GIF below, once the first car was nabbed, I shot in low (10 FPS) mode for 241 frames at 400mm (70-200mm f/2.8 VR S with 2x TC) 1/320 at f/5.6 (and ISO 80 for those interested).
I had mess with some of the settings, but it is clear that the AF locks on the lead incoming vehicle until it hits the edge of the frame and an outgoing truck takes over. From there it follows the truck until it goes out of the line of sight and a new incoming car is now the main AF target. From what I have tested, it is possible to adjust the tracking speeds to stay with or shift from a target faster or slower. These results really impressed me, and that continued even in incredibly low light scenarios like the hockey game where the average ISO I had to use anywhere between 3,600 and 25,000.
I found that shooting up close with the eye AF tracking was still impressively fast (especially when compared to my experiences with previous Nikon mirrorless cameras) and accurate. As someone who wears glasses and contacts, I find myself relying on the autofocus in action situations and the Nikon Z9 proved itself to be the fastest and most accurate autofocus system I have ever tested.
The only thing I could say negative about the autofocus on the Z9 is that it will require you to choose some pretty specific modes in fast-paced environments in order to maximize its performance whereas the Sony Alpha 1 felt like it was smart enough to know what you wanted to focus on out of the box and just go. Granted, these are very minor setting changes that have to be made and this is very much a nitpick, but that's my job.
Something else worth mentioning here is while many mirrorless systems offer continuous shooting as an option, the Nikon Z9 has zero blackouts when shooting in bursts, which puts it in a very exclusive club of cameras that can do this. With a few setting tweaks in the menu, it is possible to keep the display fully active and unimpeded which allows you to keep track of the subject and ensure framing is always exactly the way you want it during a shoot.
Image Quality
The Nikon Z9 features a 45-megapixel sensor with an improved vibration compensation mechanism for up to six stops of shake compensation when used in tandem with compatible lenses.
For some reference images, I have included a few samples captured of a few hawks that just happened to swoop by as I was capturing a sunset of the Los Angeles skyline. Each image includes a 400mm f/5.6 shot with auto adjustments made in Adobe Lightroom Classic and a 66% zoom crop centered on the bird(s) for each frame. I had the system mounted on a Manfrotto tripod and ball-head set to loose so that it was easy to move with the hawks and follow them around the area, but that also made it "harder" for the camera's autofocus and stabilization to handle my motion.
As a result, there were some shots that missed focus where the camera would grab the background to focus on instead of the animals, but I do believe that was caused by user error as this occurred early on when I was still getting familiar with the AF modes on the Z9. But for the sake of transparency, I felt that I should mention it.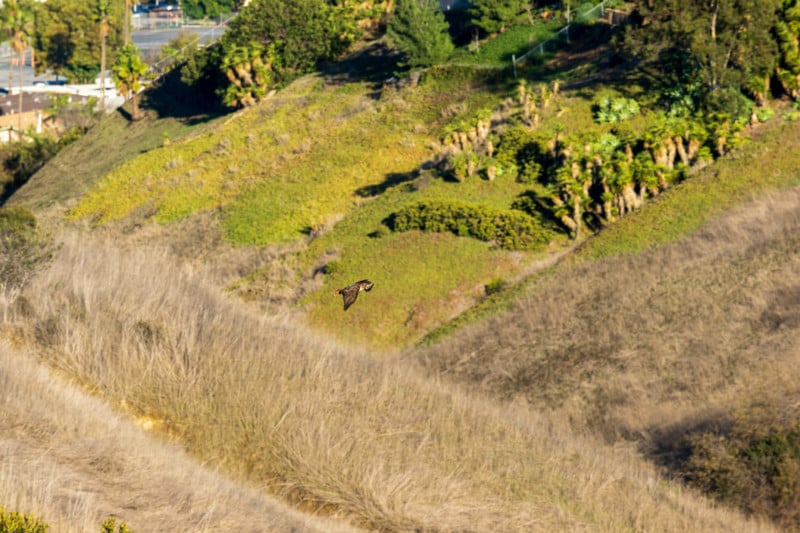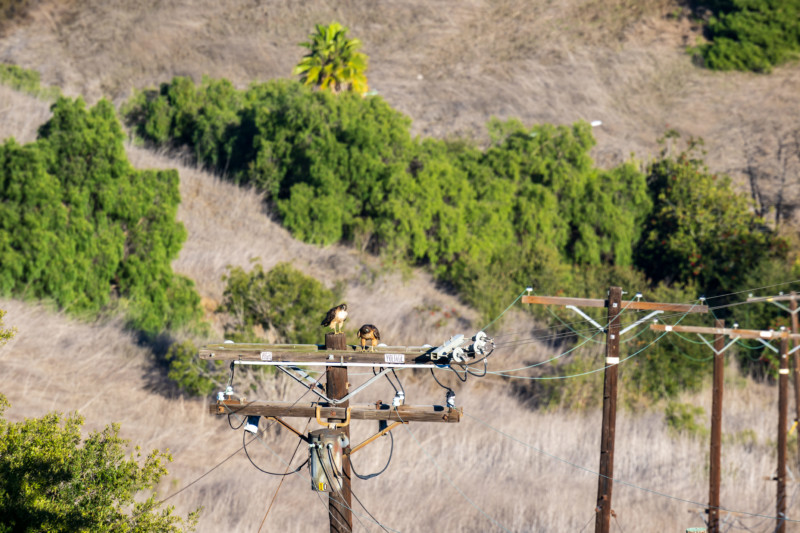 The RAW files from the Z9 have provided some of the cleanest images I have ever captured with a Nikon mirrorless system, with the only limitation and hindrance of the files within Adobe Camera Raw and Lightroom Classic, Photoshop, and Capture One at the time of review. More on that below.
Noise Reduction and High ISO
The High ISO performance of the Nikon Z9 has been the best of any camera I have used to date, including my previous go-to Sony systems for nightlife shooting. Even just a quick export directly from the camera to my smartphone using Nikon's Snapbridge app, I found that images shot at 10,000 ISO and higher are more usable than I have ever encountered.
But that doesn't mean there aren't any issues. Currently, the handling of the Nikon NEF raw files from the Z9 leaves you with a rather significantly different color profile and noise pattern (grain) than Nikon actually wants you to get. Comparing the files between Adobe and Nikon's NX Studio software wouldn't have really been a normal part of my testing routine, but thanks to a High ISO article posted on PetaPixel prior to this review, reader and photographer Reed Hoffmann discovered a glaring difference in the RAW handling between the apps.
Hoffmann noticed that Adobe's interpretation of NEF files felt off, and noise was a lot worse than what would be seen if they were processed thdorugh Nikon's NX Studio software. After he brought this to our attention, I had to test it out for myself and was shocked at the difference.
Below is an example of a high (25,600) ISO image of my dog Harley with only the lens profile for the 70-200mm f/2.8 VR S lens applied and the brightness and exposure bumped up about 15 to 25%; every other control and slider was disabled.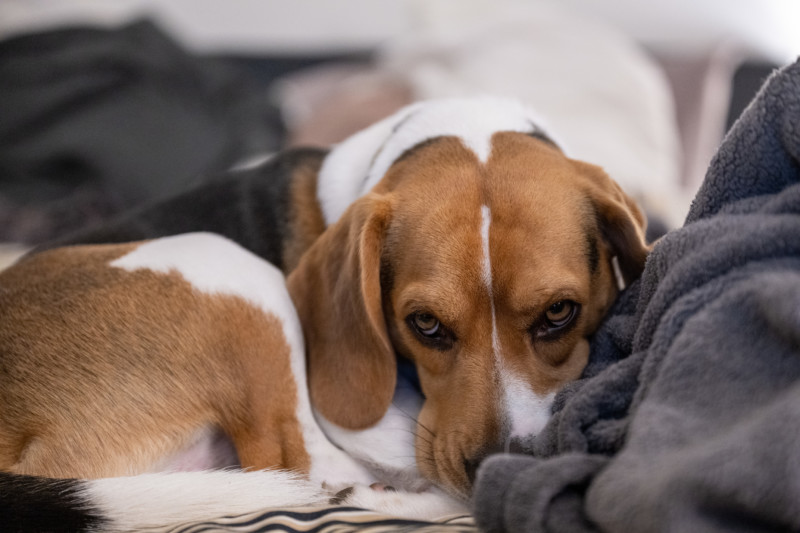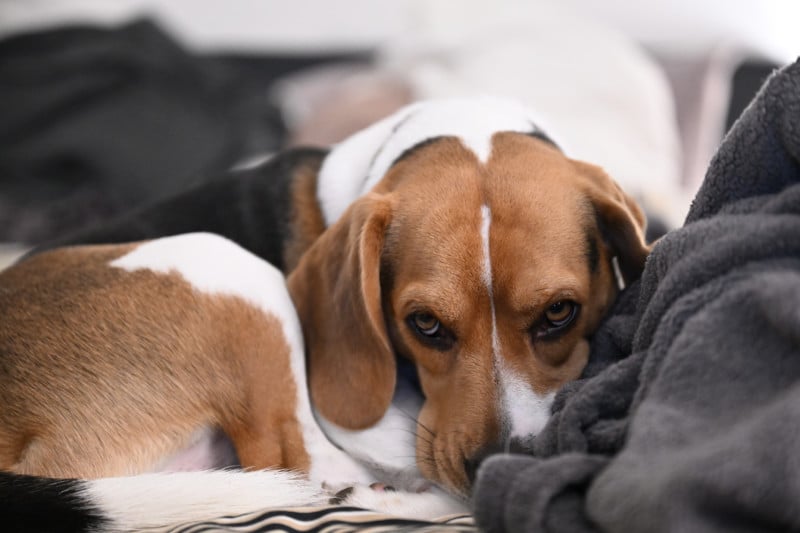 You can see how the Nikon NX Studio software not only interprets the NEF color profiles a little more true to life and the amount of grain and noise present in the images are wildly different.
We have already reached out to Adobe with these findings and, hopefully, that leads to a better ACR profile by the time most people are able to get their hands on a Z9. Until that happens though, if you have high ISO Z9 files, it will be worth the time to do the base processing in NX studio instead of Adobe before moving the files to Photoshop or other apps for continued processing.
Below are some further examples of high iso images processed with Adobe Lightroom Classic (click to view the larger resolution).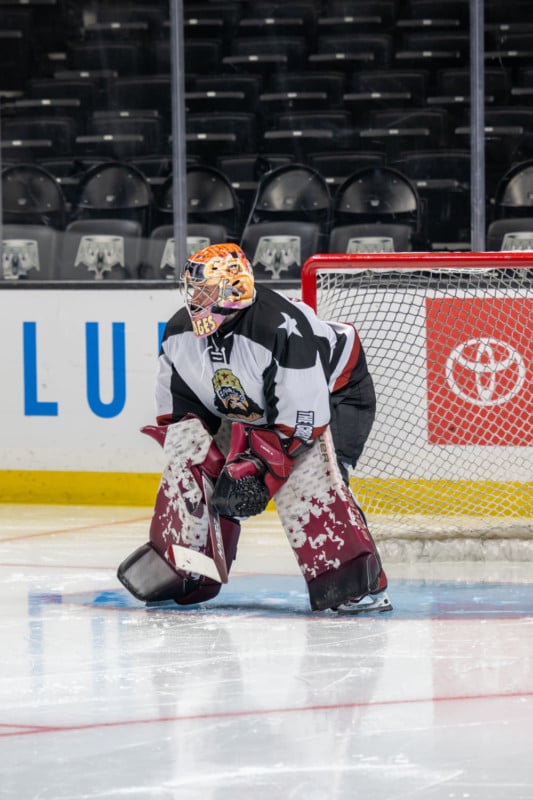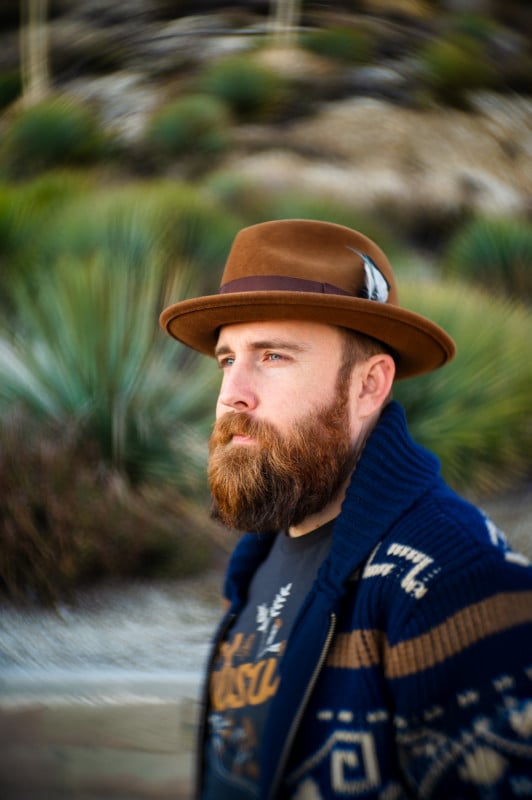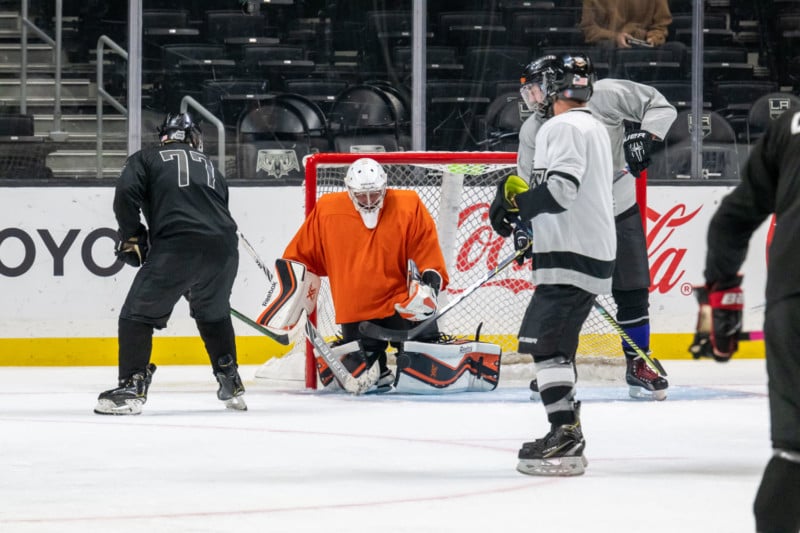 The Z9 Makes Other Cameras Feel Like Antiques
The Z9 is easily the most addicting camera I have ever shot with. As I have said above, and to nearly every other photographer friend I know, going back to shooting with my Z6 II feels like stepping back in time 10 years and shooting with an antique. There really is nothing wrong with any of the other Nikon Z cameras, but there is just something so special about the Z9 that I will never be able to forget or move past until I get one for myself. Everything else just feels inadequate.
The buffer and burst fire capacity of the system is absolutely incredible and is paired with one of the fastest autofocus systems I have ever seen. The results I speak of are when the Z9 is paired with native Z glass. And while yes, using the FTZ and F mount glass still works much better than on other Z systems, but the performance with native glass is just mind-blowing by comparison.
The Eye-AF for people and pets is crazy fast and accurate, even when the subjects are very small in the frame. Once the system detects an eye or face to lock on to, it will stay with that subject until they are out of frame or completely blocked by something else.
If you are a shooter that already has Nikon glass, an FTZ mount, or any of the existing Z system cameras or lenses, at the very least, this is a system you need to do yourself a favor and rent for a weekend of action and wildlife photography. While professional sport and wildlife shooters will get the most benefit out of the camera's insane connectivity options for on-site and rapid file delivery for any publications that need "as-it-happens" images, for me it was the level of comfort the Z9 afforded me. I have never been as happy shooting Nikon as I was with a Z9 in my hands.
There are of course some things that could be tweaked to make it a little simpler to use out of the box or adjust while actively shooting, but beyond that little learning curve, it is honestly one of the best systems for action, sports, wildlife, and everything in between that I have had the pleasure of testing and working with — and I've used the Alpha 1 extensively.
Are There Alternatives?
The number of true competitors to the Z9 is a short list. The higher resolution $6,896 Sony Alpha 1 (with grip) or the $5,999 better low-light performing but far lower resolution Canon EOS R3 are options if you want to stick with the latest and greatest in mirrorless. Many of the benefits these cameras bring don't exist in DSLRs, so even though the $6,499 EOS 1DX Mark III DSLR is an option, it's no longer particularly competitive.
Should You Buy It?
Yes. If you are already a Nikon photographer, the Nikon Z9 is by far, the best system the company has ever made.