Canon's New PowerShot V10 Camera is Designed for Entry-Level Vlogging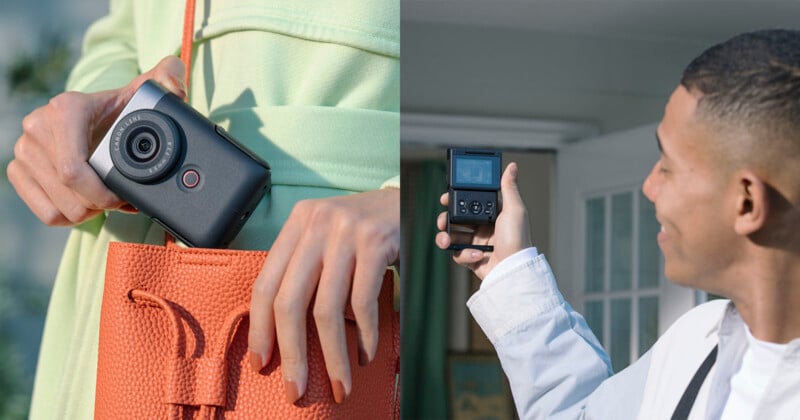 Canon is getting in on the vlogging craze with a new PowerShot series, kicking off with the Canon PowerShot V10. While capable of capturing still images, Canon is clear that the PowerShot V10 is designed primarily with video in mind.
The PowerShot V10 Launches Canon's New 'V' Series of Products
The Canon PowerShot V10 is Canon's first product in its new consumer video production, live streaming, and vlogging line, dubbed the PowerShot V camera series, where the "V" stands for "video communication." Basically, the PowerShot V series is built for content creators.
A Camera Built for Content Creators
Specifically, Canon targets on-the-go content creators who want more quality and versatility than their smartphone offers, but don't want a complicated interchangeable lens camera. Canon hopes that the PowerShot V10 delivers high-end performance in a user-friendly, compact form factor, ensuring that the V10 is easy to use, regardless of user skill level or experience.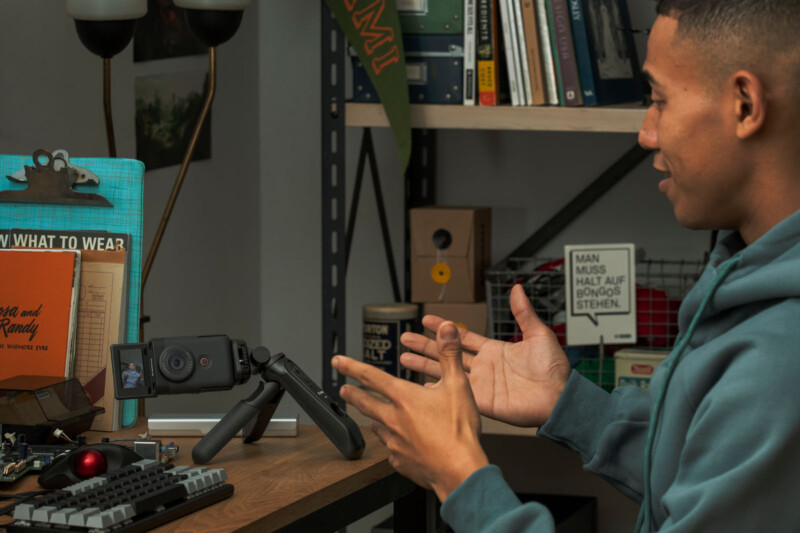 Per the YPulse 2023 Social Media Behavior Report, 59% of Gen Y/Z "say they create their own social media content for a broader audience than just their friends and family." Canon believes that some members of that extensive group wants features and usability beyond what their mobile device offers.
Entry-Level Features at an Entry-Level Price
The V10 is generally an entry-level camera, coming in at an aggressive $430 price. Its features follow suit, so the PowerShot V10 isn't going to compete on a level playing field against Canon's more expensive EOS R-series interchangeable lens mirrorless cameras.
The PowerShot V10 Vlog Camera records 4K UHD video at up to 30 frames per second or Full HD video at 60p. The camera has a built-in fixed lens with an equivalent 19mm focal length. The f/2.8 lens comprises eight elements in seven groups, including three aspherical lenses. It can focus as close as 0.05 meters (0.16 feet).
The 19mm prime lens is paired with a 20.9-megapixel Type 1 image sensor, although only 15.2 megapixels are used during still photo shooting. During movie recording, because of the wider aspect 16:9 aspect ratio, the resolution dips to 13.1 megapixels. Concerning still photography, the Canon PowerShot V10 doesn't record RAW images but only shoots 8-bit JPEG files.
As for autofocus, focus can be controlled using the two-inch touchscreen or automatically by the camera. Autofocus modes include One-Shot AF during still shooting and Movie Servo AF during video recording. The camera offers Face Tracking and Specified Frame AF, although Canon says the V10 doesn't offer eye-detection autofocus. Further, the PowerShot V10 doesn't support manual focus.
Since it's designed for on-the-go content creation, the PowerShot V10 includes digital image stabilization, including a movie auto-level function. The camera also has a digital zoom of up to 3x, although this cannot be combined with Movie Digital IS.
The PowerShot V10 is made for users who don't necessarily want to color grade or edit their video, so it includes numerous tools for creators to dial in the ideal settings in the camera. Users can take advantage of 14 creative Movie Color filters, which are brand-new to the PowerShot V10. These can also be used while live streaming. The V10 also includes color tone adjustments and Canon's first Movie Auto ND Filter function.
The camera's design is unique and very compact. The V10's dimensions (width x height x depth) are 2.5 x 3.5 x 1.4 inches (63.4 x 90 x 34.3 millimeters). The camera's display flips out and can be used forward or back-facing. It also includes a built-in fold-out kickstand, so users don't need a tripod — although it does have a tripod socket. The camera has a large record button on the front and a small array of buttons on its rear for navigating menus and performing playback functions.
As for built-in audio, the PowerShot V10 includes a pair of built-in stereo microphones that can record front or rear audio, and a third mic to help reduce background noise. The camera includes wireless connectivity, and users can live stream with the Canon Camera Connect app. Content can be automatically uploaded via image.canon, a new online cloud-based service where users can keep their photos and videos.
PowerShot V10's Target Audience
In a pre-release briefing, Canon explained to PetaPixel that when seeking a camera for vlogging, content creators want something compact, convenient, and easy to use that also improves their video quality. Canon certainly hopes that the PowerShot V10 checks all these boxes. It is certainly compact and appears to be easy to use. The PowerShot V10 works alongside some of Canon's existing accessories, including microphones, controllers, and adapters.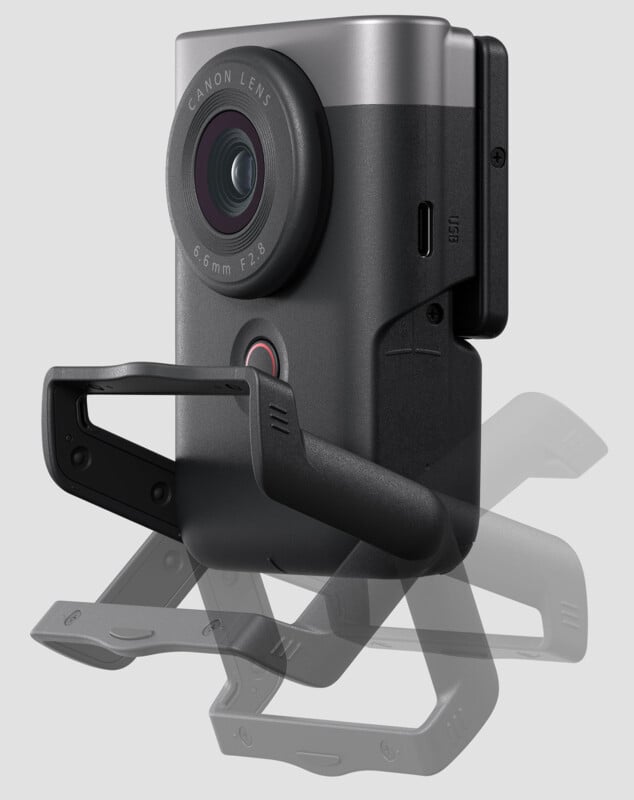 "There is no shortage of usage cases for the PowerShot V10 Vlog Camera. Traveling? The camera is super compact and includes a built-in stand, a port for a tripod and a microphone. Live streaming for gaming? You can easily connect the vlogging camera to a Wi-Fi router and output video directly to YouTube or Facebook platforms via the Camera Connect app. Haven't experienced a traditional DSLR or mirrorless camera before? The PowerShot V10 Vlog Camera is intuitive like a smartphone — making the transition from smartphone to the camera fairly seamless," Canon explains.
Pricing and Availability
The Canon PowerShot V10 will be available in June for $430.
---
Image credits: Canon