Laowa Argus 28mm f/1.2: Trash or Treasure? A Little Bit of Both
When I reviewed the Laowa Argus 35mm f/0.95 I was struck by how bad it was, but also how good it could be. Normally, I rate a lens based on how well it handles flare, how sharp it is, and how well it controls chromatic aberrations. Going by the above criteria, the Argus should have failed spectacularly.
Yet despite its shortcomings, the 35mm Argus charmed me with its beautiful bokeh and, I'll say it, character. When the opportunity arose to review the Laowa 28mm Argus F/1.2, I assumed it would be more of the same. I was especially thrilled to review a lens in a focal length I enjoy using; 28mm is a particular favorite of mine.
Laowa Argus 28mm f/1.2: How it Handles
The Laowa 28mm Argus is beautifully made and handsome to look at. Multiple colors of paint are used for the markings on the lens; a nice touch that feels a little luxurious. The machining work is precise, with a manual focus helicoid that turns smoothly. All the knurling is cut well, and the aperture ring clicks into place with positive feedback. There is also a switch allowing you to de-click the aperture ring; a boon for videographers.
The 28mm Argus has a heft because of its all-metal construction, but it is a very manageable 562 grams. A high-quality metal lens hood is provided, which must be removed when changing any 62mm filters. Unfortunately, there is no electric communication between the lens and your camera.
Without any communication between the lens and body, aperture data will be sadly missing from the EXIF file. Any in-body image stabilization will have to be dialed in manually in regard to focal length. Perhaps the most egregious issue will be the lack of automatic corrections applied to your images. When the images are imported into your favorite image editing software, you will have to manually correct issues like distortion and vignetting. And yes, there will be lots of distortion and vignetting.
Laowa Argus 28mm f/1.2: A Bevy of Flaws
In my experience, a Laowa Argus lens is going to have some serious optical issues. Let's get those out of the way, shall we?
The key to shooting most Laowa lenses is to understand that flare, particularly ghosting, will be present anytime a bright light source is near the frame. And by "present" I mean glaring and obvious. It's very common to have large rainbow-patterned rings and colorful globes opposite any bright light sources in the frame. If you can use this excessive ghosting in a creative way you will enjoy this lens. Otherwise, you may find the bright shapes distracting and frustrating to deal with.
The 28mm Argus is capable of rendering a decent level of detail, even at f/1.2. However, that level of sharpness is restricted to the center of the image only, and contrast is very low. Sadly the corners of the image will be very blurry, and even when the focus is specifically set to the corners, the results are poor.
Stopping the lens down will improve overall contrast and sharpness, but the corners only slightly improve. I would keep any important subjects in the center of the image as much as possible. If you need center-to-corner sharpness in your shots, you might want to look elsewhere.
You will also find that bright pinpoints of light in the corners take on strange shapes and are subject to heavy Comatic aberrations. This makes the 28mm Argus a poor choice for astrophotography applications. An unfortunate outcome, considering its wide field of view, and very bright maximum aperture seem ideal for astrophotographers.
Laowa Argus 28mm f/1.2: Redemption
It's easy to point out all the faults because they are so obvious. Yet, the 28mm Argus has some redeeming features, too.
Chromatic aberrations which typically cause colors to bleed in areas of stark contrast are largely absent from photos with the Argus lenses. Longitudinal chromatic aberrations, or LOCA for short, are particularly nasty to remove in post. Luckily, it is also largely absent from photos shot with the Argus 28mm.
If you can get close to your subjects and shoot at wider apertures, the 28mm Argus delivers a shallow depth of field. It renders the transition from areas of sharp focus through to out-of-focus backgrounds smoothly and with a gentle gradient that looks pleasing to the eye. Thanks to the thirteen-bladed aperture, specular highlights have an almost perfect roundness to them, even when stopped down.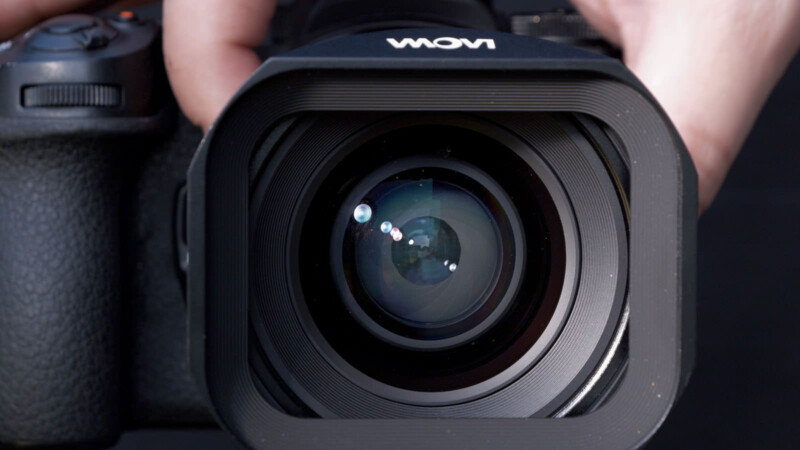 There is definitely some "cat's eye" effect going on in the corners wide open, however, this goes away quickly as the aperture is closed down. This look can even be a nice way to draw the eye to the center of the image, surrounding your subject with a swirl of lights.
Laowa Argus 28mm f/1.2: Trash or Treasure?
Your enjoyment of the $599 Laowa 28mm Argus f/1.2 is inversely proportional to your dislike for quirkiness. To love the images from the 28mm Argus you have to tolerate the ghosting and soft corners. You also need to find ways to use these flaws to create stronger photographs. I could see a photographer using this lens for street photography or funky wide-angle portraits and enjoying its quirks. Videographers can likewise create some compelling setups with the heavy ghosting and smooth bokeh of this lens. Think panning movements past the sky where streaks of rainbow color dash across the frame.
I wouldn't recommend this lens to any ardent landscape or architectural photographers. The poor overall sharpness across the frame and lackluster sun-stars, won't win over many people. I definitely would not recommend it to someone who expects a lens to be free of vices. If the lack of electrical communication with the camera body seems daunting, do not buy this lens.
Are There Alternatives?
The Laowa Argus line is nothing if not unique. To get a similar set of quirks, you should look no further than the other Argus full-frame lenses, of which the company currently makes three. Laowa offers these lenses in four mounts: Canon RF, Sony E, Nikon Z, and L Mount.
Along with the 28mm f/1.2, there is a 35mm f/0.95, and a 45mm f/0.95 to cover a range of situations.
Should You Buy It?
Maybe. The price makes it fairly affordable and the lens can deliver compelling images. If you can accept all its idiosyncrasies, you might fall in love.