Latest Lightroom Update Adds Video Editing, Red Eye Removal, and More
Adobe is updating Lightroom Classic and Lightroom CC with multiple new features, including adding red eye removal and the ability to edit video to Lightroom CC which brings full feature parity between the two programs closer.
Lightroom Classic and Lightroom CC have been operating at near feature parity for some time but that is getting even closer today with the addition of these two features. Adobe is also updating the two programs and Adobe Camera RAW (ACR) with more functionality that is brand new to all three platforms.
Lightroom CC Now Supports Video
Adobe has added the ability to edit video in Lightroom, but the program isn't designed to give editors the ability to produce a full video edit and is restricted to supplying color correction. Users can make adjustments to video clips in the same way that they would edit a photo, and Lightroom additionally allows those settings to be copied and pasted between photos and videos to achieve a consistent aesthetic across both photos and videos.
And while the functionality of this feature is limited, users can still trim off the beginning or end of a clip. To string multiple clips together into a finished video, editors will still need to rely on Rush or Premiere Pro.
Speaking of those programs, Adobe hasn't built in kind of pipeline between Lightroom and either Rush or Premiere.
"We envision video editing in Lightroom to be for creators who are interested in giving the same look and feel to their images and individual video clips using the editing tools in Lightroom," the company tells PetaPixel.
Benjamin Warde, an Adobe Lightroom Product Manager, elaborates:
"Video, and often single video clips, are very commonly shared to social media these days (increasingly even more so than photos are shared). For any customer who wishes to make a single video clip look its best for social media, we don't want them to have to step outside of their Lightroom workflow in order to do that. In addition, for any photographer sharing out photos and videos together, we want to enable them to achieve the same look across both their photos and videos."
Adobe says that video that is edited in Lightroom is not compressed or lowered in quality in any way and that edits are "nondestructive." When exporting a video from Lightroom the new video (which includes all edits and trimming baked in) is a high quality MP4 using the H.264 codec or H.265 for HDR video.
AI-Assisted Red Eye Removal and Compare View
Lightroom CC is also finally getting a red eye removal tool. The feature is powered by artificial intelligence (AI) and doesn't require editors to manually circle each eye in a photo to get rid of the effect that is caused by flash photography. Instead, it can be removed with a single click.
The program is also getting a compare view which allows editors to see photos side by side.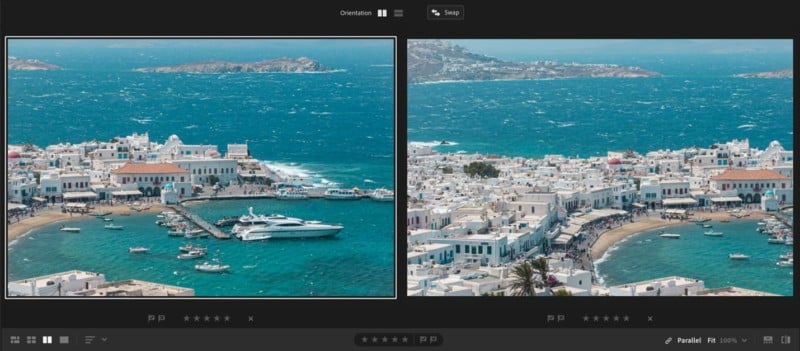 Adobe is also leaning more into the "community" aspect of Lightroom with Community Search. Found within the "Discover" section, the feature allows users to search the community for photos on topics that interest them and that they would like to follow.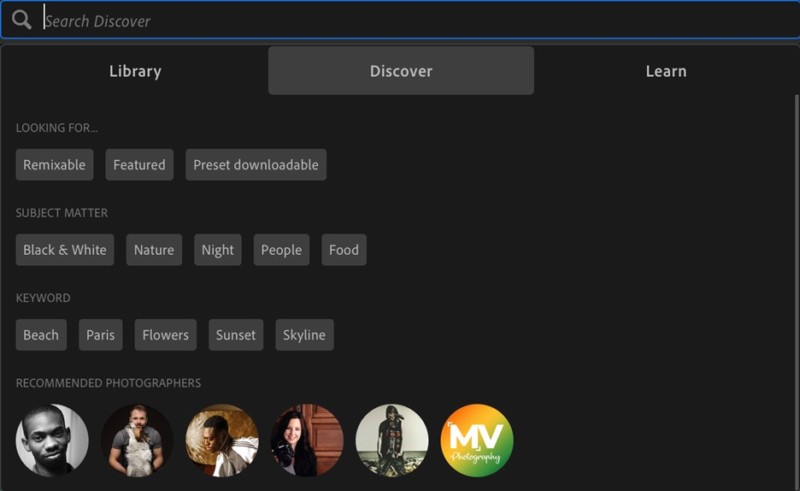 Presets are Getting More Support
In addition to those features coming specifically to Lightroom CC, Adobe is also adding new preset features to Classic, ACR, and Lightroom CC on desktop, iOS, Android, and the Web: a Preset Amount slider, AI-Powered Adaptive Presets, and new Premium Preset packs.
The Preset Amount slider allows users to adjust the intensity of a preset on a photo or video. No longer is a preset simply defined, but can now be intensified or made more subtle per an editor's tastes.
Adaptive Presets are what Adobe calls an "entirely new class of presets." They are built on the same AI capabilities that power Select Sky and Select Subject masks and now can be used to apply a preset to a particular part of a photo. Adobe's first two sets of Adaptive Presets include one that targets skies and another that focuses on the subject of a photo.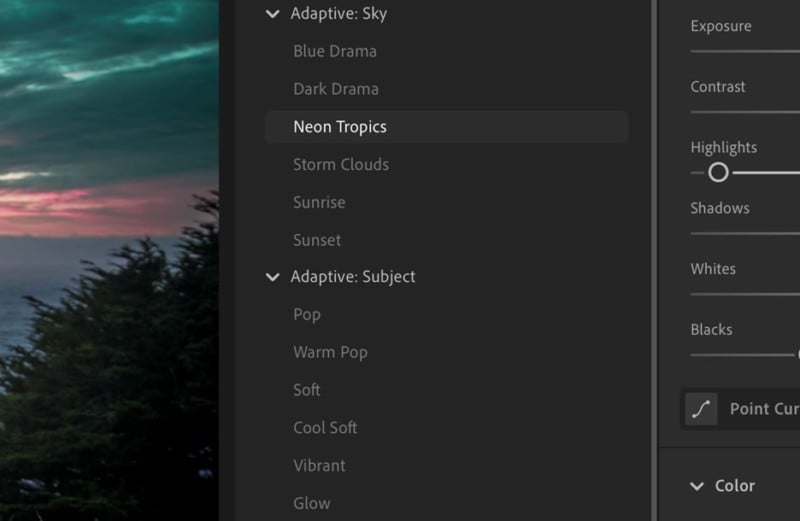 Finally, Adobe is releasing five new Premium Prest packs made by what it describes as some of today's best photographers: Portraits: Black & White, Portraits: Edgy, Portraits: Group Subject: Concerts, and Video: Creative.
Other Improvements
Adobe has made it possible to batch copy and paste AI Masks (like Select Sky and Select Subject) in the same way that other edits can be copied and pasted. Previously, AI masks could be copied and pasted to another photo or set of photos, but the AI had to be individually manually applied. This update makes it so that the masks are recomputed automatically.
The update also makes it possible to invert mask groups, which Adobe says greatly simplifies targeting edits to particular parts of a photo.
Lightroom on the desktop now includes forward and back buttons which easily let you navigate through Lightroom, much like the forward/back buttons in a web browser.
Finally, Lightroom now provides more control over how much of a hard drive is used for photo storage and allows users to purge the cache in order to free up space on their computer.
These updates are rolling out to all users starting today.