Adobe Brings Big Updates to Premiere Pro, After Effects, and Frame.io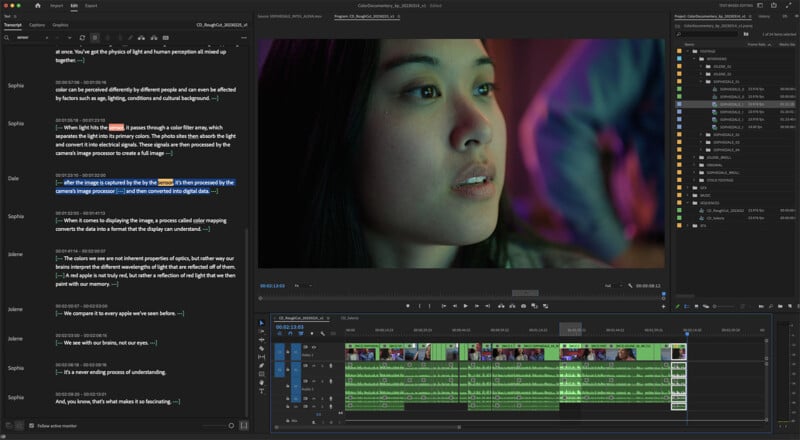 At the 2023 NAB Show, Adobe has announced significant product updates to its video-oriented software including Adobe Premiere Pro and After Effects. The software company announced major enhancements to its Frame.io service, including Frame.io functionality designed for still photographers.
Adobe Premiere Pro: AI-powered Text-Based Editing, Automatic Tone Mapping, and Improved Performance Spearhead Fastest Version of Premiere Pro Ever
During a pre-release press briefing, Adobe explained that among the official selections at the 2022 Sundance Film Festival, 61 percent of the films were edited in Premiere Pro, 67 percent included Premiere Pro and Frame.io at some point in the production process, and 74 percent of filmmakers used Adobe Creative Cloud apps.
Adobe Premiere Pro is ubiquitous among filmmakers of all skill levels. Premiere Pro now includes text-based editing powered by Adobe Sensei artificial intelligence (AI) to enable faster editing for enthusiasts and professionals alike. Premiere Pro is the only professional editing software to include text-based editing, allowing users to edit videos by copying and pasting text.
Sensei automatically analyzes and transcribes clips, allowing editors, producers, and assistants to copy and paste sentences into any order they want to see them appear on the timeline.
Adobe has added automatic tone mapping and log color detection to Premiere Pro. This allows users to mix and match HDR footage from different sources into the same SDR project and achieve consistent, natural-looking color. Previously, editors used look-up tables (LUTs) or manually balance clips to achieve similar results.
It's worth noting that these two features, text-based editing, and automatic tone mapping, will launch in May as beta versions. They will also be on display at NAB.
Beyond these key features, Premiere Pro addresses "dozens" of user requests and is the fastest and most reliable version of Premiere Pro ever released. New features like background auto-save, system reset, a new Effects Manager for plug-ins, and more GPU acceleration improve the app's overall performance and workflow.
Premiere Pro sports new collaborative editing enhancements to make the app more flexible for collaborative workflows. A new feature, Sequence Locking, enables active editors to make secondary editors unable to edit a sequence. Work While Offline allows editors to continue to work offline and then publish changes without overwriting the work of others when the editor returns online.
The update adds improved format support for RED V-Raptor X, ARRI Alexa 35, and Sony Venice v2 cameras. It also expands Speech to Text support for Dutch, Norwegian, Swedish, and Danish.
"Today's creatives are racing to meet demand for standout video content across platforms and surfaces that is growing exponentially. We are excited to help them meet these challenges with the latest cutting-edge Premiere Pro and After Effects innovations, empowering creative professionals to focus on the craft of creating while cutting out time-consuming tasks that prolong content ideation, creation, and delivery," says Ashley Still, Senior Vice President, Creative Product Group and Digital Media Growth at Adobe.
Adobe After Effects Update Promises Improved Usability and Better Color Management
Adobe After Effects is a popular solution for users doing extensive video post-production with animations and special effects. The new version of After Effects includes a new Properties Panel that delivers fast and easy access to the most important animation settings in a single location. This should reduce the time users need to navigate their timelines and reduce the learning curve for beginners.
After Effects integrates with ACES and OpenColorIO to maintain consistent colors with external post-production apps.
Adobe has answered customer requests, including performance optimizations such as faster timeline layer selection and multi-frame rendering of shapes. Adobe has also added new keyboard shortcuts for Selectable Track Mattes.
To make the app easier to use, it includes new in-app troubleshooting to assist users with common potential workflow issues, system performance, and optimizations. The app also offers simplified interfaces to enable and disable pug-ins and run diagnostics to address bottlenecks in caches and performance.
Frame.io: Collaboration Platform Now Supports Photos and PDFs
Adobe has expanded Frame.io's industry-leading video collaboration platform to support photos and PDF documents, making the cloud-based service more appealing to a broader range of creative professionals and businesses.
The previously announced Camera to Cloud capabilities for the Fujifilm X-H2 and X-H2S cameras is now natively integrated into Frame.io, enabling creators an end-to-end cloud-based workflow from capture to edit, review, and approval within a centralized hub.
Frame.io also includes enhanced security features, including Forensic Watermarking, which Adobe says makes "Frame.io the world's most secure creative collaboration platform." These invisible watermarks allow users to investigate leaks. By design, the feature is easy to use and enable and very difficult to circumvent. Hidden pixel-level details will survive screen recording, file copying, and external recording.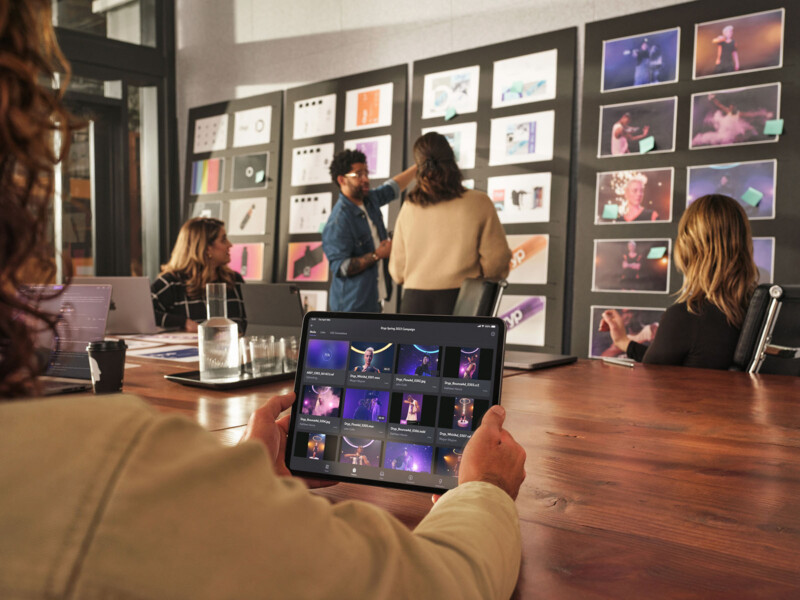 "Creativity is the new productivity, and our goal is to deliver the technologies that empower every creator to work collaboratively and efficiently, so they can deliver standout content and stay ahead in this competitive industry," says Still. "Frame.io's latest innovations expand the platform's appeal to new market segments, address the needs of non-video creatives focusing on images and marketing materials, and continue our commitment to making our most powerful tools accessible for all creators."
Frame.io transforms traditionally tethered onsite photography workflows into remote workflows for expanded flexibility and collaboration possibilities, even if photographers and editors are in different locations.
Camera to Cloud technology lets photographers transfer photos immediately from their cameras to Frame.io's cloud platform without moving physical media. With native integrations on the Fujifilm X-H2 and X-H2S cameras, photographers can deliver RAW image files directly from the field without needing to stop shooting.
Expanding existing collaboration tools within Adobe Acrobat, Frame.io now supports PDF documents to assist teams working with project-adjacent documents and materials. Users can natively open and mark PDF documents on iPhones and iPads, and these annotations can be seen on any connected device.
More on Frame.io and Fujifilm, Plus a New Partnership with Capture One
Frame.io has also announced Capture One as a new partner, joining the existing partnership between Frame.io and Fujifilm.
Photographers can now use a RAW photo-to-cloud workflow untethered with the native Camera to Cloud integration on X-H2 and X-H2S cameras. Users can upload RAW, JPEG, and HEIF files directly into Frame.io from the field, where they'll be instantly backed up and accessible from connected devices. Beyond still images, the cameras can send video, including 4K ProRes files, to the cloud.
New integration with Capture One further enhances the photography workflow possibilities of Frame.io. Users can now share images between Frame.io and Capture One, including making annotations.
Frame.io also includes new features to enhance print and design-file workflows. Users can upload and view any RAW photo captured by Canon, Fujifilm, Nikon, Panasonic, and Sony cameras. Powered by Adobe Camera Raw, the enhanced functionality will show images in the correct native aspect ratio and swap automatically between sRGB and CMYK color proxies. Photos can also be viewed alongside PDFs, which is helpful for certain design teams and projects.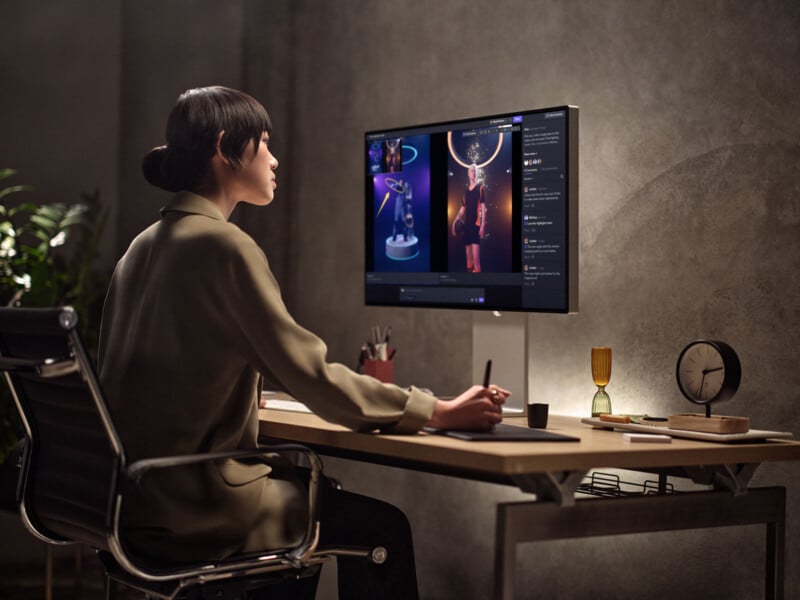 "We've added the ability to view two photographs or PDFs side by side with or without creating a version stack. Now, you can select any two frames and compare them either with or without comments or annotations visible. The new comparison tool also allows you to zoom, pan, and scan between two photographs while locked in unison, and to overlay the images on top of one another with transparency," writes Frame.io.
---
Image credits: Adobe and Frame.io