OWC Unveils Memory Card Software, Readers, and Portable Shared Jellyfish XT NAS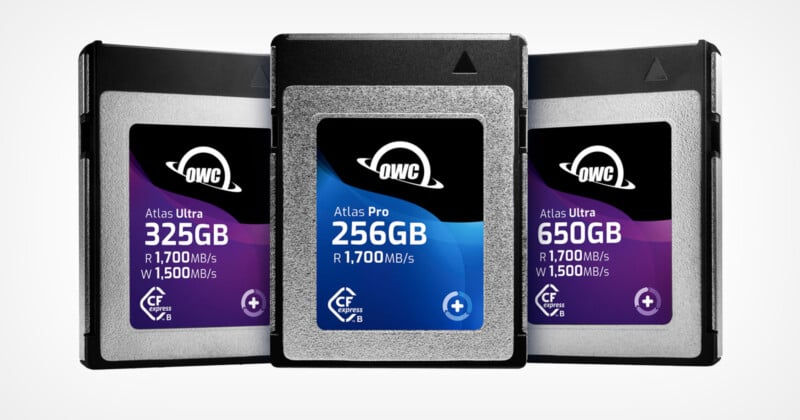 OWC has announced its new Innergize software for memory cards, new memory card readers, and its new Jellyfish XT Network-Attached Storage (NAS) Solution.

Innergize Software
The new Innergize card management software is designed to monitor the health of OWC's Atlas memory cards, as well as manage with tools to sanitize cards and field upgrade the firmware to keep the cards compatible and updated for maximum performance regardless of the system used and content being captured.
According to the company, Innergize is a free download that can be used with any Atlas memory card or card reader available now for Windows users and coming soon for Mac.
New Card Readers
Along with the new Innergize software, the company has launched a series of new $89.99 (early price $79.99) Dual Slot CFexpress Type B and SD and Atlas Dual Slot SD card readers designed for users with heavy workloads by taking advantage of a heat-dissipating design, write-protect switches, and a built-in USB-C cable that can be tucked into the base of the reader for easy and safe travel.
Portable Shared Jellyfish XT NAS
Additionally, the company says the Jellyfish XT solutions have set the industry standard for shared portable NAS with unmatched connectivity and speed. The new Jellyfish XT is a full flash-based storage solution with up to 360TB (720TB with extension, further expandable to 1.5 petabytes of total flash storage) usable storage and both 100Gb and 10Gb Ethernet connectivity. Whether it's 4k/8k/12k, VR, or AR, OWC says the Jellyfish XT is built to enable teams to push through content without friction.
"Here at OWC, we continuously seek to innovate and bring forth new solutions that empower creators to more easily create. Our new top-level storage solutions in Jellyfish and Atlas do just that; give creators the freedom to manage their workflows and improve their efficiency," said Larry O'Connor, founder and CEO at OWC. "OWC is improving its 'capture to completion' workflow with brand-new offerings in both Jellyfish portable NAS and Atlas memory card accessibility. Whether users are seasoned creative professionals or simply want to make sure they can get the absolute most out of their memory cards, OWC has created solutions any user can rely on."
People attending the NAB 2023 show in Las Vegas, NV can see demonstrations of the new products from April 15 through April 19 in the OWC booth at C2820 at the Convention Center's Central Hall.