OWC's New CFexpress Cards are Very Fast and Its Old Ones Can Be, Too
OWC has announced a line of CFexpress cards that use the new 4.0 specification. The Atlas Pro and Atlas Ultra cards double the speed of the previous versions and, in an industry first, the company allows some 2.0 cards to be upgraded to 4.0 speeds.
New CFexpress 4.0 Cards
The first portion of OWC's announcement concerns its next-generation CFexpress cards. The new Atlas Pro 256GB, Atlas Pro 512GB, Atlas Ultra 1TB, and Atlas Ultra 2TB cards leverage PCIe Gen 4 technology to enable up to 3,650 MB/s read and 3,000 MB/s write speeds. The company notes that's a 97% increase over the prior generation and the speed makes it possible to not only capture stunning 4K, 6K, and 8K+ videos while enabling the next generation of cameras but also makes it much faster to access and offload content for editing and distribution.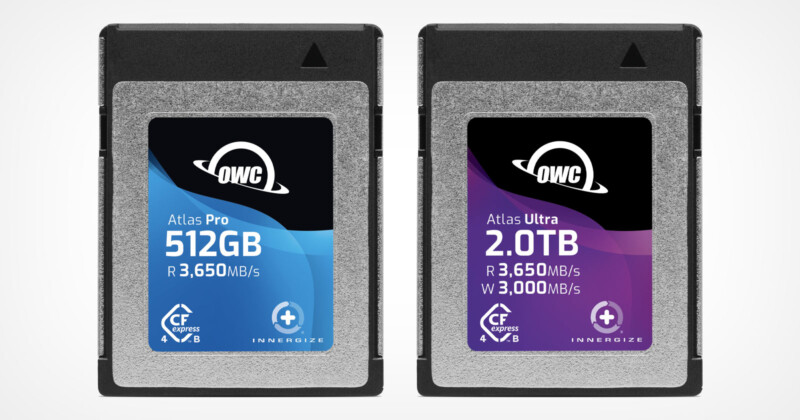 OWC adds that even with these massive speed increases, the power consumption of its cards is only a third of what is allowed by the specification, setting them apart from the competition. Speaking of competition, OWC now joins ProGrade Digital as the only manufacturer currently producing CFexpress 4.0 cards, although Nextorage expects to join the group by the beginning of next year.
Backward and Forward Compatibility
OWC says that the new Atlas CFexpress 4.0 cards work with its Innergize software, which provides the unprecedented capability to upgrade the firmware on previous PCIe Gen3 Atlas Ultra 1TB and 2TB cards to CFexpress 4.0 firmware.
While PetaPixel digs into the details of the upgradeability of previous 2.0 cards below, it's first worth mentioning that this is the only time any memory card company has allowed existing, previous-generation cards to be upgraded to new, next-generation performance.
"Memory card users have never had the opportunity to elevate their card's performance and prolong its usefulness with field firmware upgrades," OWC says.
This feature only works with specific cards, namely the aforementioned PCIe Gen3 Atlas Ultra 1TB and 2TB cards — specifically only those with 1,850 MB/s on the card label are able to be upgraded to the new CFexpress 4.0 specification — but the fact it is being offered at all is noteworthy.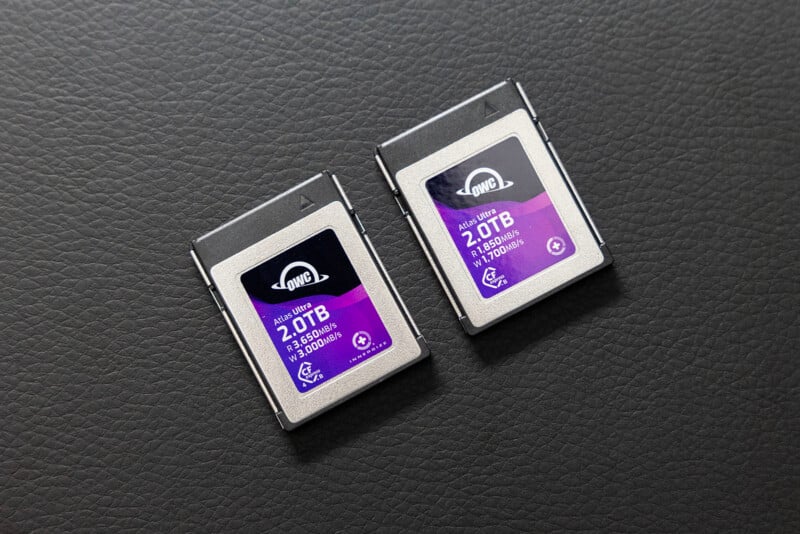 When upgraded, OWC says that it brings these older cards basically in line with what is expected out of CFexpress 4.0, pulling the previous 1,850 MB/s and 1,700 MB/s read/write speeds up to a much faster 3,650 MB/s and 3,000 MB/s read/write speeds.
"We always want to ensure that our customers can get the most out of our products, which is why we spent considerable time and effort ensuring our latest PCIe Gen 3 CFexpress Ultra 1 and 2TB cards that launched earlier this year were forward compatible with the latest CFA 4.0 specification," Larry O'Connor, founder and CEO at OWC, says.
"Giving existing OWC Atlas memory card owners the flexibility to upgrade their products and take advantage of the latest speeds without having to purchase new cards is a game changer that we are delighted to bring to the table."
Users can download OWC Innergize software to upgrade Atlas CFexpress 1TB and 2TB memory cards.
New Card Speeds, Old Card Upgrades, and a Wicked Fast Reader
PetaPixel was given an exclusive opportunity to not only test the upgradeability of OWC's previous CFexpress cards but also to test the speeds on a one-of-a-kind prototype OWC CFexpress 4.0 card reader.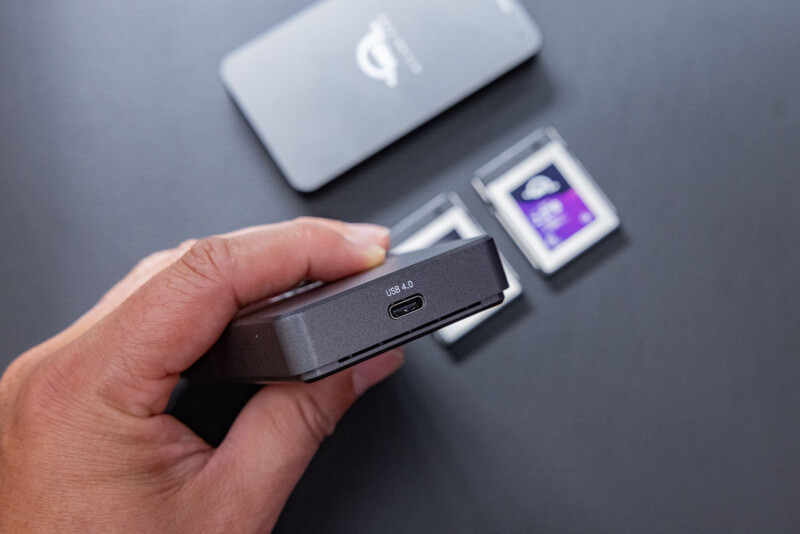 First up, below are the speeds of the CFexpress 2.0 Atlas Ultra 2TB CFexpress memory card and the new CFepxress 4.0 Atlas Ultra 2 TB memory card as tested through OWC's current FXR Thunderbolt reader: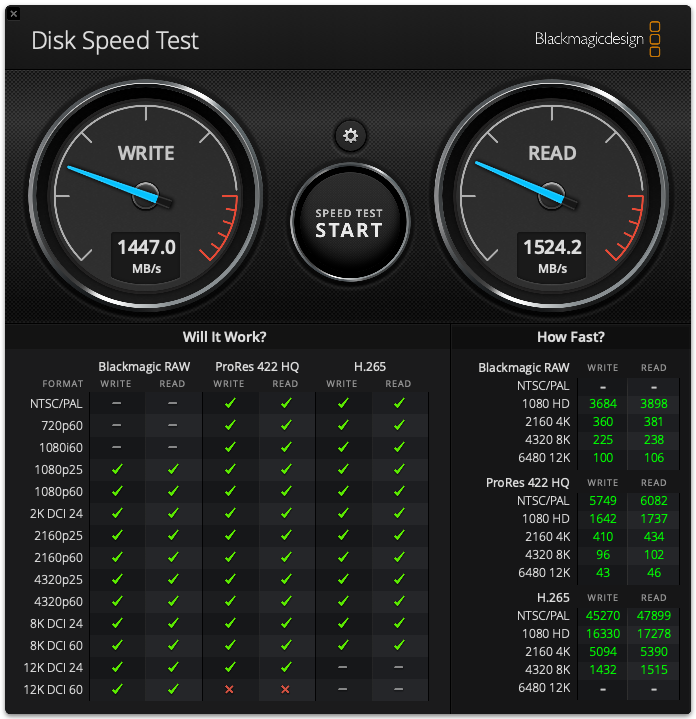 As can be seen, OWC's new CFexpress card through current card readers is fast, but not much faster than what is already on the market. That changes once we shift over to OWC's prototype USB 4.0 card reader. Below, two things have changed. One, the old card now reads much faster — this is expected, and what PetaPixel saw when it tested current CFexpress cards on ProGrade Digital's new USB 4.0 reader. Two, the new CFexpress 4.0 card can really flex its muscles and show just how fast it will be in practice.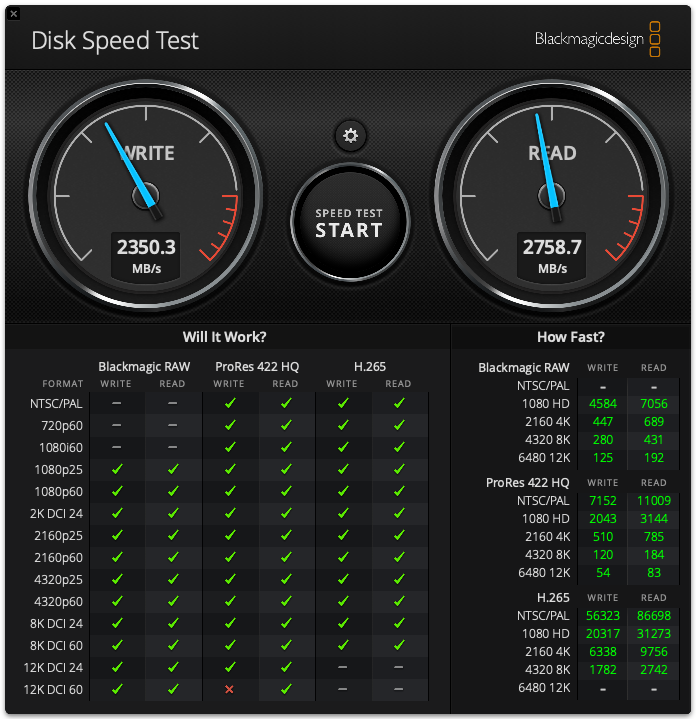 That's great, but thanks to OWC's new firmware update, the company is able to give that CFexpress 2.0 card, CFexpress 4.0 capability. Taking that card into the company's software Innergize, a firmware update was visible: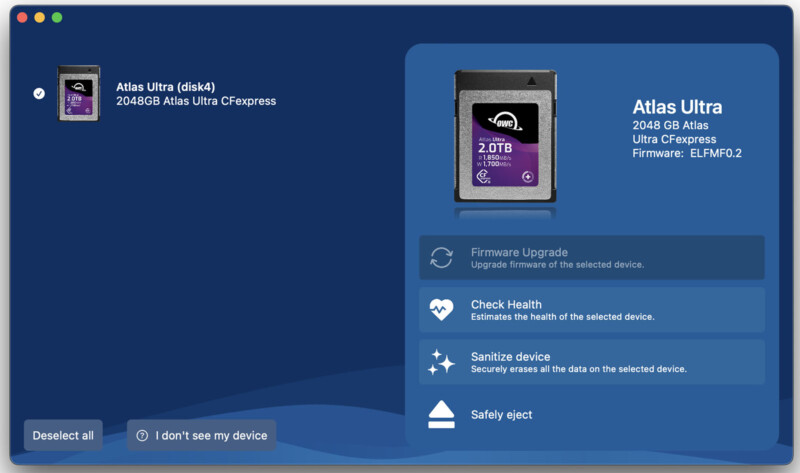 After updating, the card's speeds went way up — certainly enough to consider its speeds at the level of CFexpress 4.0. Even better, this upgrade is free, meaning anyone with these older cards is going to be able to give them a massive boost for no extra cost.
As a note, upgraded CFexpress cards don't have to use a new reader. An upgraded Atlas Ultra card still works just fine in a current-gen FXR reader, but it is still limited to the bandwidth of Thunderbolt 3 or USB 3.2, depending on the cable.
Because CFexpress 4.0 is designed to be backward compatible with CFexpress 2.0, either version will work just fine in any camera that currently accepts CFexpress cards. Don't expect faster speeds from a camera though: as noted in a previous story, photographers and filmmakers are going to have to wait for new hardware in order to see the benefits in cameras. For now, the benefits are all on the data management, after capture, side.
Pricing and Availability
OWC's Atlas Pro CFexpress cards are available in 256GB and 512GB capacities for $169.99 and $199.99, respectively. The Atlas Ultra cards are available in 1TB and 2TB capacities for $579.99 and $999.99, respectively. All four options are available starting today.
As mentioned, upgrading compatible Atlas Ultra CFexpress cards is free and can be done by downloading the latest version of OWC Innergize.
The USB 4.0 memory card reader used in the testing above is still in the prototyping stage and is expected to come to market in early 2024.