Elegant and Unbelievable: Crystal-Clear Photos with a Crystal Camera
As evidenced by Leica's seemingly infinite supply of special edition cameras, photographers care about style. The passion for sleek, svelte cameras is perhaps matched only by the desire for crystal-clear images. Enter Fotodiox's Crystal Camera, blending the best of both worlds.
For just $75, style-conscious shutterbugs can hit the streets with a 100% premium-grade crystal camera. Fotodiox's line of Crystal Cameras promises to satisfy even the most demanding photographers with detailed carvings and a built-in lens. With a Crystal Camera, convenience and class are combined.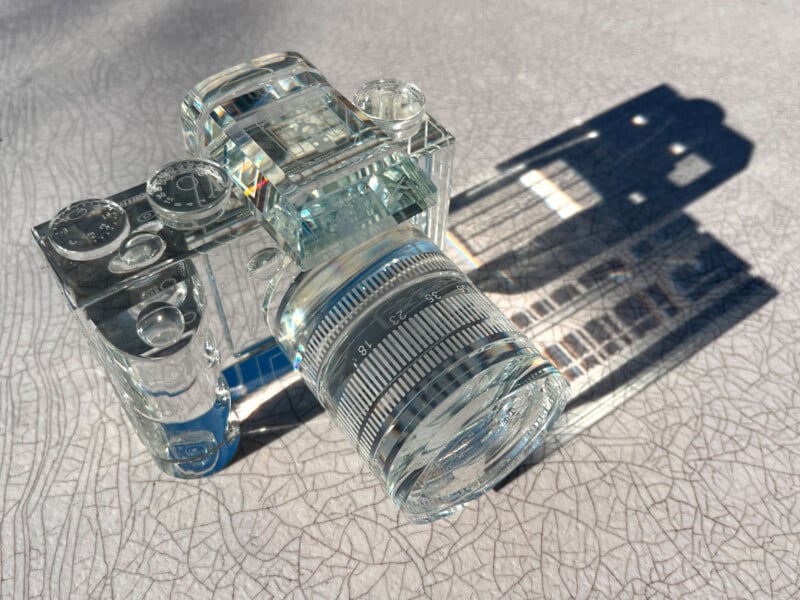 Taking the crystal Leica M9 into the field, Sean from Fotodiox shows off the crystal camera's suite of features. The crystal Leica is a beautiful camera and sports a super compact form factor. At two-thirds the size of the standard (real) Leica M9 and attached carved Summicron 28mm f/2 lens is easy to slip into a jacket pocket, perfect for street photographers on the go.
"Crystal Cameras are beautiful cameras. They're a joy to shoot with, and they take crystal-clear images," Sean says. "I had a blast taking this camera out and taking some nature and landscape photography."
For better or worse, the crystal camera isn't lightweight. Don't fret, photographers; its heavyweight design gives it alternative practicality as a paperweight or even a bookend to keep a collection of photo books upright and organized. Talk about a triple threat! What can't it do? Aside from capture photos, that is.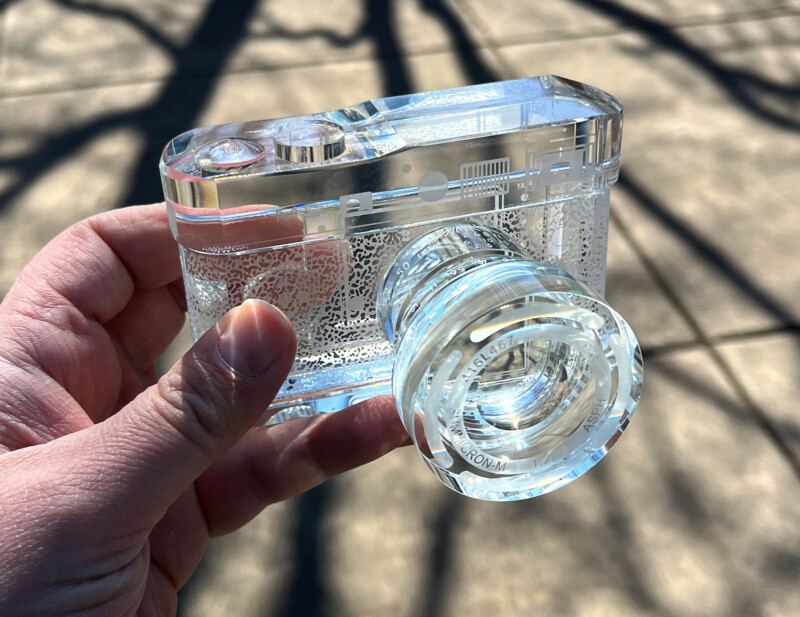 Usability is essential, but viewers want to see Sean's photos. After importing them into his computer, disappointment sets in. Without an image sensor, memory card, or any picture-taking abilities, the Crystal Camera comes up shockingly short in the image quality department.
Perhaps the images are there, but just so unbelievably translucent that they're invisible.
Although the photos may not exist, the Fotodiox Crystal Camera itself certainly does, and that's no joke.
Fotodiox offers scale models of seven cameras, including the Sony a7 with a Sony FE 28-70mm f/3.5-5.6 OSS lens, Fujifilm X-T with XF 18-55mm f/2.8-4 R LM OIS lens, Nikon D90 with a standard kit lens, the Leica M9 Sean featured, and more. There are even a couple of retro offerings, including crystal replicas of a Rolleiflex camera and a Hasselblad 503CM.
Each beautiful Fotodiox Crystal Camera is $75 and available now.
---
Image credits: Fotodiox