Fotodiox's Medium Format Stitching Adapters Now Available for L-Mount
Fotodiox's RhinoCam Vertex stitching adapters have been available for some time but the company finally has a version for L-mount cameras.
The RhinoCam Vertex line of adapters connects modern full-frame cameras with medium format lenses and allow photographers to take four photos while rotating the camera 360 degrees which can then be stitched together to form a 6×6-style photo. When the camera is rotated on the adapter, photographers get the full benefit of the large image circle of medium format lenses without needing a medium format camera.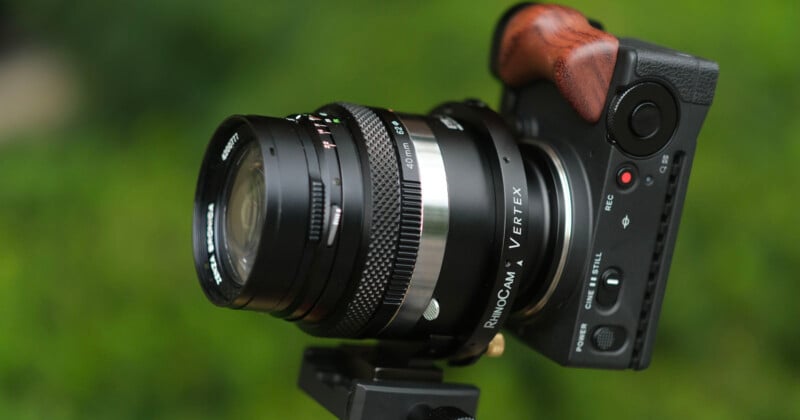 The idea is to allow any camera to gain the ability to create "medium format-like" images with relative ease and significantly less investment. The original slate of RhinoCam adapters was announced in March 2021 and supported Nikon, Canon, and Sony bodies and a range of medium format mounts.
"Capable of creating the dramatic full 6×6 medium format images previously reserved for photographers working with expensive medium format back cameras, RhinoCam Vertex is ideal for landscape, commercial and architectural photographers seeking remarkably high resolution at a fraction of the cost," Fotodiox says.
"The lens remains firmly in place while the RhinoCam Vertex's moving platform positions the sensor for multiple precisely-positioned exposures. After the capture process, it takes seconds to merge the multiple exposures into one larger image using automated stitching functionality built into Adobe® Photoshop® and other software offerings. RhinoCam Vertex images are finalized using the more accurate flat stitching method, avoiding the perspective errors and curvilinear distortion present in images joined via spherical stitching often found with motorized systems that move both camera body and lens."
Now these adapters are available for Leica L-mount, an alliance of brands that has grown in recent months. Earlier this month, Blackmagic joined the L Mount Alliance following both Samyang and Astrodesign, which joined in July. Today, what was once just a small alliance between Leica, Sigma, and Panasonic has grown to include eight total companies.
Fotodiox's RhinoCam Vertex comes in five options for L-mount: Pentax 645 mount, Mamiya 645 mount, Hasselblad V-mount, Bronica ETR mount, and Pentax 6×7 mount. All three options are available for $300 directly from Fotodiox's website.
---
Image credits: Fotodiox