Fujifilm Japan Stops Accepting Orders for Color Film Amid Supply Issues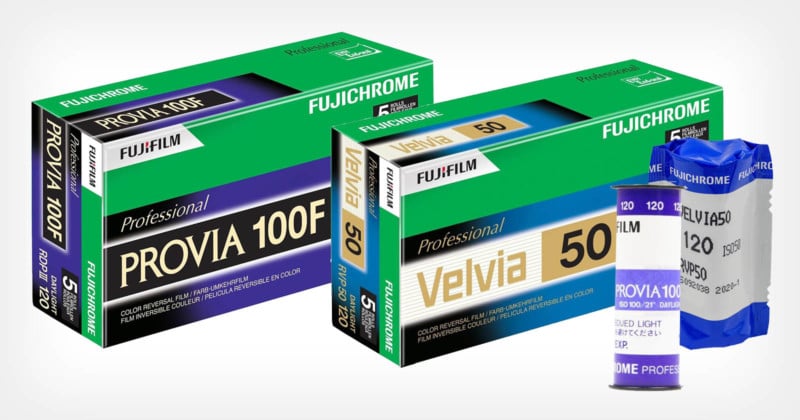 Fujifilm has announced that it will no longer accept new domestic orders for a range of color negative 35mm film as well as reversal film in both 35mm and 120 formats due to a shortage of raw materials.
The company says that it will be taking steps to try and ensure a stable supply of the materials necessary to create these products as soon as possible, but will need to cease new domestic orders for nine types of film as it is halting production of them until further notice. In Japan at least, the affected film types will likely become more difficult to acquire.
Fujicolor 100, Superia Premium 400, and Superia X-TRA 400 are the three color-negative 35mm film types affected by the production pause. In the reversal film category — otherwise known as slide film or transparency film — Velvia 50, Velvia 100, and Provia 100F production will be paused in both 35mm and 120 format sizes.
Fujifilm did not reveal what specific raw materials are proving difficult for it to acquire and, likewise, did not provide any anticipated date when it would be able to resume production. The company did not specify if the issue would cause problems for the film's availability in other regions outside of Japan.
Of note, some of these films have already been discontinued in the United States. Fujicolor Superia X-Tra 400, and Fujicolor 100, for example, are no longer available. Fujicolor Superia 400 is currently on backorder.
Fujifilm Velvia 50, Velvia 100, and Provia 100F are still available and in stock from U.S. retailers, though.
Even as analog photography is enjoying a resurgence, the available supply of the materials needed to support the hobby has gotten wore. Last year, Fujifilm warned that many of its 35mm films were expected to be in short supply "for the time being." Earlier in 2022, the company issued a similar warning about shortages with its 120 films which also happened to affect both the Velvia and Provia lines.
It wasn't clear when the company expected that to change, but today's announcement doesn't instill much confidence that film supply is going to get better.
Last September, Fujifilm increased the price of photo paper and photo chemicals by 15%. It increased film prices by 25% in the United States last April.