Fujifilm Warns Its 120 Slide Films Will Be Hard to Find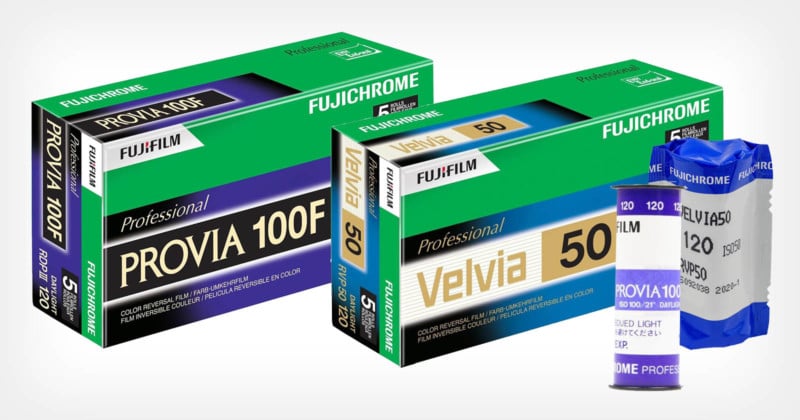 Fujifilm has announced some bad news for medium format photographers who use its slide films: there will be shortages of 120 reversal films as the company struggles to source the necessary ingredients.

The COVID-19 pandemic has seen supply chain issues and soaring materials costs across the globe, and the photography industry has been noticeably impacted as well. Estimated arrival times for new digital cameras continue to be pushed back further and further, and news from the world of film photography world has been far from positive.
Shortages of All Fujifilm 120 Slide Films
In a new announcement on its Japanese corporate website, spotted by Kosmo Foto, Fujifilm warns of a supply crunch in its final three remaining 120 slide film stocks.
"Regarding 'Reversal film 120 size', it is difficult to supply sufficient products due to insufficient procurement of raw materials, and the supply and demand is expected to be tight for the time being," Fujifilm writes (with automated translation). "We deeply apologize for any inconvenience caused to our customers.
"We will continue to take measures to ensure a stable supply of products as soon as possible. Thank you for your understanding and forgiveness."
The three films that photographers may have a hard time obtaining now are Fujichrome Velvia 50, Fujichrome Velvia 100, and Fujichrome PROVIA 100F.
Other Fujifilm 120 Films Are Fine… For Now
It seems the difficulty in obtaining raw materials only affects the company's slide film production, as other 120 films such as the color negative Fujicolor Pro 400H and the black and white Neopan 100 Acros II continue to be in stock at major retailers.
Hard Choices in the Face of Economic Realities
The news of Fujifilm shortages comes just days after the company warning retailers in Japan that it would be hiking film prices by up to 60% in April 2022 due to soaring materials and logistical costs.
Fujifilm also announced in October 2021 that it would be discontinuing another few film products — Fujicolor 160NS Professional 120 film and Velvia 50 in 4×5 and 8×10 sheet sizes — and the company gave the same reasoning for its decision then as its latest announcement.
"[Fujifilm] has been working hard to absorb costs such as improving production efficiency and reducing costs for the 160NS 120 size color negative film for photography and the VELVIA 50 CUT size reversal film that have been used for many years," the company said. "However, because it became difficult to procure some of the raw materials used for production, we have no choice but to discontinue production and sales."
It remains to be seen whether Fujifilm can continue to economically produce the impacted slide films as supply and inflation issues continue to wreak havoc across international markets.