Truepic and Microsoft are Piloting a New Cloud-Based Photo Authentication Platform
Truepic and Microsoft are working together to pilot a new photo authentication platform called Project Providence, which would combine Trupic's authenticating camera SDK with Microsoft's Azure cloud platform.
Truepic Lens, or just Truepic, created a camera-based SDK that combines information like date, time, location, and the pixels in an image to create a cryptographic signature that it claims can't be tampered with. Basically, if a photo is taken on a smartphone with an app that is running Trupic's SDK, the photo's authenticity can be easily verified.
Project Providence is an interoperable system using Truepic's authenticating camera SDK and the Microsoft Azure cloud platform to maintain the provenance or origin of images as they are captured, stored, and then eventually displayed. Truepic says this enables users to verify images as authentic and transparently display their time, date, location, and source to viewers.
"With this technology, modifications to the images can be detected and the authentic source of images can be proven," Truepic says.
Project Providence is being deployed by a group of documenters associated with the Ukrainian NGO Anti-Corruption Headquarters as part of the Enhance Non-Governmental Actors and Grassroots Engagement (ENGAGE) program, which is funded by the United States Agency for International Development and implemented by international nonprofit Pact. Working across Kyiv, Kharkiv, Chernihiv, Mykolaiv, Sumy, and various Kyiv suburbs, the team is documenting damage to cultural heritage and national infrastructure for accountability, advocacy, and reconstruction efforts.
"Brave Ukrainians are going to great lengths to protect their rich cultural heritage through digital documentation. Project Providence is helping ensure that these efforts will not be undermined with accusations of being false, manipulated, or deepfakes at any time moving forward. This trend, known as the Liar's Dividend, is a great threat to all documentation, and we are honored to work with the Anti-Corruption Headquarters, Pact, and Microsoft to help preserve facts in Ukraine," Jeff McGregor, CEO of Truepic, says
"Today, manipulated online content is becoming more sophisticated. This pilot is a key step in our efforts to create technologies that empower people to find, consume and share authoritative and trusted information," Teresa Hutson, corporate vice president of tech and corporate responsibility at Microsoft, says.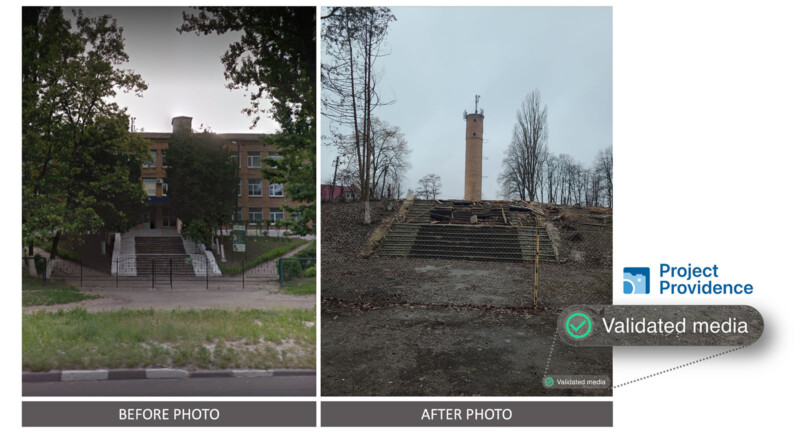 "Having proof-of-concept that we can certify the provenance of an image – the origin, authenticity and history – is a powerful tool in that effort. Through the Microsoft Democracy Forward initiative, we are supporting healthy information ecosystems in Ukraine and around the world."
If the mission behind Truepic's platform sounds familiar, that's because it is building on the idea that has been pushed by the Content Authenticity Initiative (CAI) for several years. Luckily, Truepic isn't trying to create a competing standard and its system is compliant with C2PA, the standard for content verification created by the CAI and used by Adobe, Nikon, Leica, and Sony.
It isn't, however, the only platform being developed to verify an image's authenticity from the moment of capture. Sony is also developing a system that cryptographically signs photos at the point of capture which allows photographers to detect if the image is manipulated or tampered with down the line.
---
Image credits: Truepic