Light Lens Lab 50mm f/2 Review: The Classic Speed Panchro II Reborn
I have a special interest in manual focus 50mm lenses. It began with a Praktica film SLR that was bundled with a 50mm f/2.8 Meyer-Optic Görlitz lens. Next came a Canon Ftb SLR with a 50mm f/1.4 FD SSC lens. This lens had a noticeable improvement in image quality along with a much better anti-reflection coating.

Due to my early inexperience in manual focusing, many photos were taken at f/5.6 or f/8. Getting clear images was more successful with greater depth of field using smaller lens apertures.
The big change in my photography came with the purchase of a Leica M4-P and 50mm f/2 Summicron lens. Manual rangefinder focusing enabled photographs to be taken at f/2 with more accuracy. The narrow depth of field created a 3D effect where the subject is clearly focused with the foreground or background blurred.
Leica has been evolving its 50mm lenses since the Leica 1 camera was introduced in 1925. Some of photography's greatest photos have been taken with 50mm lenses – from Henri Cartier-Bresson to Robert Frank to Ralph Gibson. The late Erwin Puts devoted an entire 386-page book to Leica 50mm lenses, entitled: Leica Lens Saga.
Learning to shoot with a 50mm lens can teach you a lot. And if you want to learn the imaging personality of a lens, focus it manually and use it at its widest aperture.
Recreating A Historical Lens
Light Lens Lab, a new specialty lens manufacturer in China, has been recreating sought after lenses of the past that are hard to find in good condition or are incredibly expensive. It's a unique business model, unlike most other lens manufacturers that strive to create the latest in aberration-free optics for use with high-resolution digital cameras. They have produced replicas of Leica's eight-lens element 35mm f/2 Summicron and Elcan 50mm f/2 lenses.
One of the company's latest projects is the recreation of the Cooke Speed Panchro II cinema lens. The original lens was introduced as a double Gauss design in the 1940s. It was one of the first cinema lenses to offer an ultra-fast f/2 aperture. You have seen the imagery this lens creates if you've viewed The Godfather, Taxi Driver, or Raging Bull movies.
This lens is still highly valued by filmmakers and is sought after for its 3D rendering nicknamed "the Cooke Look." Searching eBay, I was able to find an original Cooke Speed Panchro II lens in good condition adapted with a Leica M mount. It was priced at $15,000 and out of reach for me and most photographers.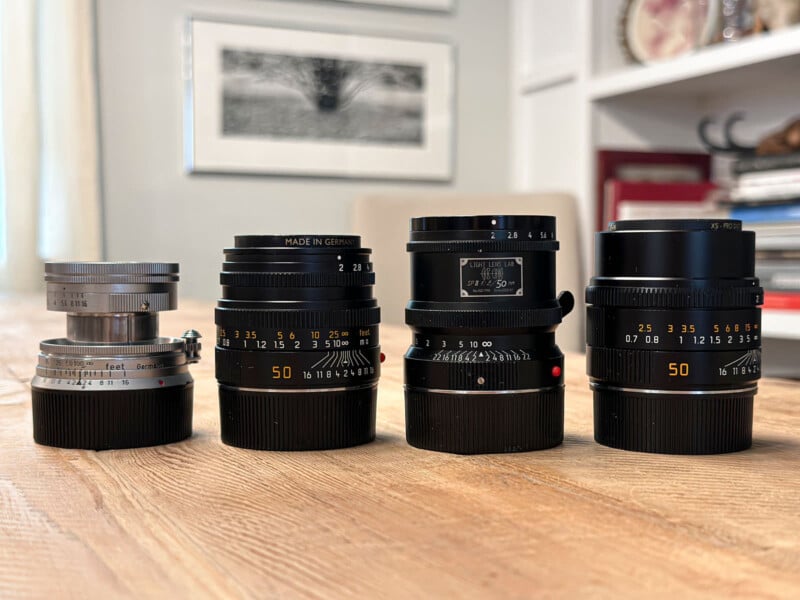 This #012 prototype lens was loaned by Tony Rose at PopFlash located in southern California. PopFlash is the U.S. distributor for Light Lens Lab as well as Leica and other specialty manufacturers.
Evaluating a prototype optic will tell you a lot about its performance before the final product arrives. This lens is lightweight and easily attaches to a Leica M camera body. The rangefinder coupling provided accurate focusing. The diaphragm can be set in 1/2 stop increments from f/2 to f/22. This lens had a two-prong focusing lever attached to the underside of the lens to assist with focusing.
The lens was also evaluated on a Canon R5 body using the 7Artisans Leica M to Canon RF adapter. This adapter also permits closer focusing of the attached lens. It was a lot of fun to use the Speed Panchro II with the R5 and easier and faster to focus than anticipated. Manual focusing with Canon's focus assist shows the plane of focus with red highlights. Although this review is about still images, using the lens with the R5 would permit recording serious video up to 8K resolution.
Lens Design and MTF Analysis
This lens is a 7-element, 5-group, double-Gauss design.
The MTF (modulation transfer function) curve is a measurement of the optical performance of a lens. In general, the higher and flatter the lines, the higher the contrast and resolution. MTF analysis of this lens at f/2 shows lowered contrast and resolution. Using the lens wide open provides images with a softer, more painterly look that is much different from today's 50mm prime lenses. This effect provides the sought-after character of this vintage lens.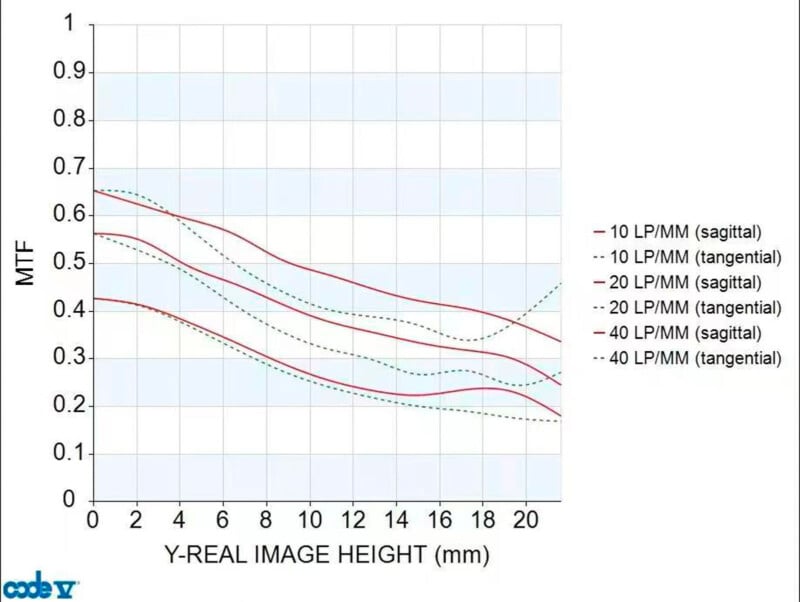 The MTF analysis of the lens at f/4 shows much-improved contrast and resolution more reminiscent of a modern lens design. This lens has two personalities when shot wide open compared to stopping down a two f stops.
Does the Speed Panchro II Lens Have the "Cooke Look"?
Yes, it has a 3D effect when used wide open. When stopped down to f/5.6, images sharpen, depth of field increases but it still retains a filmic quality to images. Although Cooke lenses were designed for cinema film cameras, this prototype lens creates wonderful still images taken with modern digital cameras. Images captured at f/2 were reminiscent of shooting with film: a softer rendition, lower contrast, and slightly muted colors.
To best show this effect, images were taken at three apertures, f/2, f/5.6, and f/8. At f/2 aperture, the bowl and stand are clearly focussed and separated from the background. The stairs and wrought iron banister in the background are blurred as faint lines. The outline of the doorway is very soft and the photograph on the wall is unidentified. At f/5.6, the background remains mildly blurred. With an aperture of f/8, the background comes into focus but is still gently muted. The photograph on the wall is just identifiable as Elliott Erwitt's Boy, bicycle & baguette taken in 1955. The background becomes very clear and a bit boring by f/11.
Other Lens Characteristics
Vintage lens designs can also provide glare in photographs, which is sometimes a sought-after effect. This lens creates a mild veiling glare when a bright light source is just outside the frame. Using this effect in photographs creates an atmospheric effect and can be used to differentiate your photographs from so many others shot with modern lenses and smartphones. Here are two examples of veiling glare with this lens.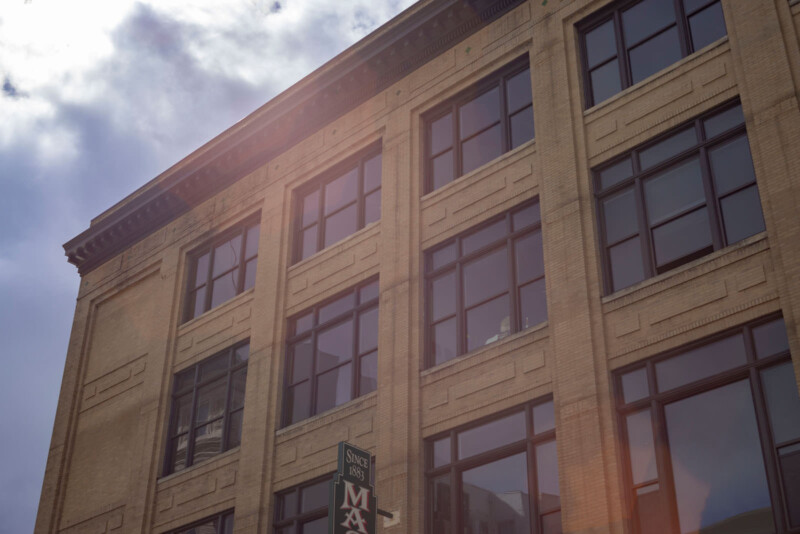 Unlike the diffused veiling glare of the Speed Panchro II, the Leica 35mm f/1.4 pre-aspheric Summilux lens produces a multicolored circular flare under similar conditions. Using a lens shade and stopping down the lens diaphragm tends to eliminate this. Leica recently released its own reissue of its 1960s-era 35mm f/1.4 pre-aspheric steel rim rangefinder lens. Vintage lenses are having a resurgence that will benefit photographers looking to differentiate their images from others.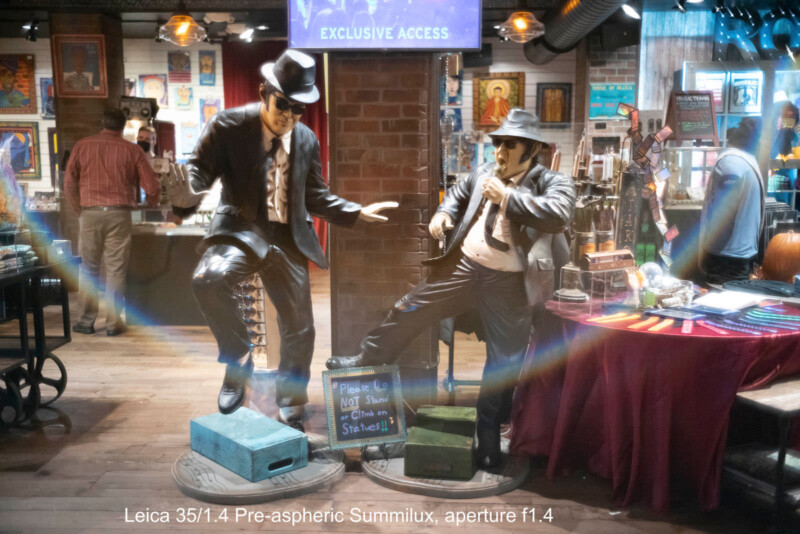 Photographing with Light Lens Lab's Speed Panchro II Prototype Lens
A visit to downtown Roanoke, Virginia, and the landmark FretMill Music shop provided a nice opportunity to create images using a Leica M10 and Canon R5 body.
Although not designed as a macro lens, it creates fine images with Leica's M macro adapter designed for use with its 90mm rangefinder lens.
Should You Buy It?
The short answer is yes. Having extensive use with many of Leica's 50mm lenses, the Speed Panchro II replica lens is a fresh new experience. It provides film and digital photographers an opportunity to create images from a prior era with modern cameras. No doubt videographers will also take a keen interest in this lens. The unique imaging characteristics can't be duplicated with a modern lens using a diffusion filter or a slider adjustment in Lightroom.
Trying to find the original vintage lens in good condition with an M mount will be very expensive. Just like the renewed interest in film photography and digital point-and-shoot cameras from a decade ago, this lens performs differently from current lenses. It integrated well with my Leica M10 as well as my Canon R5 with a Leica M to Canon RF adapter. It's understandable that autofocusing lenses have become the "norm" for many photographers. However, focusing manually slows you down and in some cases teaches you humility but your images are likely to improve.
The production version of the Speed Panchro II lens will be fully compatible with all M-mount cameras. It will have a full brass body with lanthanide and lead-infused lens elements. A removable UV filter will be integrated into the lens. The MSRP for an initial pre-order is $800 for the chrome finish. The black paint will be available at a later date. Popflash is the exclusive distributor for the U.S. Worldwide orders will be handled directly by Light Labs Lab.
Although it's designed as a replica lens, the Light Lens Lab 50mm f/2 "Speed Panchro II" is likely to become an affordable "classic" in its own right.
---
All photographs in this article were taken by the author with the exception of the production version of the lens at the end of the article. There are no financial or connections of any kind with Light Lens Lab. The prototype lens was returned after the evaluation was completed.
---
About the author: Richard Clompus is a retired optometrist with an interest in optics and photography that spans four decades. Photography experience spans large format film cameras to extensive use of Leica and Canon gear. He has studied photography with Michael A Smith, Mark Cohen, and Ralph Gibson. His career includes two decades of providing patient care, a decade with Johnson & Johnson Vision, and the development of electronic eyewear with multiple patents in this field.