Sigma 50mm f/1.4 DG DN Art Review: Upping the Ante Across the Board
Sigma's 50mm f/1.4 DG DN Art takes its place as the latest lens in Sigma's venerable high-end lens line and is a welcome addition thanks to excellent performance and a low cost of entry.
Sigma's Art lenses are the company's high-end lens series, designed to provide excellent optical characteristics and superb rendering. The Art lenses are typically less expensive than the high-end offerings from the camera manufacturers, although often with some compromises compared to the manufacturer lenses.
Generally, Sigma's Art lenses focus more slowly and less accurately than the competing manufacturer lens, and they're often larger and heavier than the comparable manufacturer-designed lenses.
The price of Sigma's high-end glass is typically as much as half the price of the manufacturer lenses, and many reviews of these lenses include sentences like "you get 80 percent of the performance of such-and-such lens for half the cost."
Sigma's new 50mm f/1.4 DG DN Art lens ups the ante with a lens that's now closer to the performance of anything else on the market than previous Art lenses thanks to the new High-response Linear Actuator (HLA) system that the company says improves the speed and tracking while operating nearly silently.
Sigma 50mm f/1.4 DG DN Art: Driven Inside
Traditionally Sigma (and other third-party lens manufacturers) use rotational motors of some type, a design that was created and optimized for DSLR lens operation.
You can think of a rotational motor like the drivetrain on a car: it's easy to speed up a car or slow it down, but changing direction from forward to reverse requires coming to a complete stop and then changing the direction in which the gears are moving.
A linear focusing system is the same as a magnetic levitation train. In it, an electric current pushes a sled suspended by a magnetic current above a rail. The sled current is applied to move, and the sled moves in one direction.
The current is reversed to change the sled's direction, and the sled is pushed the other way. No moving parts mean no friction to slow down the process and no physical gears to reverse.
The lack of moving parts also results in smaller lens designs because this type of motor is much smaller than a rotational one. It also reduces or eliminates the operational noise.
Until there's a new Sony lens at this same focal length and aperture equipped with its fastest linear motors, there's no telling how the Sigma HLA motors perform compared to Sony's system. Still, currently, it outperforms my test Sony 50mm f/1.4 Planar Zeiss-designed lens.
Optically, the lens is comprised of 14 elements in 11 groups, including one SLD (Super Low Dispersion) and three aspherical lenses. An 11-blade rounded aperture creates an incredibly soft bokeh that's a hallmark of Sigma's Art lenses.
The glass has Sigma's Super Multi-Layer Coating to reduce flaring and ghosting and a front-element coating to reduce fingerprints, grease, and dust contamination.
Sigma 50mm f/1.4 DG DN Art: Size and Design
The Sigma 50mm f/1.4 DG DN feels less chunky than previous generations of Art lenses, and it weighs just 670 grams (23.6 ounces) on L-Mount and 660 grams (23.3 ounces) on Sony E-Mount. The Sony version is 78.2mm by 111.5mm (3.1 inches by 4.4 inches), which is just a fraction of an inch bigger than the L-Mount version.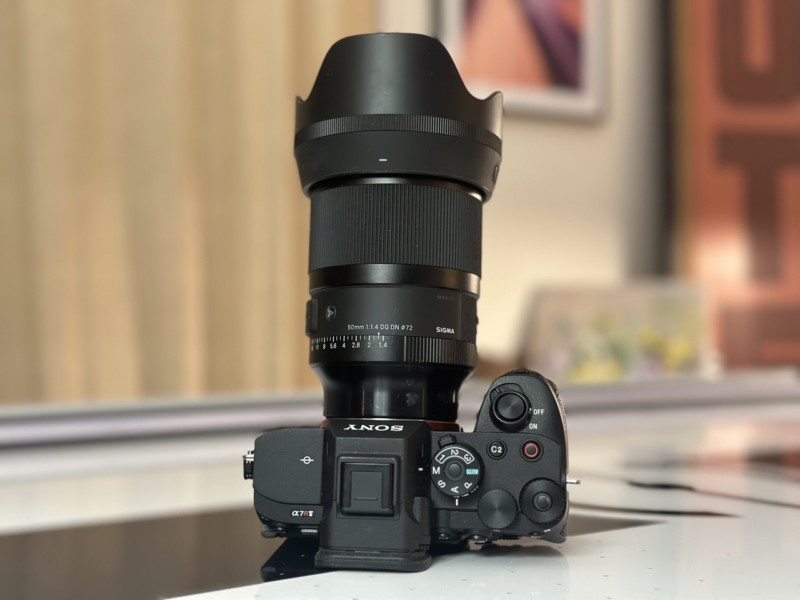 The solid-feeling lens barrel has an aperture ring, an aperture click/declick switch, and an aperture lock switch. There is also a focus mode switch and, on the L-mount system, the focus ring can be switched between a linear and non-linear focus adjustment.
Mounted to the Sony a7R V, the lens is a tad front-heavy but not nearly as much as the Sony Zeiss lens, which is around 120 grams (4.23 ounces) heavier than the Sigma. The Sigma is also narrower than the Sony Zeiss lens and slightly taller.
The Sigma 50mm f/1.4 is generally comfortable to use, although the width of the barrel brings it close enough to the grip that those with large hands might find it uncomfortable. This is a pretty typical trade-off for the smaller size of mirrorless cameras, but it's something to keep in mind.
Sigma 50mm f/1.4 DG DN Art: Operation
My first thoughts when using high-end third-party lenses usually are, "that's good," but my first thoughts with the Sigma 50mm f/1.4 were instead, "that's great."
Focus speed is impressive, as is focus accuracy. While photographing at a local lake, the Sigma 50mm f/1.4 on the Sony a7R V could detect and track tiny bird eyes at least 20 meters away.
Only a few people buy a 50mm lens for wildlife photography. Still, the fact that the lens can lock onto such a tiny reference point at a distance and maintain it shows how the new focusing system in the Sigma 50mm f/1.4 DG DN works in tandem with Sony's subject-detection AF system.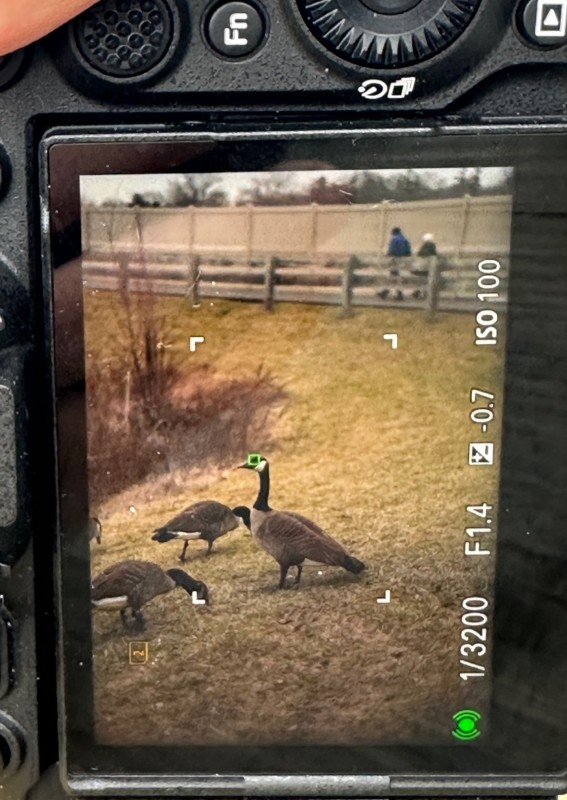 For human subjects at a standard portrait distance, the Sigma 50mm f/1.4 DG DN locks onto eyes with the same agility and tenacity as any lens I've used. Like with Sony's first-party lenses, the new Sigma lens performs fast enough to nail shots repeatedly. Typically, third-party lenses can lock onto whatever subject the attached camera is designed to detect but lose focus if the subjects move quickly.
An important thing to remember with a super-wide aperture lens is how narrow your field of view is. With the fast focus of the Sigma lens, I found myself shooting wide open quite a bit, where sometimes even minor movements of myself or my subject while shooting a burst of images could move the focus point. The TLDR here is that an f/1.4 lens needs more care when selecting shutter speeds than other apertures.
Sigma 50mm f/1.4 DG DN Art: Speed vs. Sony Glass
When shooting with the Sigma 50mm f/1.4 on the Sony a1, the maximum frame rate of the lens caps out at 15fps versus the 30fps of native glass. This is due, Sony has told me in the past, to the fact that its engineers know how to maximize the communication between the lenses and the camera's focusing system to maximize the performance of a lens' operation.
This makes logical sense, though an alternative possibility is that Sony limits the speed of third-party glass to 15fps to reduce competition.
This lens will operate at full speed of most Sony camera AF systems but at half speed on the Sony A1 and a9/a9 II. Future Sony cameras with high-speed capture rates will likely have the same limitation.
This capture rate limitation will not impact the typical portrait shooter, but it is something to keep in mind if the lens is used for sports or high-action photography.
Sigma 50mm f/1.4 DG DN Art: Image Quality
Images captured with the Sigma 50mm f/1.4 DG DN are superb. Even wide open, the lens can capture and render human eyes with fantastic quality, and the 11-bladed aperture creates soft, gentle background defocus.
Stopped down the lens produces excellent environmental portraits, with enough rendition of background to set a scene but with a softness that masks details enough to prevent them from overpowering a scene.
Sigma's Art lenses are known for their high-resolution rendition of a scene, and the 50mm Art is no exception. Lines and details on faces are rendered perfectly, and the images have excellent contrast. In some tests, the lens leans a bit toward reds, but Sigma warned us that this is a preproduction lens and preproduction firmware, and it's not an overwhelming shift.
As mentioned, I combined the Sigma 50mm f/1.4 DG DN with the high-resolution Sony a7R V, and the results are impressive. Thanks to the high pixel count, it's possible to crop into an image for superb details.
On a few occasions, I noticed that the JPEG version of a RAW+JPEG shot had the vertical plane elongated, but I could not find a way to cause this to happen intentionally. The RAW files did not show instances of this elongation, so likely this was caused by some communication issue between the beta firmware and the cameras' JEPG rendering. Again, this is preproduction firmware, so this type of issue is expected.
Sigma 50mm f/1.4 DG DN Art An Excellent Piece Of Glass
I don't like to evaluate lenses strictly on price, as customers have different thresholds for what is expensive. Still, Sigma has always struck a nice balance between price and quality.
The Sigma 50mm f/1.4 DG DN Art is no exception. With a price of $850, the Sigma 50mm f/1.4 is around half the price of the current Sony 50mm ZA and more than $1000 cheaper than the Sony 50mm F1.2 GM.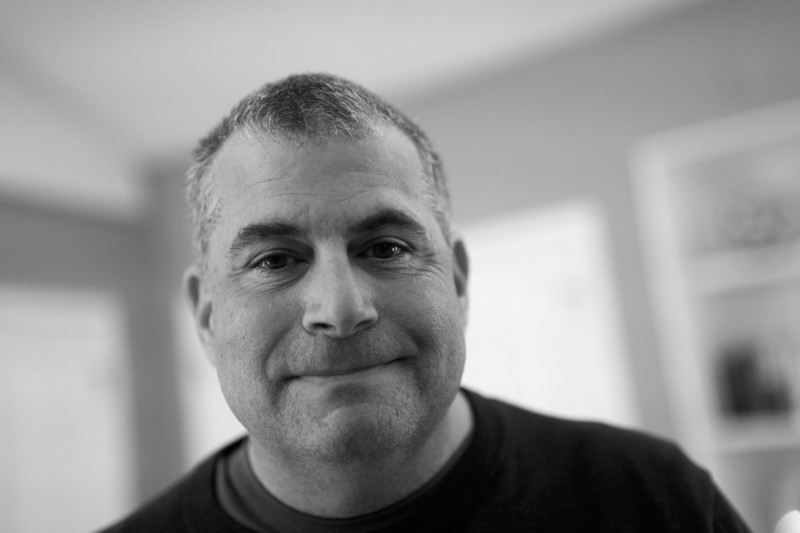 This is a fantastic value considering the performance improvements brought with the HLA motors in this lens. While I'll need to evaluate this lens fully when production models are available, even this preproduction model of the Sigma f/1.4 DG DN well exceeded my expectations.
The 15 frames per second capture rate limitation may lead some to select the Sony 50mm f/1.2 GM over the Sigma f/1.4. DG DN Art, but for most target customers, this is a limitation without much implication.
It will be hard to find a reason not to buy the Sigma 50mm f/1.4 DG DN Art lens when it becomes available. This Sigma lens is likely to become one of the lenses against which other 50mm lenses are judged.
Are There Alternatives?
There are so many alternatives in the 50mm focal length for the Sony E-Mount. Adorama has more than five dozen lenses in the focal length for this platform, though this includes many manual focus lenses, kit-quality lenses, and several pieces of glass much more expensive than this.
The closest lenses in this category is the nearly $2,000 Sony 50mm f/1.2 GM and the $1,500 Sony Zeiss 50mm f/1.4 lens. These are both more expensive and, as mentioned, aren't as performant across the board.
Should You Buy It?
Yes. Until we see a new Sony-made 50mm f/1.4 G or GM lens, there isn't anything in the class that's as fast, accurate, and affordable as the Sigma 50mm f/1.4 DG DN Art.