Rode's New PodMic USB Works With Both a USB and XLR Connection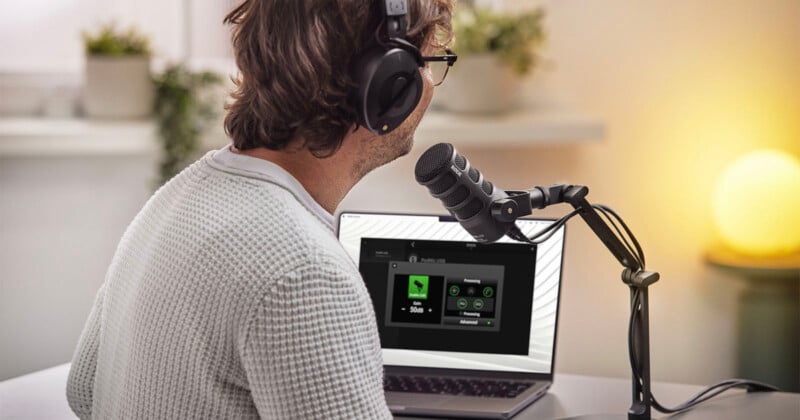 Rode has announced a new podcasting microphone called the PodMic USB. Based on the original PodMic, this latest version offers both XLR and USB connectivity, making it extremely versatile for its $199 asking price.
Rode already makes a series of microphones that connect with devices either through USB — like the recently announced NT-USB+ — or via XLR, but has recently been expanding its line to include microphones that work with either connection. It's fifth-generation NT1 studio condenser microphone already integrated the company's patent-pending dual connection XLR and USB output and now that same feature is coming to the smaller and more affordable PodMic USB.
Because it works with either connection, Rode says the PodMic USB can work for a wide breadth of skillsets, from entry-level through professionals. The PodMic USB can even be used with iOS and Android mobile devices to allow for studio-quality recording on the go.
The new microphone features what Rode describes as a high-power neodymium capsule that delivers warm, highly detailed audio that is optimized for speech. It was designed to match the original PodMic and the company says that it produces a balanced sound signature that flatters all voice types. It also has a built-in pop filter that Rode says manages plosives and ensures clean audio capture.
The mic's circuitry has also been enhanced to deliver what Rode characterizes as a flatter frequency response and lower self-noise that allows it to perform in a variety of situations. It also has a tight cardioid polar pattern which Rode says ensures a focused sound with excellent rejection of background noise from room reflections as well as keyboard and mouse clicks.
"These characteristics make the PodMic USB the perfect microphone for podcasting, streaming, and other voice recording use cases, and when using the analog XLR output, it delivers exceptional audio quality that is broadcast-ready right out of the box," Rode says.
"When using the digital USB output, the PodMic USB offers a range of powerful features for taking any recording to the next level. It has a professional-grade audio interface built in, with RØDE's ultra-low-noise, high-gain Revolution Preamp and high-resolution analog-to-digital conversion ensuring pristine audio quality."
The PodMic USB is available for $199 and is backed by Rode's five-year warranty.
---
Image credits: Rode