M2 Pro Mac mini Review: Mac Studio-Level Power at a Lower Price
Apple's Mac mini has always been positioned as the company's affordable desktop machine, an alternative to the low-end iMac for those that don't need or want the iMac's display. It's a machine that has sometimes seemed to languish while other Mac models got performance upgrades. That has changed.
Historically, the updates to the Mac mini involve a minor processor tweak here, and a hard drive swap there. But since Apple started making its own silicon, that has changed. That remains the case here, as the new Mac mini refresh brings a significant update as the system is now powered by Apple's latest M2 processor.
Author's Note: In addition to the performance testing below, you can hear more of my thoughts about this new Mac mini in my video review above. 
Even the powerhouse Mac Studio doesn't have a version of the M2 processor yet, and while the higher-end Mac Studios are more powerful than the top-end Mac mini, this new mini desktop machine beats out some of the latter's configurations, and it does so at a lower price.
Minor Physical Upgrades
The new Mac mini enclosure looks the same as its predecessor, sporting four Thunderbolt 4 ports in addition to the standard HDMI, Ethernet port, a headphone jack, and dual USB-A ports.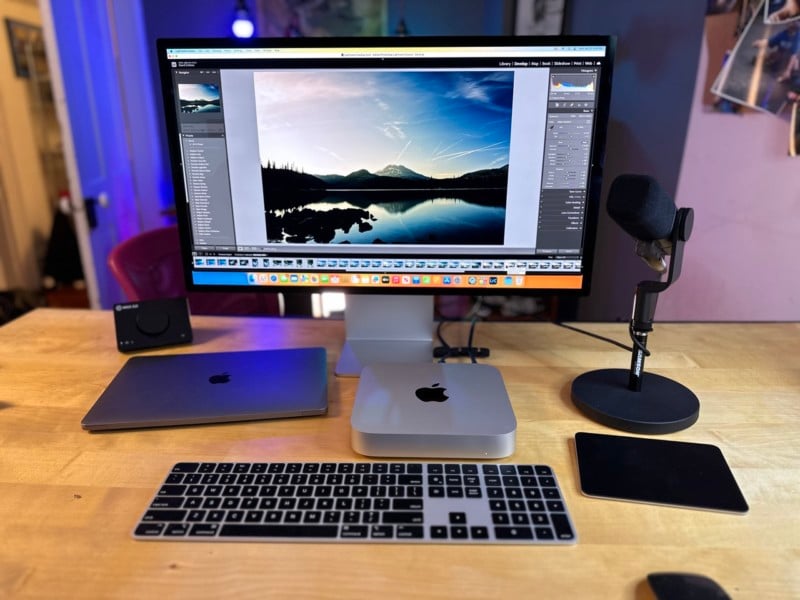 The Mac mini even has some hardware upgrades that the Mac Studio is missing: HDMI has been updated to 2.1 from the Studio's 2.0, features WiFi 6E instead of WiFi 6, and has been updated from the Studio's Bluetooth 5.0 to Bluetooth 5.3.
Several new Mac mini models are now available, with the lowest-priced model at just $600. This review focuses on the M2 Pro Mac mini, with 32GB of RAM, a 12-Core CPU, a 19-Core GPU, and 1TB of storage. The price for this Mac mini, as tested, is $2,200 without the upgrade to 10-Gigabit Ethernet — that upgrade costs $100 more and I suspect most Mac mini users will not opt for it.
This is the top-end configuration in terms of memory and processor, but the Mac mini can be upgraded to an 8TB SSD for $2,200 more, bringing the price for that system (plus Gigabit Ethernet) to $4,500. This configuration will likely be used in a render farm or other server operation where the Mac mini makes an excellent high-powered machine in a small footprint.
As mentioned above, the Mac mini has seen no changes to the size or shape of the case, with the only real difference being the addition of two Thunderbolt 4/USB 4 ports bringing the total number of USB-C compatible ports to four.
Port Selection
All the connections for the Mac mini are found at the back of the unit. Unlike the Mac Studio, which includes two USB-C ports (which are Thunderbolt 4 ports on the higher end versions) and an SDXC card reader on the front, the Mac Mini provides all access from the back of the unit. There is no additional power brick as the Mac mini requires only the included power cord.
We coupled the Mac mini with the Apple Studio Display for our testing. With no HDMI input, the Studio Display requires a Thunderbolt/USB-C cable to operate, but when connected to the Mac mini via Thunderbolt 4, it provides three additional USB-C ports.
The Mac mini supports two external displays, one at up to 6K and one at up to 5K via Thunderbolt. Using an HDMI cable instead of two Thunderbolt cables allows up to a 6K display on one Thunderbolt cable and one 4K display over HDMI.
Keyboard, Mouse, and Trackpad
Our testing configuration came with Apple's excellent Magic Keyboard with Touch ID, Magic Mouse, and Magic Trackpad. While sold separately, they are part of Apple's overall system design. I highly recommend the Touch-ID keyboard, as it can vastly reduce the amount of password entry. You could also theoretically use whatever peripherals you might already have instead of buying all new accessories without issue.
Storage
The SSD in the M2 Pro Mac mini seems particularly fast, with some variations from cycle to cycle in our testing.
The drive regularly scored above 5,000 MB/sec in the write tests, with speeds as high as 6,200 MB/second, but we also saw those numbers drop as low as 3,500 MB/sec in some cases. Likewise, write speeds averaged in the 4,800 MB/sec range for read tests, with some runs above 5,000 MB/sec and some in the high 3,000 MB/sec range.
To put that in perspective, the M1 Ultra-equipped Mac Studio we tested logged 5,910.3 MB/s write and 5,276.7 MB/s read speeds. The Razer Blade 15 Advanced from 2021 gets 4,321 MB/s read, and 5,211 MB/s write speeds.
Disk speeds are integral to our performance testing, as disk access is essential for import and export operations. More on this later.
Photo and Video Editing Performance
The M2 Pro Mac mini updates make it a significant leap forward in processing power. This system performs nearly all tasks and benchmarks more quickly than my 512GB SSD-equipped Mac Studio with an M1 Max.
More impressively, it does this at a lower price than my M1 Max Mac Studio. This makes the M2 Pro Mac mini a particularly compelling option for the photographer and videographer. An entry-level content creator is a perfect target for this system as it provides a ton of power at a relatively low price.
Lightroom Classic
Our Lightroom Classic benchmark consists of importing 110 61-megapixel Sony Alpha 7R IV and 150 100-megapixel PhaseOne XF RAW files, generating 1:1 previews, applying a custom-made preset with heavy global edits, and then exporting those same files as 100% JPEGs and 16-bit TIFFs.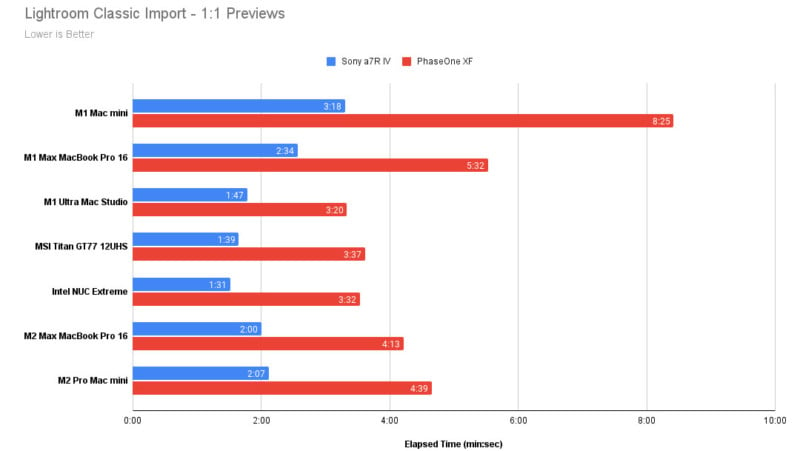 The performance of the M2 Pro Mac mini fits with expectations. The import and export times are notably better than the M1 Mac Mini we tested in 2021. Additionally, import and export times are faster than the M1 Max MacBook Pro but slower than the M2 Max MacBook Pro, which makes sense considering the hard drive speeds and processing power.
Photoshop
With our Photoshop tests, we run the Puget System's industry-standard PugetBench. Our tests still use the older 0.8 version since it includes the Photo Merge test since Puget removed it. We believe Photo Merge is a good test of photographic performance and a very important metric for photographers.
PugetBench gives an Overall score and four category scores for typical Photoshop tasks–particularly ones that indicate overall system performance.
The M2 Pro Mac mini clocks just behind the M1 Ultra Mac Studio and, as I will show below, in front of an M1 Max Mac Studio. Performance in these tests is around 15 to 20 percent slower than the M2 Max MacBook Pro.
Premiere Pro
With these rounds of tests, we have added the PugetBench tests for Premier Pro, which evaluates 4K footage edits for GPU and CPU-heavy tasks. Details on what it exactly is doing can be found on Puget Systems' website. As before, it provides an overall score and four category scores that test the computer's ability in export, live playback, effects, and GPU.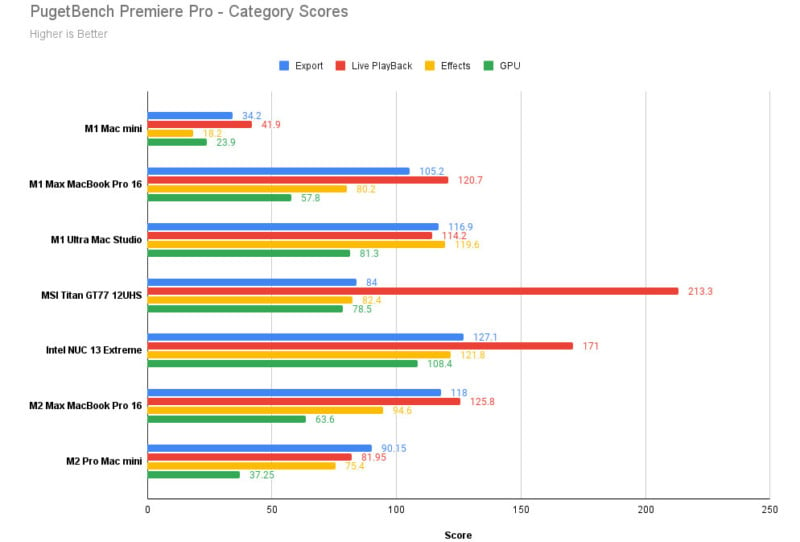 Here we find lower performance relative to other recent Mac systems, which is surprising considering how well it performed in the other tests. I suspect the GPU performance, which is slower than my M1 Max Mac Studio, is the key here due to the GPU-heavy nature of video edits, though that fluctuating SSD speed may play a part as well.
To round out this testing, I did a separate test (not one that's part of our usual protocol), exporting a 10-minute long FinalCut Pro project with 4K 10-bit 4:2:0 footage, quite a lot of titles and effects, and many transitions. The project was exported on the Mac mini about 20 seconds faster than my M1 Max Mac Studio.
Performance Takeaways
It should not be shocking that the Mac mini is so powerful from the processor names, but it's a departure from the traditional Mac mini spec. Perhaps Apple plans to let the Mac mini spend several more years between updates, so it is packed with the newest kit to stay viable longer.
Regardless, this power is welcome today and will be welcome for the foreseeable future.
I mentioned that the Mac mini is more powerful than some Mac Studio configurations, and that is apparent in side-by-side testing against the lower-end M1 Max-equipped Mac Studio with a 1TB SSD (specifically, a computer equipped with an M1 Max with 10-core FPU, 32-core GPU, 15-core Neural Engine, and 32GB of RAM).
I also previously noted that slower SSDs have a notable effect on our benchmarking, and since the SSD on my M1 Max Mac Studio is slower than the one on both the higher-end Mac Studios and the M2 Mac mini, that shows up in testing. Below are some charts that show, side by side, that the M2 Mac mini is hanging with or outright beating the $400 more expensive Mac Studio.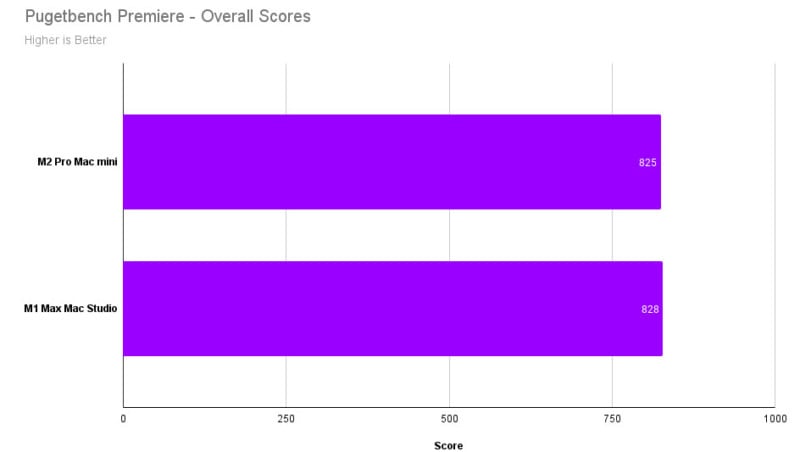 It's not going to beat out every Mac studio — obviously, the results from the M1 Ultra are far superior — and the benchmarking numbers we see from a higher capacity SSD-equipped M1 Max MacBook Pro are still better than the M2 Pro Mac mini. But the fact that this new machine beats any configuration of the Mac Studio at a lower cost of entry is still impressive and worth pointing out.
Some Thoughts on Apple Silicon
The power benefits of Apple's chips in the M2 Pro Mac mini doesn't seem as important as in the MacBook lineup, where the lower power consumption and small size allow for laptops with just as much power on the battery as when plugged in.
To read more about how Apple's Silicon benefits the MacBook, read our review of the new MacBook Pro 16 with M2 Max.
And while portable computers see some major benefits, that lower power draw is in line with less heat production, which allows Apple to compress these very good levels of performance into a very small chassis. My own Mac Studio has only had the fans kick on twice, and both times it was in the middle of rendering massive files.
While benchmarking the M2 Pro Mac mini, the fan never turned on or if it did, never to an audible level. The only time I've heard the fan come on has been when I left a portable hard drive sitting on top of the case. Both units were very hot, likely trading heat, and resulting in elevated computer temperatures.
I even shot my video review directly into the M2 Pro Mac mini over an HDMI to USB converter, capturing HD video for more than an hour without the fan coming on. That's honestly incredibly impressive given how small the Mac mini is.
Still the Best Mac for Most Photographers
The Mac mini has been vital to Apple's strategy to provide a good mix of power and price to offices, consumers, and students. The new M2 Pro Mac mini raises the bar, and the machine now competes directly with Apple's lower-tier Mac Studio models. Apple's M1 Mac mini has been our pick for the best computer for most photographers, and the upgraded performance in the M2-equipped Mac mini solidifies that position.
Likely this means that faster Studio models are on the way, and when a new Mac Pro arrives, it will blow the Mac mini away.
But right now, the M2 Pro Mac mini provides the best combination of price and power in Apple's desktop line, and not just for those with basic needs. For photographers and videographers, the new M2 Pro Mac mini is more than a workhorse, and it's now a thoroughbred.
Are There Alternatives?
Apple's Mac Studio and MacBook Pro line are the two main alternatives to the M2 Pro Mac mini. There are numerous desktop systems in the Windows world, though obviously, that's a different ecosystem that contains a lot of possibilities.
For a user looking for more power than the Mac mini in a desktop form factor, the Mac Studio with the M1 Ultra is the best alternative. At that price, many Intel 13th-generation desktops become alternatives as well. If you want to try and keep a small footprint on PC, you'll have to go with a compact custom build or something like the Intel NUC, but the new NUC 13 Extreme is much larger and more expensive than Apple's Mac mini, even if it is also significantly more powerful. As a result, I don't think most buyers would be considering these two computers side by side.
Should You Buy It
Yes. If you're a Mac-based creative looking for a desktop system with incredible power in a small, affordable package, the Mac mini is hard — if not impossible — to beat.
---
Update 1/27: The original review incorrectly noted some insights into the Photoshop benchmarks. It now correctly reflects that the new Mac mini performed behind the M1 Ultra Mac Studio but better than a lower-end M1 Max Mac Studio, which isn't included in the first batch of benchmarks but is in the head-to-head benchmarks we show below it in the next section.