Apple M1 Mac mini Review: The Best Mac for Most Photographers
When Apple debuted the M1 system on a chip (SOC), it released three computers equipped with the same CPU/GPU/RAM combo: the M1 MacBook Air, the M1 MacBook Pro, and the M1 Mac mini. It might seem like this makes for three redundant options, but after reviewing the MacBook Pro and spending a month with the new Mac mini, I can confidently say that the Mac mini is the best choice for the majority of photographers. To explain why, I need to turn to economics.
In economics, there's a principle called the law of diminishing returns. In basic terms, the law predicts that there is some "optimal" balance between input and output, after which continuing to increase the input will result in smaller and smaller gains in output. In photography terms: spending more money (input) on nicer gear can have a huge impact on image quality (output) at first, but after a certain point, as you spend more and more, the benefit-per-dollar-spent keeps getting smaller and smaller.
Eventually, you're spending thousands on a 5-10% improvement in sharpness, or low light performance, or whatever other vanity metric is popular that week.
This principle is at the core of my opinion on the Mac mini. Of the three Apple Silicon Macs currently on the market, the Mac mini sits closest to that "optimal" balance of input and output, giving you the most benefit for the least investment.
Specs and Price
As usual, the unit we were sent for review is "maxed out" so to speak. At $1,700 it's certainly not "cheap," and yet, despite being the most expensive M1 Mac mini you can buy, it still comes in $600 cheaper than the equivalent M1 MacBook Pro.
CPU: 8-Core Apple Silicon M1
GPU: 8-Core M1 GPU
ML Processor: 16-core M1 Neural Engine
RAM: 16GB Unified Memory
Storage: 2TB SSD
Price: $1,700
If I were customizing my own Mac mini for photo editing, I'd probably skimp on Apple's SSD upgrades and buy the 1TB version ($1,300) or 512GB version ($1,100) instead. I would not advise skimping on RAM, especially since there's no way to upgrade it later.
Design
Unlike our laptop reviews, we won't spend much time on design and built quality. It's a well-built aluminum box, and that's about all you can say about it. Small and discrete, I've always loved the Mac mini for how easily it can slot away in some corner of a desk, looking for all the world like a fancy paperweight.
In terms of ports, the M1 Mac mini features two USB-A ports, two USB-4 ports (essentially Thunderbolt 4), an HDMI 2.0 port, a gigabit Ethernet port, and a 3.5mm headphone jack. Between the USB-4 ports and the HDMI 2.0 port, you can run two displays simultaneously: 6K 10-bit at up to 60Hz through the USB-4 port, and 4K 10-bit at up to 30Hz through the HDMI.
That's how I was able to compare the blooming performance of the Dell UP3221Q and the Pro Display XDR side-by-side without using two computers. Both were being run by the same M1 Mac mini.
Finally, a lot of people pointed out that the M1 Mac mini and M1 MacBook Pro feature only two Thunderbolt ports instead of four. What most people don't mention (thankfully, some do) is that you're actually getting the same number of Thunderbolt buses. On the Intel Macs, there's one TB bus for every 2 ports; on the M1 Macs, there's one TB bus for every port. In real-world terms, that means that each port gets the full 40Gbps bandwidth to itself instead of sharing it with another port.
The OWC blog goes into this in detail, explaining the benefits of Thunderbolt 4/USB 4 and why "2 actually does equal 4" in this case, so check that out if you want to dive deeper.
Performance
The main thing I wanted to test when I got the Mac mini in-house was performance. Specifically: performance compared to the M1 MacBook Pro we already reviewed. Both of these computers feature the same… everything—same CPU, same GPU, and same amount of on-board RAM—but the MacBook Pro has to take battery life into consideration, so it simply can't run (or cool) the Apple Silicon M1 as efficiently.
At least, that's the theory. Does this pan out in terms of performance? The short answer is yes.
We ran our standard set of Lightroom Classic and Photoshop benchmarks1 on the fully-loaded M1 Mac mini, M1 MacBook Pro, and 13-inch Intel MacBook Pro, as well as a Black Magic Disk Speed Test. Full specs for all three of these machines are included in the footnotes2.
Lightroom Classic Performance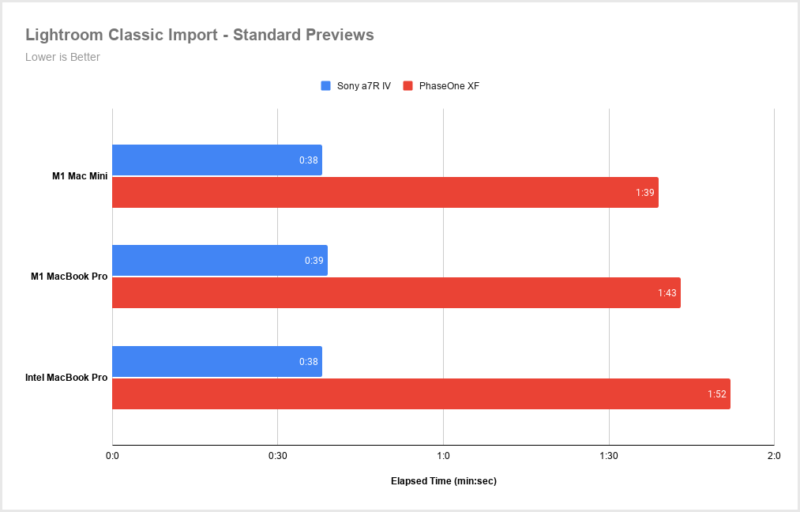 Photoshop Performance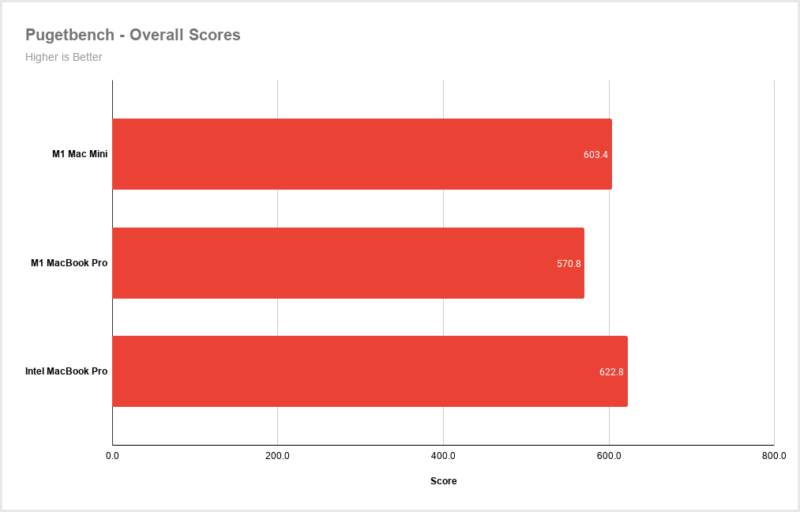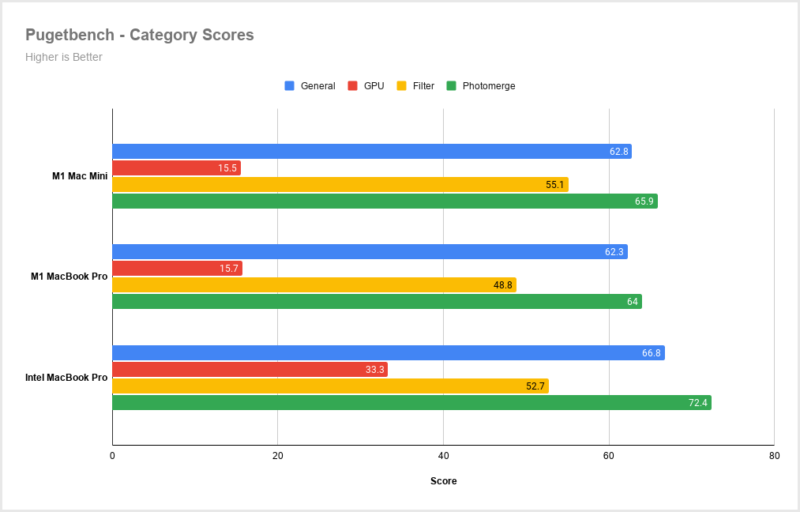 Storage Speed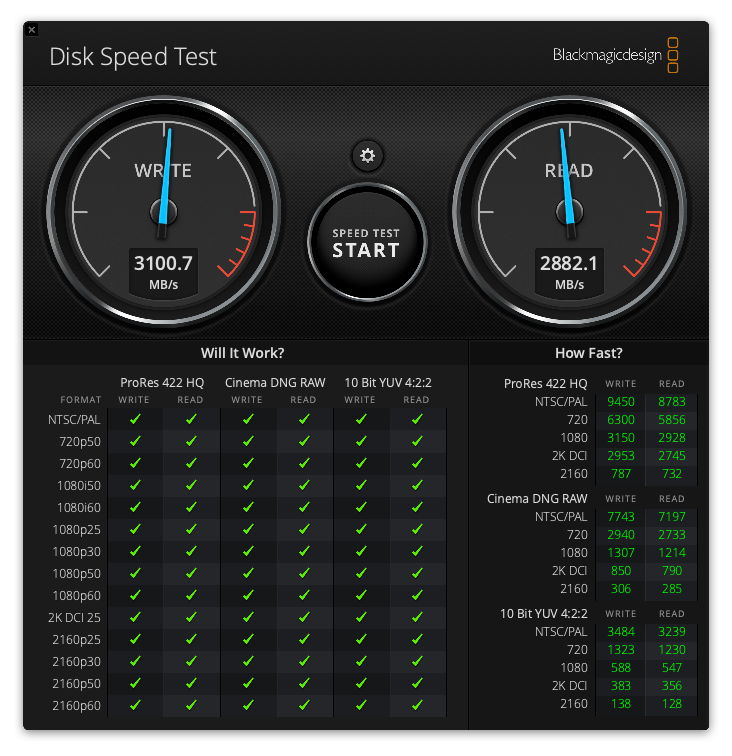 ---
As you can see, the Mac mini outperforms in every category. Not always by a lot, but the times or scores are always better. Keep in mind that the Lightroom Classic and Photoshop benchmarks were run on Intel-optimized versions of these apps via Rosetta 2, and yet the emulated performance is already almost as good, and in some cases better, than the Intel Mac.
The one major weakness of all the M1 Macs is the GPU performance. But as we've said before—and we'll probably have to say it again—GPU performance isn't a huge deal for photo editing. Video editing benefits in a big way, and a few tasks in both Photoshop and Lightroom are GPU-accelerated, but it makes very little difference in the majority of tasks that make up the typical photography workflow.
The Best Mac for Most Photographers
I started this review by calling the M1 Mac mini "the best Mac for most photographers," and hopefully you're starting to see why. Apple Silicon is the future of Mac computers, and the M1 Mac mini already delivers enough graphics and CPU performance for the majority of photographers.
Pros
Fastest Apple Silicon Mac (as of this writing)
Cheapest Apple Silicon Mac (as of this writing)
Full speed Thunderbolt/USB-4
Can power a 6K display at 10-bit color and 60Hz
Minimalist, out-of-the-way design
Cons
Not portable
Peripherals not included
Middling GPU performance
Only two TB4 and USB Type-A ports
HDMI 2.0 (not 2.1)
Final Thoughts
There's an elephant in the room at every M1 Mac review, and it's the fact that these are 1st generation devices. The M1X or M2 or whatever comes next will be better, and Apple will definitely put more GPU performance into the rumored Apple Silicon iMac, 14-inch MacBook Pro, and 16-inch MacBook Pro. But here's the thing: for photographers and photo editing, these things will suffer from the law of diminishing returns.
Additional GPU performance costs money, a nice iMac or MacBook Pro display costs money, and the additional CPU performance or RAM baked into the next generation Apple Silicon will also probably cost you some extra money.
If you're running a professional studio, that might be an investment worth making. But for the rest of us, for most of us, if you want to do your photo editing in the Apple ecosystem, the M1 Mac mini hits that sweet spot of price-to-performance that is so rare for Apple computers.
Are There Alternatives?
If you're a PC lover, there are small-form-factor desktops like the Intel NUC series, that will offer a similar experience to the Mac mini for less money, but it's not an apples-to-apples comparison. Not only are you trading MacOS for Windows 10, but you also have to consider the pros and cons of Intel/AMD vs Apple Silicon.
Within the Apple ecosystem, your alternatives are the M1 MacBook Pro and the M1 MacBook Air, which trade some performance for portability and will cost you more for the same specs.
Should You Buy It?
Yes. For photographers who love the Apple ecosystem but don't have infinitely deep pockets, the M1 Mac mini hits the sweet spot. It offers more performance than any other M1 Mac for $600 less than you'd spend on the equivalent M1 MacBook Pro.
---
About the author: DL Cade is an art, science and technology writer, and the former Editor in Chief of PetaPixel. When he's not reviewing the latest tech for creatives, you'll find him working in Vision Sciences at the University of Washington, publishing the weekly Triple Point newsletter, or sharing personal essays on Medium.
---
Footnotes:
1 Standard Lightroom Import and Export tests are run using 100 61MP Sony a7R IV files and 150 100MP PhaseOne XF files. The Camera RAW Cache is purged and the program is restarted between reach run. Each reported time is based on a minimum of 3 consecutive runs. For Photoshop testing, we use Puget Systems' PugetBench v0.8, because it is the last version to feature the Photo Merge Test. All scores are based on a minimum of 5 consecutive runs.
2
M1 Mac mini: 8-Core Apple Silicon M1, 8-Core M1 GPU, 16-core M1 Neural Engine, 16GB Unified Memory, 2TB SSD | Price: $1,700
M1 MacBook Pro: 8-Core Apple Silicon M1, 8-Core M1 GPU, 16-core M1 Neural Engine, 16GB Unified Memory, 2TB SSD | Price: $2,300
Intel MacBook Pro: 2.3GHz Quad Core i7, Intel Iris Plus Graphics, 32GB of RAM, and 2TB SSD | Price: $3,000