Intel NUC 13 Extreme Review: Don't Judge It by Its Size
Apple's Mac mini and Mac Studio have set new standards for the kind of power and performance that can be expected from a small chassis. While Intel's new NUC isn't quite as small, it does show that PCs can get almost as svelte and still perform outstandingly well.
Intel's NUC computers are a bit of an oddity since they're not technically a full pre-built but they're also not asking a buyer to start from scratch either. Intel describes the NUC 13 Extreme as a fully redesigned modular system that can house near top-of-the-line hardware in a remarkably small chassis thanks to a new "streamlined thermal design." The NUC is a kit, meaning it doesn't ship with everything a user will need but gets them a good chunk of the way there.
I say nearly top-of-the-line because the NUC 13 Extreme can play host to a technically last-generation NVIDIA 3000-series GPU and it's not possible to squeeze in a mammoth 4000-series GPU (it fits up to a 12-inch GPU). Intel offers three starting points for the computer that are based on how much power users want from the processor: an i9-13900K, i7-13700K, or an i5-13600K. The NUC also comes with an Intel 2.5GbE (i226-V) / 10GbE (AQC113) LAN, Intel Killer Wi-Fi 6E, two Thunderbolt 4 ports, and six USB 3.2 Gen2 rear ports. It also includes a 750W 80+ Gold SFX 12VO internal power supply with geo-specific C13 AC cords.
It doesn't come with RAM, an SSD, a GPU, or an operating system, so you'll have to figure that part out on your own.
For our review, we tested a pretty kitted-out NUC 13 Extreme: it features an Intel Core i9-13900K processor, an ASUS TUF RTX 3080Ti GPU, 32GB DDR5-4800 Kingston FURY memory, and a 1TB Kingston FURY Gen4 NVMe SSD.
Design and Build Quality
Once the NUC 13 Extreme is put together, it's a lovely compact masterpiece. I am historically an Apple user, so I've become a big fan of a fully built system that doesn't take up a bunch of desk space. I'm especially fond of how small high-powered Apple computers have become thanks to the advent of Apple Silicon, and the Mac Studio and Mac mini have set new standards for what a small machine can do.
So with that in mind, I'm a fan of the compact size of the NUC 13 Extreme. I also like the materials and overall design: it's a well-built, miniaturized tower. That said, NUC fans of the past will very likely notice this is a lot larger than previous NUC options by a significant degree. It's small, but it's by no means the ultra-compact. That's due mainly because Intel designed the NUC 13 Extreme to house full-size everything — including a desktop GPU.
Considering how densely packed the internals of this PC are, Intel had to come up with a way to vent all the heat that it will no doubt generate, and did so through metal mesh around five of the six sides of the NUC. Provided you place this mini machine with enough space around it, airflow is maximized.
The NUC provides ample space for ports as well, which of course has some level of customization available since it's up to you how you outfit it. For me, I've got more USB A, USB C, Thunderbolt, HDMI, and DisplayPorts than I know what to do with. This level of I/O is where PCs, the NUC included, best the Apple Mac Studio: I barely have enough connectivity to keep my setup going on that machine, while I've got ports to spare on the NUC. It doesn't, however, have a dedicated SD card slot.
Intel's desire to make the NUC take up as little space as possible does come up against the harsh realities of its hardware requirements, however. While its performance is very, very good — more on that below — it's just so tight in there that it does thermal throttle.
Since it doesn't come with a display or any peripherals, there isn't much else to say here. It's a well-built, extremely well-designed, very tightly compacted PC.
Performance
Since it runs like any other Windows machine, there are no surprises there either. As such, we can dive straight into the performance. As we have done for several generations of computers, our benchmarking test consists of importing 110 61-megapixel Sony Alpha 7R IV and 150 100-megapixel PhaseOne XF RAW files, generating 1:1 (Lightroom Classic) or 2560px (Capture One Pro) previews, applying a custom-made preset with heavy global edits, and then exporting those same files as 100% JPEGs and 16-bit TIFFs.
Below, the NUC 13 Extreme is compared to a short list of computers including the M1 iMac, the Mac Studio, and a custom PC loaded with a 32-core, 3.7Ghz, AMD Threadripper 3970x, an Asus TUF 3090 24GB GPU, and 128 GB of DDR4 3200Mhz RAM. I also included the MSI Titan GT77 because even though it is technically a laptop, its best use case is on a desk and it has comparable specs.
Lightroom Classic
As you can see, the NUC 13 Extreme performed very well here, beating out all others when it comes to importing Sony Alpha 7R IV files and performing well with the higher-resolution PhaseOne XF files. The performance is ever-so-slightly better in both compared to the MSI Titan GT77, and while it bests the Mac Studio with the Sony files, it is slightly slower with PhaseOne files.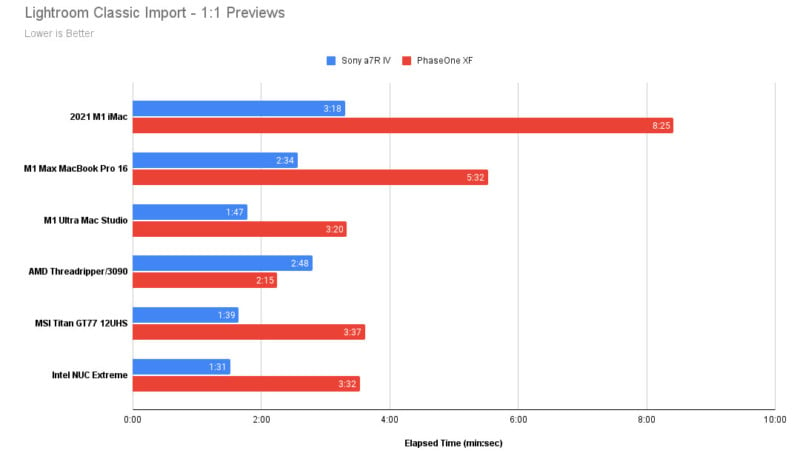 On to exports, there is more good news: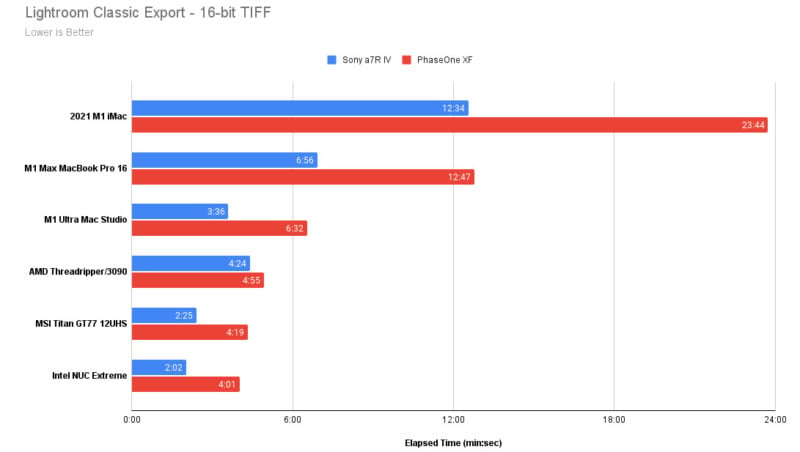 The NUC 13 Extreme performs extremely well in both export categories and bests the Mac Studio in both cases. In fact, it is significantly faster exporting both JPEGs and TIFFs compared to the Apple workstation and is the fastest computer we have ever tested specifically for exporting 16-bit TIFFs.
Capture One
Previous versions of Capture One had a bug that notably increased import times of Phase One files on M1 machines. We'll be testing new Macs using the latest version of Capture One going forward, so keep in mind the numbers in our previous benchmarking charts may not be accurate anymore. We've kept those benchmarks in the charts below just for the sake of consistency.
As we always point out, it's important to note that Lightroom does not use any sort of GPU acceleration during import or export and instead relies on the performance of the CPU and RAM. Capture One does take advantage of the GPU, but we aren't seeing that result in PCs with dedicated GPUs surging ahead of Apple's Macs. That said, in some cases as seen below, the NUC is faster.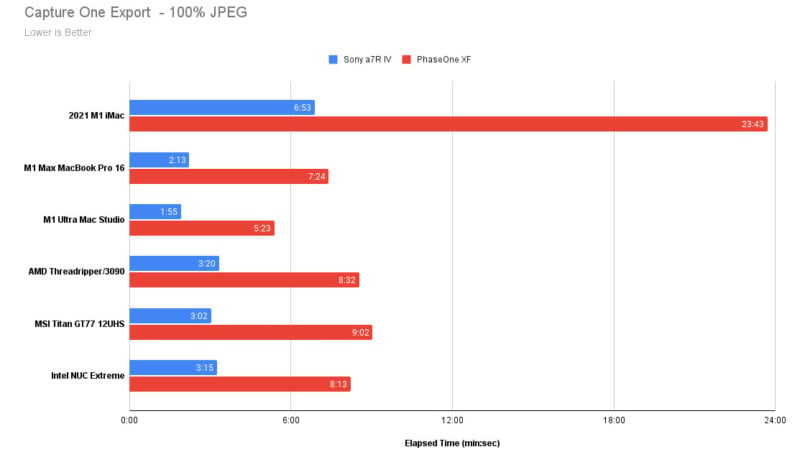 Photoshop
Our final test is to run the Puget Systems' industry-standard PugetBench benchmark.
PugetBench assigns an Overall and four Category scores after timing a wide variety of tasks ranging from the basics like loading, saving, and resizing a large .psd, to GPU-accelerated filters like Smart Sharpen and Field Blur, to heavily RAM-dependent tasks like Photo Merge. As we have in the past, we ran version 0.8 of this particular benchmark, because it was the last version to include a Photo Merge test, a feature we find particular value in given our focus on photography.
The results are mixed when you look at the category scores, but compared directly to the Apple Mac Studio, the Intel NUC 13 Extreme outperforms it in every category. Additionally, and I never get tired of saying this, the NUC has set a new benchmark for the highest-performing computer we have ever tested according to Pugetbench's overall score. It logged a score of 1,413, significantly beating out the Mac Studio and even the MSI Titan GT77, our previous top-performing machine.
Performance Takeaways
Intel's i9-13900K processor is clearly powerful and it shows here, but there is a caveat: heat. During testing, the NUC's fans ramped up to max and even then we saw thermal throttling. In a larger chassis with better cooling, we are certain these exact same components would perform even better. That's kind of amazing considering how much the NUC trounced the best Apple is able to produce right now.
But that also brings up another consideration when it comes to making a buying decision. While the Intel NUC 13 Extreme is absolutely powerful, it's also loud. The NUC's fans are clearly audible from across a room even when it's not exerting its maximum effort. In contrast, the Mac Studio makes narry a whisper even under the most intense workloads. For many, avoiding that annoying whirr of fans is going to be worth giving up some power, and who knows how much Apple is going to be able to increase the potency of its M2 Ultra — or perhaps even a tier above — that is surely coming down the pipe.
The NUC is also more than twice as tall as the Mac Studio, though it isn't as wide. Overall, it takes up a lot more room on a desk than the Mac Studio does, produces more heat, and is louder. But for all that, it is noticeably more powerful.
An Outstanding Compact Desktop PC
The Intel NUC 13 Extreme is very impressive. When kitted out with the best that it can carry, it manages to overall outperform every other computer we've ever tested and sets new heights for the performance levels we expect to see out of a desktop. The most incredible part of that is this isn't even the most this hardware is capable of, as we've had to cap the performance in order to compress this PC down into the NUC's small profile.
If you aren't a fan of Apple's computers (hardware or software) but have been wanting a computer that takes up very little room on your desk like the Mac mini and Studio, this will get you most of the way there while keeping you outside of Apple's walled garden. But that does come at a cost, as the hardware isn't able to perform at its best due to thermals and even then the NUC gets pretty loud.
The high-end kit we reviewed costs about $1,800, after which you'll have to add in the cost of a Windows license ($139), the RAM ($140), the SSD ($100), and the GPU ($1,050). To mimic our review unit, you're looking to drop $3,229 and that doesn't include a mouse, keyboard, or display. That's about half the price of the Mac Studio it regularly outperformed, though. You just have to deal with more power draw, heat, and noise.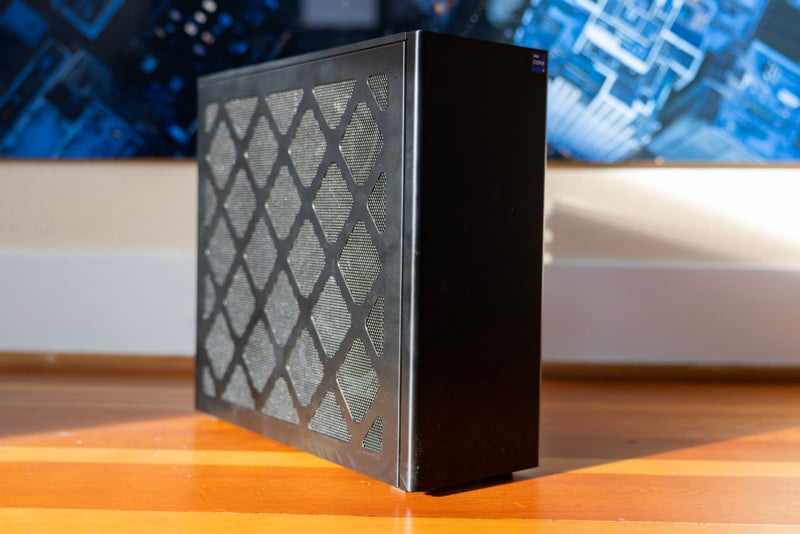 Are There Alternatives?
You can absolutely build a custom PC for as much or less than it would cost you to build a NUC 13 Extreme, and any PC enthusiast will tell you that is the "best" choice. Some folks don't like doing anything other than unbox a computer and plug it in, though, and for them, even the NUC is going to be too much work.
The Mac Studio and Mac mini, especially the new one featuring the M2 Pro, are other excellent options if the combination of small size and high performance is important to you. You could also always pick up a laptop like a new Razer Blade or the MSI Titan and keep them perpetually plugged in at your desk.
Should You Buy It?
Yes, though you'll have to weigh the pros and cons of the unit and decide what is most important to you. All we can say is that the NUC 13 Extreme can be a very good desktop computer for creative professionals.