BeReal Turns Photos into 2022 Recap Video, But Feature Has Waiting List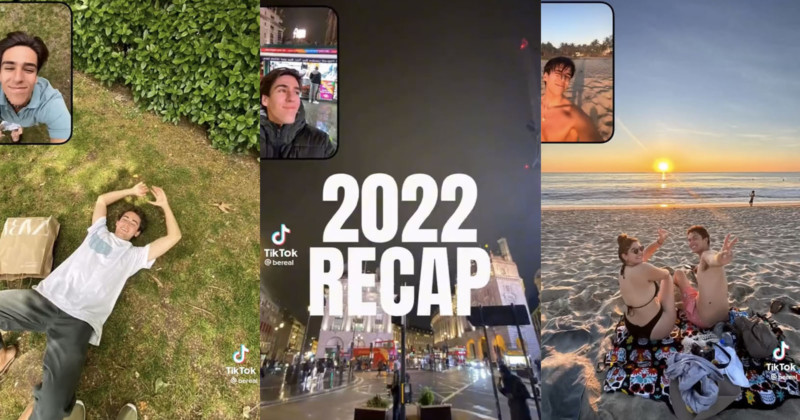 BeReal has surprised users with a new feature that turns all their photos from the last year into a 2022 recap video — but it has a huge waiting list.
On Friday, BeReal announced it has added a recap feature that makes a video using every single photo a user posted on the app this year.
A user's BeReal recap video will be available until the end of January 2023, unless the user saves it to their device after watching the clip.
BeReal users can also share the end-of-year video with their friends. This feature is available in both the iPhone and Android versions of the app.
To access their BeReal recap video, users need to open the app and tap their profile photo in the top-right corner of the app.
On the profile screen, there will be an option to "View all my memories."
Users will need to select the icon that resembles a computer monitor with sparkles on the screen. Then they can tap "Generate my 2022 video recap" to see their personalized, end-of-year clip.
The Long Waiting List
However, there is a long waiting list on BeReal if a user wants to see their 2022 recap video.
i want my bereal recap or i'm buying tickets on ticketmaster????? pic.twitter.com/JaD7Th6FZq

— romy🇫🇷 (@gslyloml) December 15, 2022
After a user taps the generate button, BeReal will put you in a long queue before you can view the clip.
Some users are placed in position #16,123 on the waiting list for example but then receive their recap video within a minutes.
However other users have reported longer wait times to see their clip. For these users, it might be a case of waiting until they receive a BeReal notification to view the clip.
WHY TF IS THERE A WAITING LIST FOR THE 2022 BEREAL RECAP? pic.twitter.com/3ozaMcBaqE

— caroline ♔✰❀ (@glittergelgirly) December 16, 2022
The Rise of Shareable End-of-Year Content
The unexpected release of BeReal's 2022 recap comes after shareable end-of-year content, such as Spotify's Wrapped, becomes increasingly popular.
On Monday, Instagram also announced its new end-of-year feature that lets users create a 2022 Recap Reel from their photos and videos.
BeReal has experienced a meteoric rise in the past year. The two-year-old photo-sharing app had 10,000 users in March 2021.
However, by October, BeReal had over 20 million daily active users.
Bereal's extraordinary ascent has seen it dominate the number one spot in the U.S. on Apple's App Store charts for much of this year.
The app saw such a surge at a time of widespread irritation at Instagram and its redesign in order to compete with TikTok.
Earlier this month, BeReal won "app of the year" in Apple's annual App Store Awards in 2022.