How Nick Brandt Shot 'The Day May Break – Chapter Two'
Nick Brandt is a conservation photographer whose themes highlight humankind's destructive impact on animals and the natural world. The Day May Break – Chapter Two was shot in Bolivia, a country in western-central South America, over six weeks in February-March 2022.
The title could be expanded to The Day May Break, and the Earth May Shatter, or The Day May Break, and the Dawn Still Come.
Brandt feels it is humanity's choice, our choice, as to whether we let the world burn or "get up off our cumulative a**es" and try to save this planet.
"I consider animals no different from us sentient creatures that share the same fate of living on this imperiled planet," Brandt tells PetaPixel. "It makes sense to me that I would photograph humans and animals within the same frame because we share the same fate. It's very deliberate they're not looking at each other. They are so disconnected but connected by sharing the same frame.
"All the people are victims of some degree of climate change, and the animals are victims of environmental destruction or wildlife trafficking. In each photograph, I never knew who would share the same frame. It was always a case of today I'm gonna photograph Chascas (black-faced spider monkey) and who will work with him — man or woman, young or old.
"I would go into each photograph just seeing what happens rather than having a fixed scripted idea like, we'll put the bear-like man with the bear. You couldn't tell until you started photographing which person would somehow work with which animal. I'd always have ten or so people standing by and just cycle through until I found two — this human and this animal somehow work together in the photograph for reasons I can't really put my finger on.
"There's that sense of a shared understanding of loss that, hopefully, you will feel from both human and animal. There's this visual language we have in the West, which is looking forward is progress towards the future, which is looking to the right of the frame. Looking back, the frame left is into the past. So, the fact that Chascas is looking towards the right is looking towards the future.
"The farmer Lucio is more thoughtful and hesitant, looking down. In December 2021, there were extreme floods far greater than people in his area had ever experienced which swept away all his crops and left him unable to make a living.
"Lucio spent the entire shoot with us for five weeks because I loved his presence. I always wanted to keep him available to be photographed with any of the animals at the sanctuary." Some of this money [that he earned by modeling] was used trying to begin the long, tortuous process of recovery for his land — to be able to make a living from it again.
Chascas, the spider monkey, was rescued at five months when they sold baby monkeys in the market. This wildlife trafficking is horrendous in two ways. First, the parents are killed (also illegally hunted for food) to get the baby monkeys, and then the baby often dies from a lack of proper care.
In Ruth and Zosa, Bolivia, 2022, we have Zosa, a three-toed sloth, the slowest moving mammal, posing with Ruth. Zosa, at age eight months, was rescued with the help of police from a restaurant where she was kept for entertaining the patrons and now lives at the forested Senda Verde Wildlife Sanctuary in Bolivia. All the inhabitants are rescued animals, and Brandt photographed chapter two here.
Zosa is looking up to the trees, yearning to be back in the treetops where they live. Brandt is photographing the sloth and the birds on the ground as though they are grounded and not in the trees where they comfortably belong.
In 2014, there were floods and mudslides caused by deforestation, and Ruth's house was one of 60,000 homes destroyed and 150,00 cattle lost.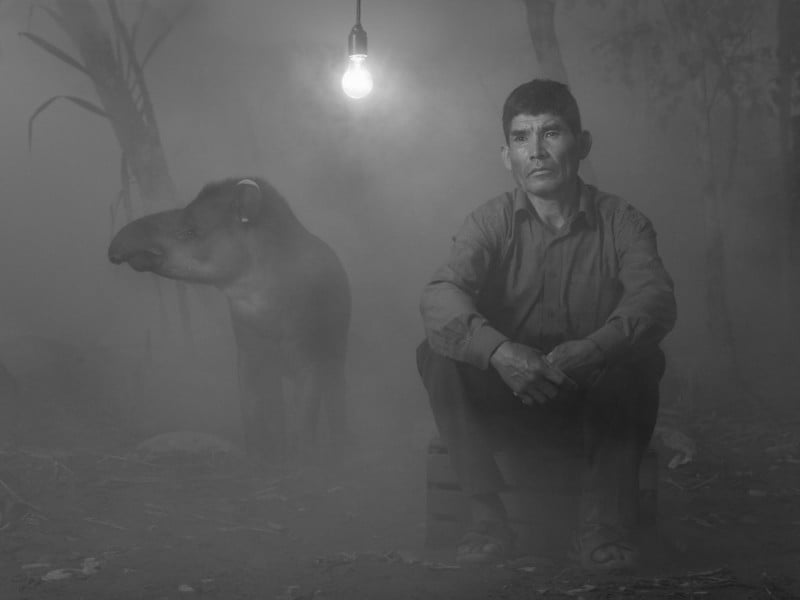 "Apthapi is a lowland tapir, around eight years old when photographed," says Brandt. "He was rescued when just five to six months old by the police from a hotel where they kept animals for entertainment.
"Florentino lives very close to Lucio, and his land was similarly destroyed, and he believes it will take many years for the land to be revived for crop harvesting.
"The light bulb is a basic necessity for survival. If you look through the first chapter, you'll see various props like basic chairs, tables, beds, and the light bulb, which is just one of the barest essentials necessary for survival — just the simplest form of light by which to see at night."
Kini, a howler monkey, was rescued as a baby by Senda Verde Animal Sanctuary. Half her body was burnt by forest fires set up by hunters to force monkeys down out of the trees. The mothers are killed, and babies are sold as pets in the market.
Lineth's grandfather Samuel worked in the world's highest lift-served ski area, the Chacaltaya Glacier, in the Bolivian Andes. By 2009, with climate change, the glacier had disappeared completely, the resort shut down, and all the jobs were lost.
The Fog and its Symbolism
The fog is created with four fog machines running from a generator and shows the environment being damaged and destroyed.
When a person is in the foreground, it's symbolic of the natural world we once knew rapidly fading from view. In chapter one, because the animals were bigger and with a person in the foreground — the elephant, the rhino, and the giraffe — they faded from view. It's also an echo of the apocalyptic wildfires sweeping around the planet.
"When I came up with the idea at the beginning of COVID, it had a third symbolic aspect which was feeling like we were all in limbo, not quite knowing what was happening next," explains the conservationist. "You could still apply it to…are we going to see with new clarity and escape this fog?
"In chapter one in Africa, all the photographs were taken outside the animal enclosures, whereas in chapter two, what was very challenging was that all the photographs had to be taken inside the enclosures, and so the fog had also to hide the chain-link fence, etc.
"The difficult part was that when the monkey was finally sitting in the correct position with the proper expression, the wind would have blown away the fog, and the fence in the background would show through.
"All these elements had to align simultaneously between fog, animal and human and a cloud [not sunny] cover."
Brandt does not Photoshop out anything or add anything. The image is direct from the camera. He also does not shoot in motor drive mode and prefers to shoot single frames even when the subject is moving fast. He believes in nailing the exact frame rather than spraying and praying. He uses Capture One Pro to convert his RAW files.
Besides contrast and brightness adjustment, there's very [little that is altered].
I've got zero interest in photographing the humans and animals separately and combining them in post," says the photographer. "What happens in real life is far superior to what I might come up with either in my imagination or Photoshop. To me, there's just indefinable organic integrity to an image when it's just what you see is what was there.
The Challenges and Logistics of a Project
"In terms of future chapters, it's also money," explains the photographer. "I mean, these projects are costly, which is hard as it is all self-funded. It's kind of scary how much it costs. In chapters one and two, you had to bring the people to where the animals are. There's all the logistics of getting people, from all around Zimbabwe, from all around Bolivia.
"The researchers have gone out and have found the people. Then they've got to be transported, they've got to be given accommodation, they've got to be paid, and they've got to be fed. There's got to be an assistant director and a casting person. There's a crew, and there's a grip, and you know it's a crew of 10 people [like a movie production] for six weeks. It all adds up to quite a lot of money.
"Every time I embark on a project, I need to feel excited and scared. I need to be outside of my comfort zone. I just need to have no idea whether it will work, and I find that stimulating.
"The average shoot is 45 minutes, often in the early morning or late evening. It all depends on the cloud cover which I need. If it's sunny, I can't shoot. If it's cloudy, I shoot as fast as possible, but I have to wait once the sun comes out. It doesn't matter what time of day it is as long as it's cloudy."
The bear, puma, and jaguar, which were big, went behind the humans, whereas the smaller animals had to be in front to make the perspective work. A baby howler monkey is small enough to fit in the palm of your hand.
Prints are made on the Epson SureColor P10,000 (44″ wide) and Epson SureColor P20,000 (64″ wide) printers.
"Fog is magical," says Brandt. "What it does is it makes images look like perfectly tonally balanced paintings. I could churn out 80 work prints for the galleries to see the day after I returned. I got home on March 29, and the photographs are dated March 31. All the prints shipped out — 80 prints times five to the five galleries. So, 400 prints done within two days at 20×15 inches."
"I ended up with 60 photographs in chapter two in Bolivia, the same number as chapter one in Zimbabwe and Kenya shot in 2020."
Brandt had a Bolivian producer who hired researchers scouting all over the country for six weeks beforehand, looking everywhere for people who would be willing and able to take time off to get on a bus and come be photographed for what turned out, for a few, to be up to five weeks.
In the sanctuary, all the rescued animals are habituated with humans and, therefore, can be near them except for bears, pumas, and jaguars. With the puma and the jaguar, the sanctuary built a giant piece of glass eight by six feet and set it within the chain link fence up to 15 feet high, so the people were in the foreground, and the photographer was shooting through the glass behind them. With the bear, there's an electrified fence low to the ground that stops the bear from approaching the people. That way, it was possible to maintain proximity while still being safe.
Everybody is paid for their time. So, if a person is there for five weeks, it is a good amount of money. They also get a royalty payment. They receive a share of proceeds [5%] from the sales of the photographs. These biannual royalty payments from the sales of the prints are evenly distributed regardless of whether it was their photographs that sold or not. Brandt has been able to get buyers of the pictures, in a few instances, to donate significant amounts for the people in the photographs that they have bought. As a result, three of the girls have now got their education paid for the next six years. Two people have rebuilt their homes, and two couples started businesses from people buying prints.
Medium Format Camera to Make Large Prints
Brandt, who has been photographing for 20 years, shot with the Fujifilm GFX100 (102-megapixel medium format). He is typically a purist and shot with primes. However, photojournalist Brent Stirton suggested that he use a zoom, so he picked up a GF45-100mmF4 R LM OIS WR to try it out. Surprisingly, he shot both chapters on the zoom and did not bother to change to the primes. It was kind of revelatory as Brandt discovered that instead of losing the shot in the time it takes to take a step back or forward, he could zoom slightly. Although the lens starts at a wide-angled view at 45mm, Brandt always shoots between 80-100mm at f/11-16.
Brandt generally uses one continuous light because he likes seeing the effect on the subject, and flash would also disturb most animals.
Brandt, who has been a vegetarian since he was 23 and a vegan for the last 20 years, was concerned about the disappearing natural world. He realized photography was the best medium to express his concern, passion, and obsession.
"I take photographs to exist as prints," clarifies the London, England born (1964) photographer. "I don't take photographs to be digital files on a backlit computer screen and, God forbid, on the phone.
"I can't tell if I have taken a good, very subjective word, photograph until I see it printed."
The most popular image shown by print sales in both chapters is Harriet and People in Fog, captured for the first chapter in Zimbabwe. It is a portrait of a giant eagle owl down on the ground with shadowy shapes of people in the fog behind. Harriet almost mimics a human standing in deep thought with both hands behind the back.
Chapter Three will be shot soon in the South Pacific and is very different in its treatment. We are not going to reveal any more. You will just have to wait and watch when it is released.
Vital Impacts
"I think Ami Vitale is an extraordinary force of nature," says Brandt. "With Ami's concept now of Vital Impacts helping provide two grants of $20,000 for environmental creators in photography, a new up-and-coming generation of thinkers and creators in the environmental field is being cultivated.
"There could be a photographic equivalent of Greta Thunberg that just captures people's imaginations on a global scale, so all of us photographers who are contributing is no big sacrifice on our part. It's up to potential buyers of the photographs that can make a difference by buying the photographs that will help fund great new visual creators working in the environmental realm."
---
Vital Impacts is offering the first four Nick Brandt prints above for sale. There are more than 100 Open Edition Prints and 50 Limited Edition Prints from world-renowned photographers like Jimmy Chin, Frans Lanting, Chris Burkard, Steve Winter, Joe McNally, Steve McCurry, David Burnett, Ami Vitale, David Doubilet, James Balog, and hand-signed Jane Goodall prints.
Sixty percent of proceeds will support the next generation of environmentalists through Jane Goodall's Roots and Shoots and the Vital Impacts Environmental Grants and Mentorships.
---
About the author: Phil Mistry is a photographer and teacher based in Atlanta, GA. He started one of the first digital camera classes in New York City at The International Center of Photography in the 90s. He was the director and teacher for Sony/Popular Photography magazine's Digital Days Workshops. You can reach him here.
---
Image credits: All photos courtesy of Nick Brandt.