'Still Life' Photos of Petrified Animals at Lake Natron
Lake Natron in Northern Tanzania is extremely high in soda and salt content. After animals die in the lake, their carcasses are preserved through calcification as they dry, resulting in petrified "mummies" of birds and bats.
Photographer Nick Brandt visited the lake and captured a series of photos that features these petrified animals. The series is aptly titled Petrified.

"The notion of portraits of dead animals in the place where they once lived is what drew me to photographing the creatures in the series," Brandt tells PetaPixel. "I unexpectedly found the creatures – all manner of birds and bats – washed up along the shoreline of Lake Natron."
He says that no one knows exactly how the creatures die, but one possibility is that the extremely reflective surface of the lake confuses the birds and causes them to crash into the water (just like how birds often crash into reflective glass windows).
The soda and salt content of the lake is "so high that it would strip the ink off my Kodak film boxes within a few seconds," Brandt says. "I took these creatures as I found them on the shoreline, and then placed them in 'living' positions, bringing them back to 'life', as it were."
"Reanimated, alive again in death."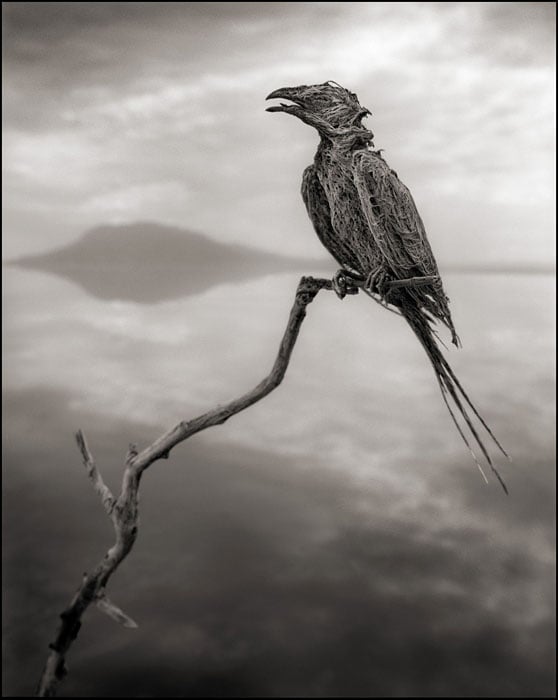 You can find more of Brandt's work over on his website.
(via Nick Brandt via Reddit)
---
Image credits: Photographs by Nick Brandt and used with permission