Capture One Pro 23 Adds Smart Adjustments and New Workflow Tools
Capture One has announced Version 23 and says it gives users a much faster and more efficient workflow by reducing culling and editing time as well as more power and control when editing and working with layers.
The new update introduces a variety of new features and improvements including the ability to cull, rate, tag, and browse images faster with automatic group views, improved control over editing with Layers in Styles, changes to Capture One Live to provide better reviewer management (as well as a free version for a single session at a time), and a new timesaving editing feature called Smart Adjustments which can automatically adjust exposure and white balance to match the look of your reference image across entire sets, massively reducing the need for manual editing or outsourcing.
In addition to these updates, the Capture One Pro 23 (version 16) gas several performance and UX/UI adjustments such as improved performance with Sony files, better exporting performance by leveraging multiple GPUs on certain Windows devices, new "touchpoints" for Capture One Live, the ability to change capture times, and the ability to add variants of an image into separate albums for better organization.
The full list of updates as well as some video demos can be found on the Capture One website, but below are more details on the more significant updates.
Smart Adjustments
Photographers can now leverage a sort of pseudo-artificial intelligence (AI) with their edits with the addition of Smart Adjustments. The company says this new feature will allow users to get consistency with their photo sets with just a few clicks where, once a users sets a reference file (edited the way they like), the smart adjustment will edit the subsequent files to match the exposure and white balance so the files sync up nicely. This includes both increasing and decreasing exposures and checking for skin tones in each file.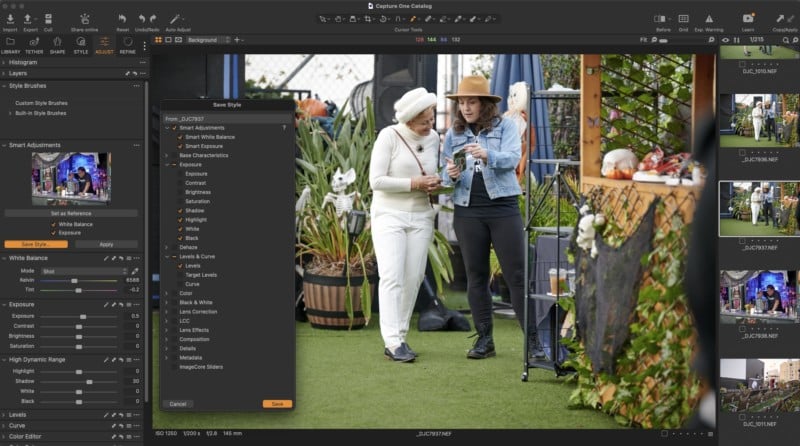 According to the company, the Smart Adjustments Tool is designed for editing workflows where copy/apply cannot give a consistent result because the starting points are different. Smart Adjustments can be added in a Style where additional adjustments can be included as well, getting closer to one-click editing. The first version of Smart Adjustments is designed for photographers shooting portraits, weddings, events, and other images of people.
Users can work with Smart Adjustments in two ways. The first by setting a reference file from an image with a visible face and preferred look (edits included) that can then be batch applied to the rest of the images in the set where the white balance or exposures will automatically be adjusted. The second use is by saving the Smart Adjustment reference as a "style" for continuous use as a "smart style." These smart styles will work just like regular styles in Capture One Pro and can be applied to batches of images even during the import process.
It is worth noting that as of this release, Smart Adjustments are not supported on Layers. The company also says that this first version of Smart Adjustments relies heavily on faces, both for the reference and the images being adjusted. As such, if no faces are present or easily identified in the images, the adjustments will "vary greatly."
Culling and Importing
Capture One Pro 23 makes sorting and culling faster with new dedicated functionality that was developed specifically with these workflow steps in mind. The company says users can view, rate, tag, and browse nearly immediately with no delay and get an overlay provided of similar groups of images for faster culling and selection. This feature is designed with high-volume shooters in mind to make large jobs go faster and smoother, freeing up the photographer to work on the more enjoyable parts of the process.
Within this improved import and culling screen, users can filter their images, add metadata/notes, and even change the capture time of the files (non-destructively) which can be a huge time saver and headache relief when working with multiple photographers and cameras that may be out of sync or from a different time zone.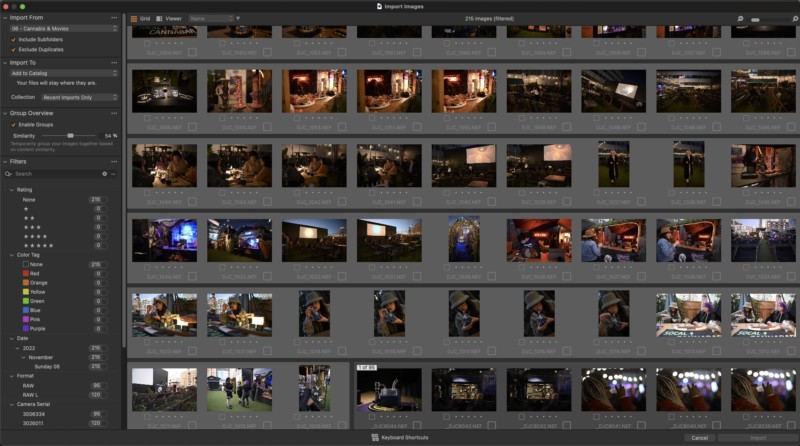 The new culling features can be found within the actual Importer Tool or by opening the new "Cull View" if the images are already inside of Capture One. Clicking the cull view will open the tool and will show the selected collection of images only, allowing for faster grouping, previewing, and additional culling of files.
Layers in Styles, Capture One Live, and General Improvements
The improvements to Styles will allow Capture One Users to include layers when saving their own custom styles, expanding and offering a more efficient and flexible workflow for creatives by allowing quick edit applications that include multiple layers with predefined opacity. While masks can be saved, it is worth noting that if a layer includes a manually brushed mask, the layer mask will save but will be empty, additionally, heal, clone, luma range and gradient layers are not currently supported.
Capture One Live updates bring some impressive and useful enhancements that include managing who can access the online sharing session and what they can do through a new "Manage" option that is available for each session. The company says this will open a new window where you can manage the reviewers, change their access level between none at all, "can view" and "can rate, tag, and comment" allowing for much more control and faster collaboration between remote viewers.
Finally, in addition to all the above updates, Capture One Pro 23 adds more control over variants in albums where these clones can be put into separate albums without the others or original files being added. Also, Sony files will now load faster from the disk (this will of course vary from system to system) especially noticeable when working from a network disk, and exporting files on certain Windows-based machines will be up to 100% faster by leveraging multiple GPUs.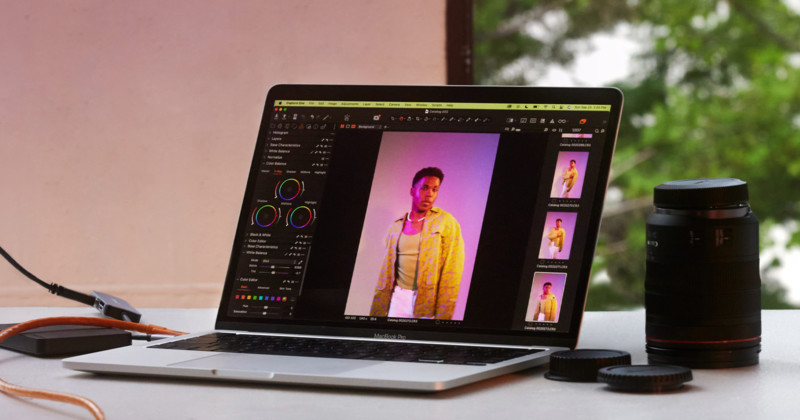 The Capture One Pro 23 update is available now for all users on perpetual or subscription licenses.
---
Image credits: Capture One