TTArtisan Takes DSLRs Ultra-Wide with 11mm f/2.8 Fisheye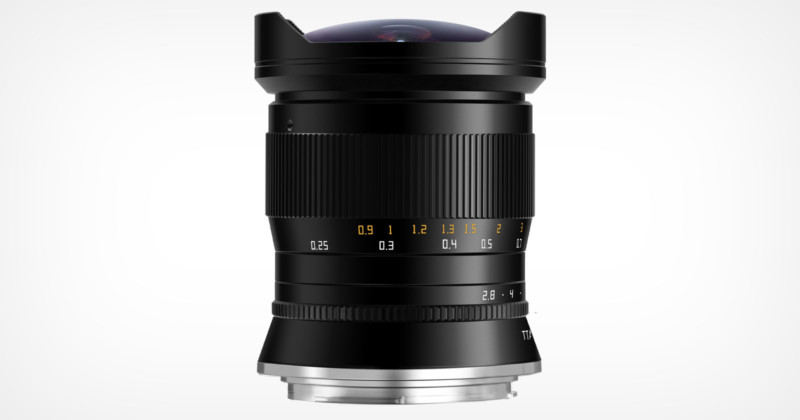 TTArtisan has announced a new 11mm f/2.8 Fisheye lens for Canon EF and Nikon F-mount cameras. The lens brings DSLRs access to the same lens that has already been available for multiple mirrorless mounts.
The $215 lens features a diagonal 180-degree field of view that creates what the company describes as "unique perspectives and creative distortions." The lens features an all-metal barrel along with engraved depth of field and focus scales. The 11mm f/2.8 fisheye lens is also fully manual and does not offer any kind of electronic communication with the camera body.
The 11mm f/2.8 is constructed of 12 elements in 10 groups, which includes four high-refractive-index glass elements that TTArtisan says were included to help control distortion and spherical aberrations which results in improved sharpness and more accurate image rendering. The lens also has one extra-low dispersion element that the company used to reduce color fringing and chromatic aberration, which it says helps it better produce high clarity and color accuracy.
It should be noted that this optical formula, stated by TTArtisan distributor Pergear, is not the same as what the company says it uses for its mirrorless version of the lens which it brought to Fujifilm GFX cameras last year. On its website, TTArtisan says the mirrorless lens uses a construction of 11 elements in seven groups, and while it has the same four high-refractive-index elements, no mention is made of the extra-low dispersion element. The close focusing distance is also different.
The DSLR version of the lens has a clicked aperture range and a close focusing distance of 25 centimeters (about 9.8 inches), which it advertises are particularly close and allows photographers to obtain unique perspectives. TTArtisan's mirrorless specification notes a close focusing distance of 0.17 meters, which is about 6.7 inches.
Speaking of the aperture ring, the lens has an aperture range of f/2.8 through f/16 via a seven-bladed diaphragm which is in line with the mirrorless versions of the lens.
Below are a few sample images taken with the lens:
The TTArtisan 11mm f/2.8 Fisheye for Canon EF and Nikon F is available for $215 from Pergear, which is discounted from $235 versus other outlets like Amazon.
---
Image credits: Photos provided courtesy of TTArtsian