Fotodiox Adapter Lets You Use Fujica GL690 Lenses on Mirrorless Cameras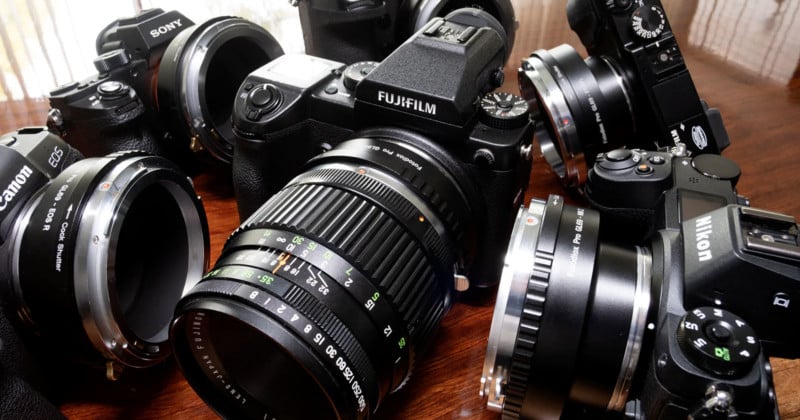 Fotodiox has released the first commercially available lens adapter for Fujica GL69 bayonet lenses for just about every current mirrorless camera mount on the market.
The Fujica GL69 bayonet mount was designed by Fujifilm in the late 1960s for use on its medium format interchangeable lens rangefinder cameras. Fotodiox says that the first production model of a camera using this mount was the Fujica G690 which used a 6×9 frame size, which is a similar aspect ratio as 35mm film.
"This frame size paired with Fujinon glass meant that commercial photographers could offer higher image quality on prints and work more efficiently," Fotodiox says.
"The Fujica G690 and the lenses the system left behind might entice the average film shooter these days but even without the body, the lenses are still worthy workhorses. That is why we are the first to commercially offer a lens adapter for the Fujica GL69 bayonet to various mirrorless cameras."
Fotodiox has announced a set of adapters for the GL69 bayonet: Canon RF-mount, Fujifilm X-mount, Fujifilm GFX G-mount, Leica L-mount, Nikon Z-mount, and Sony E-mount.
The GL69 mount lenses are a leaf shutter design, which Fotodiox says would have been cocked via mechanisms within the camera. Because that's no longer an option with modern mirrorless cameras, Fotodiox created a solution.
"Our adapter has a built-in cocking ring that keeps the shutter in the lens open. It's a simple process that only requires the lens shutter speed to be set to 'B' (Bulb)," the company explains.
The adapter allows photographers to use any of the following six Fujinon GL69 bayonet mount lenses: Fujinon 50mm f/5.6, Fujinon SWS 65mm f/8, Fujinon 65mm f/5.6, Fujinon S 100mm f/3.5, Fujinon EBC AE 100mm f/3.5, and the Fujinon TS 150mm f/5.6.
Fotodiox says that of the available mirrorless mounts, the GL69 lenses are especially nice on the Fujifilm GFX cameras, and the company says that it's nice to see these legacy lenses given a second life on Fujifilm's modern medium format camera.
The Fotodiox Pro Lens Mount Adapters for Fujica Gl69 lenses are available directly from the company's website for any of the six modern mirrorless mounts for $225.
---
Image credits: Fotodiox