These New AF Adapters Mount Canon EF Cinema Glass to RF or L-Mount
Fotodiox's new Cine Edition Fusion adapters allow Canon EF cinema glass to mount to L or RF-mount cameras, support full electronic connection including autofocus, and can include a built-in variable neutral density (ND) filter.
These adapters are designed to work with lenses like Canon's CN-E 18-80mm T4.4 compact servo lens, any of Canon's many cinema primes like the CN-E 50mm T1.3 L, or even something like the CJ18EX28B ENG lens. These aren't necessarily common optics, but filmmakers who have used Canon EF mount lenses for years but are now switching to either Panasonic or Canon's mirrorless RF cameras now have a way to bring those lenses with them without sacrificing functionality.
Fotodiox says its new adapters allow filmmakers to port professional-grade Canon cinema EF lenses to an L-mount or Canon RF camera. The adapters have what Fotodiox describes as a breach lock mounting ring as well, which is similar to what is found on a cinema camera and locks the lens into the adapter with a sliding, locking ring.
Perhaps most importantly, the adapters have electronic communication pins that allow for electronic control of autofocus, aperture, and in-lens image stabilization. Fotodiox says it is even possible to power the motor of a servo zoom of an aforementioned adapted Canon ENG lens.
As mentioned, the Fotodiox Cine Edition Fusion adapters come in two formats: standard and ND Throttle. The standard option is just the adapter, but the ND throttle adds a built-in variable ND filter.
"Turn the ring on the adapter to adjust the VND filter from 2 to 8 stops of ND filtration, perfect for cutting light from your scene and shooting shallow depth of field video in bright conditions," Fotodiox says.
The ND ring can be locked into place using a knob on the side of the adapter to prevent accidentally moving it during a shoot.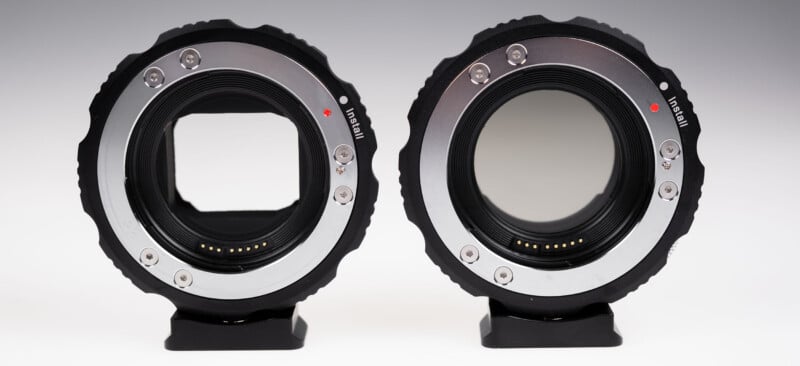 Both versions of the adapter include a tripod foot on the bottom to give filmmakers a more centered mounting point, which is especially useful for heavier lenses. The adapters also have a micro USB port that is intended for updating firmware, should new versions be released by Fotodiox.
The new standard version of the Fotodiox Cine Edition Fusion Adapters are available for either L-mount or RF-mount for $400. Picking up the variable ND version increases the price to $500.
---
Image credits: Fotodiox