Instagram Says it is Falling Behind on Creator Satisfaction
Instagram head Adam Mosseri has told staff that the app is falling far behind TikTok and YouTube in all aspects of creator satisfaction.
Mosseri made the comments to Instagram's employees in a private memo a few weeks ago, according to a report by The Information on Thursday.
In the memo, which was read by The Information, Mosseri says that surveys of creators showed that Instagram "lag[s] behind TikTok and YouTube on all the dimensions that are most important to creator satisfaction," including several unrelated to the ability to make money, such as "fun, reach, fair algorithm and care."
In the internal memo, Mosseri also notes that the Instagram team is "behind where we need to be" on initiatives to help creators make money on the platform but is "upping our urgency and progress."
The news that creators are unhappy with so many aspects of the app is concerning especially as Instagram was once seen as the main competition for TikTok. However, since Mosseri announced that Instagram was no longer a photo-sharing app in December, the app has lost its appeal to many longstanding users.
Earlier this year, Instagram faced widespread backlash for pushing Instagram's TikTok clone Reels instead of traditional feed posts, such as photos.
Photographers have criticized the video-centric changes on the app, especially since Reels have tanked the visibility and reach of standard posts on Instagram.
Earlier this month, Mosseri admitted that the company had "gone too far into video" and insisted "photographers are all still relevant" on the app.
He also faced several questions about Reels during his weekly Ask Me Anything (AMA) on Instagram on Friday. Mosseri attempted to underplay Instagram's push on Reels and encouraged photographers to post photos on the app when an individual asked whether "creators have to make Reels to get more reach?"
In response to the question, Mosseri replies "No. Contrary to popular belief, creators do not have to create Reels to get reach. If you are a photographer and your fans like photos, you should be able to reach them by posting photos."
"But in general, people seem to be more and more interested in video over time," he adds.
Another creator asked Mosseri "Are people even using Reels?"
"Reels actually has been continuing to grow quite quickly and I'm excited about that but there's still a lot more room," Mosseri answers. "There's a lot of competition. Some do incredibly well and I think there's a lot more we can do to make the experience better both for creators and for people watching video on Instagram."
During the AMA, he was also asked whether Instagram would introduce a photo-only feed on the app. Mosseri did a poll on the idea, to which 75% of respondents said they would use a photo-only feed.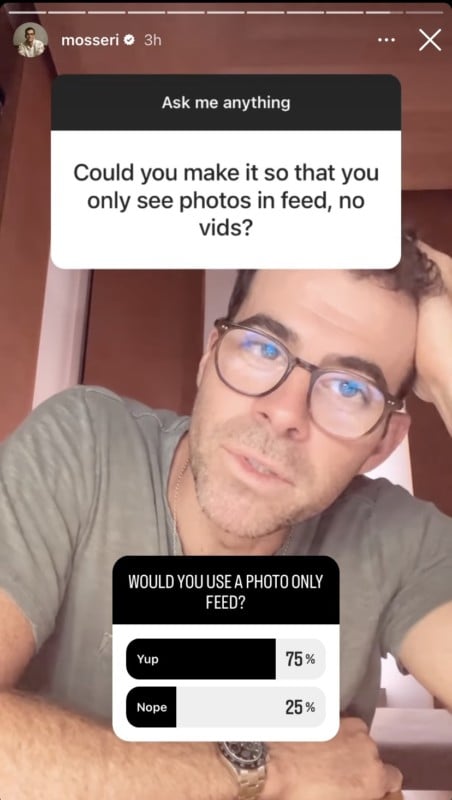 A new study by Adobe revealed that the creator economy had grown by over 165 million globally in the last two years — an increase of 119%. Creators now make up 23% of people globally, meaning nearly one in four individuals are contributing to art and creativity.
---
Image credits: Header photo licensed via Depositphotos.