Instagram Now Lets Creators Lock Photos and Reels Behind a Paywall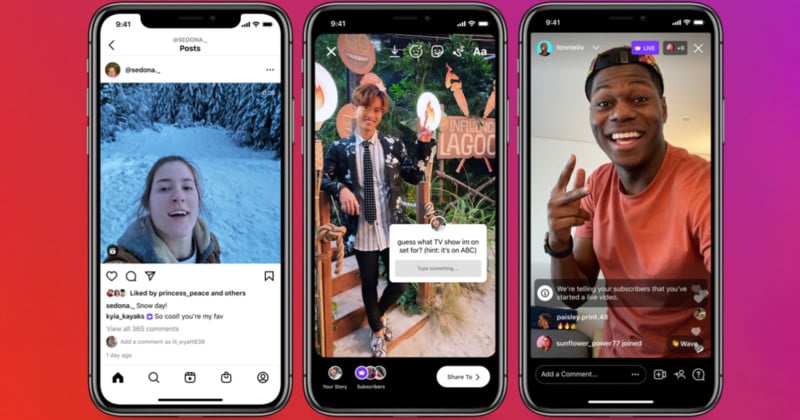 Instagram revealed that creators will be able to lock their photos and Reels behind a paywall for subscribers using the "subscriptions" feature.
Instagram head Adam Mosseri tweeted a video announcing the update yesterday. In the clip, Mosseri says that the new subscription feature was part of the app's efforts to help creators earn a stable income.
With this new feature, creators will be able to create exclusive photos and Reels, only for subscribers. This feature will label posts and reels as 'exclusive' with a purple banner and white crown to indicate that only subscribers can view them.
In addition, creators with Subscriber content will now have a "Subscriber home" tab on their profiles so that paying followers can see the exclusive photos and Reels they've unlocked access to or sign up to be a Subscriber.
📣 Subscriptions Update 📣

Subscriptions are a great way for creators to have a predictable income & for fans to get exclusive content from creators that they love.

This update includes:
– Subscriber Chats
– Subscriber Reels
– Subscriber Posts
– Subscriber Home pic.twitter.com/5PzDTcwn8d

— Adam Mosseri (@mosseri) July 14, 2022
In the video posted on Twitter, Mosseri says tens of thousands of creators in the U.S. now have access to the subscription program, which enables them to lock their photos and Reels behind a paywall and set a monthly subscription cost from $0.99 to up to $99.99 for subscribers to access this content.
"A really important thing to creators everywhere is sustainable income," says Mosseri in the video. "At the end of the day, if you're a creator, you're a business, and a great way to establish some sustainable and predictable income is through subscriptions."
Instagram started testing creator subscriptions in January with paywalled Stories and live streams. Only ten creators had access to the feature, including Olympic gymnast Jordan Chiles and astrologer, Aliza Kelly. The initial alpha rollout supported subscriber-only stories, subscriber badges and subscriber-only live streams. Now, according to Mosseri, tens of thousands of creators in the United States have access to the subscriptions feature, although he acknowledged that the company needs to expand to other regions.
There will also be a new Subscriber chat option that allows creators to start a chat with up to thirty subscribers. The group chats are powered by Messenger and creators can start them from their inbox or a Story. The chats will automatically end after twenty-four hours, which gives creators more control over how and when they interact with a community.
The new feature on Instagram appears to be an apparent effort by Meta to compete with creator subscription services like Patreon. The company has also been adopting more features to compete with the app's biggest rival, TikTok. Last month, Zuckerberg announced that Instagram is testing a full-screen feed that strongly mimics TikTok. Instagram was also testing a change that turns all video posts uploaded to the platform into TikTok clone Reels.