Hasselblad X2D 100C: A 100MP Camera with IBIS and Hybrid AF
Hasselblad's new flagship medium format mirrorless camera is the X2D 100C which features a 100-megapixel backside illuminated sensor, phase detection hybrid autofocus, in-body image stabilization, and 15-stops of dynamic range with 16-bit color.
Described as a "next generation" mirrorless medium format digital camera, Hasselblad says the X2D 100C has been engineered to bring "substantial" technological enhancements across the board from image quality, to handling, to system responsiveness.
The X2D 100C
"When developing the X2D 100C, our goal was the same as always, just as Victor Hasselblad himself made decades ago: build a better camera," Bronius Rudnickas, Hasselblad Marketing Manager, says. "This commitment drives us to explore the possibility to improve its performance from all aspects."
At the core of the camera is a 100-megapixel medium format backside illuminated (BSI) sensor (43.8 × 32.9 mm) that has been equipped with hybrid phase and contrast-based autofocus capabilities. The company says the sensor has 294 phase detection autofocus points (PDAF) to ensure rapid and accurate focusing that it can use in tandem with contrast-based algorithms.
The camera can record in RAW and JPEG, the former tend to be about 206 megabytes in size on average. While it isn't by any means a speed demon, the X2D 100C can shoot at up to 3.3 frames per second in 14-bit color but slows down when set to 16-bit color capture.
Hasselblad also designed a custom five-axis in-body image stabilization (IBIS) system that is capable of seven stops of stabilization and allows the camera to be hand-held in even dimly lit conditions and still capture sharp focus. The IBIS system had to be custom made for this camera because Hasselblad says it wanted to keep the body as compact as possible. The result is not only what the company promises results in high performance, but also is the most compact medium format IBIS solution on the market.
The X2D 100C uses a 0.5-inch OLED electronic viewfinder (EVF) with 5.76-million dots and a magnification of 1.00x and a refresh rate of up to 60 frames per second. Hasselblad says the EVF supports electric refractive error correction which ensures the whole display is sharp and bright from corner to corner.
On the top of the camera is a 1.08-inch color display that displays current settings along with a 3.6-inch telling 2.35-metapixel touch-capable rear display. That rear display is host to Hasselblad's "intuitive" user interface that is one of the major selling points of previous X System cameras.
What separates the X2D from just about any other stills-focused camera on the market is that it has no video feature and it comes with a built-in 1TB SSD. So while it also accepts CFexpress Type B cards, one is not necessary to use the camera.
On that note, Hasselblad significantly simplified the I/O on this camera, and other than the single memory card slot, it only features a battery compartment and a single USB-C port.
The battery is CIPA rated for up to 420 photos and supports PD 3.0 fast charging. Since CIPA ratings have been relatively inaccurate when it comes to mirrorless cameras, it is highly likely that the battery will last for many more photos than promised.
Three New Lenses
In addition to the X2D 100C, Hasselblad has announced three new lenses that expand the X System line to 13 total. These new lenses are the XCD 38mm f/2.5, 55mm f/2.5, and 90mm f/2.5. Hasselblad says each has been designed to be compact and lightweight without sacrificing the company's top-of-the-line optical performance expectations.
The three lenses also feature an upgraded focusing module with a stepping motor that allows them to support faster and more accurate autofocus. The leaf shutter mechanism is also more compact, which allows it to support flash syncing at all shutter speeds (up to 1/2000 second on the two wider lenses and 1/4000 on the 90mm lens).
The lenses feature a full-metal body and an engraved distance scale as well as a push-pull system to switch between autofocus and manual focus. Additionally, the new lens control ring supports function customization, and photographers can now change what to control with the ring according to their preferences.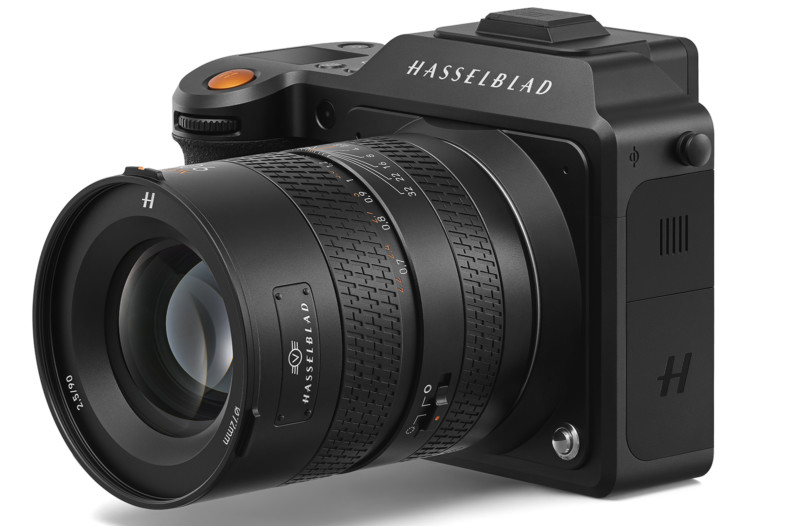 These new lenses are compatible with any X System camera, but will be at their highest performance when combined with the new X2D 100C. Likewise, older X System lenses will not be likely able to keep up with the faster focusing that is possible with the new camera.
Pricing and Availability
The Hasselblad X2D 100C as well as all three new lenses are available to order immediately. The X2D 100C can be purchased for $8,200, the XCD 38mm f/2.5 and 55mm f/2.5 can be ordered for $3,700, and 90mm f/2.5 is available for $4,300.
---
Image credits: Hasselblad