Hasselblad X2D Gets Focus Bracketing, Touch AF, Focus Peaking, And More
Hasselblad has released firmware update 2.0.0 for the X2D medium format mirrorless camera that adds a ton of new features and usability enhancements that significantly upgrade its capabilities.
The X2D 100C firmware 2.0.0 has 15 total updates that either bring wholly new features to the camera or dramatically improve existing ones.
Eight new features have been added. The X2D now has focus bracketing, includes a Picker Tool that allows photographers to set white balance manually, and focus peaking for manual focus assist is now an option. The company also now lets photographers swap between horizontal and vertical stabilization options in the Stabilization Mode settings.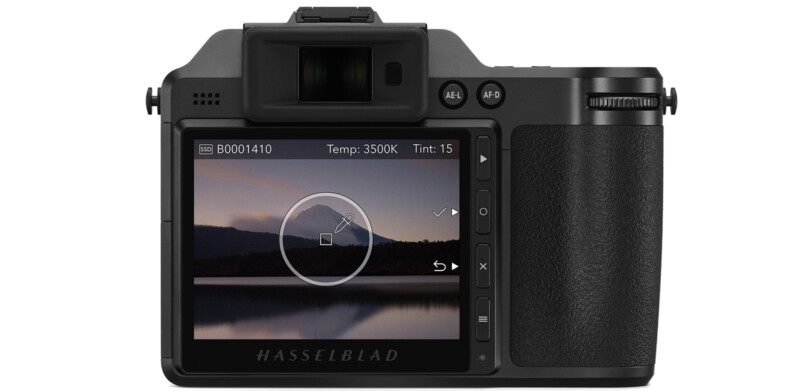 Additionally, the camera now has crop modes which allow photographers to select various cropping ratios as well as set the mask opacity in the Crop Modes Setting. Hasselblad also added a histogram overlay in Live View, a sound prompt for the self timer, and touch-based autofocus where users can now tap the touch screen to start autofocus. That last feature has to be enabled in the Focus settings.
Beyond these wholly new features, Hasselblad has also enabled the ability to switch between the nine view mode and a 25 view mode in the browser, which makes it easier to look at images in batches. Beyond that, the X2D 100C now supports the ability to delete images in batches from either the nine or 25 image view mode. Photographers can tap and hold the image on the screen or press the delete button on the camera body to enter batch delete mode, select multiple images, and delete images.
The X2D 100C now allows photographers to set the color temperature and tint manually in Live View and it improved the light metering performance by 3EV in what the company describes as "weak lighting conditions." Additionally, Hasselblad says that it has enhanced the image quality of live view in those same weak lighting conditions and, overall, optimized focusing performance.
Finally, the image size of the JPEG format has been compressed to around 40MB.
The Hasselblad X2D 100C firmware update 2.0.0 is available today and can be downloaded directly from the company's website.
---
Image credits: Header photo by Jaron Schneider, all other via Hasselblad