DJI Argues AeroScope is the Answer to Drone Tracking Regulation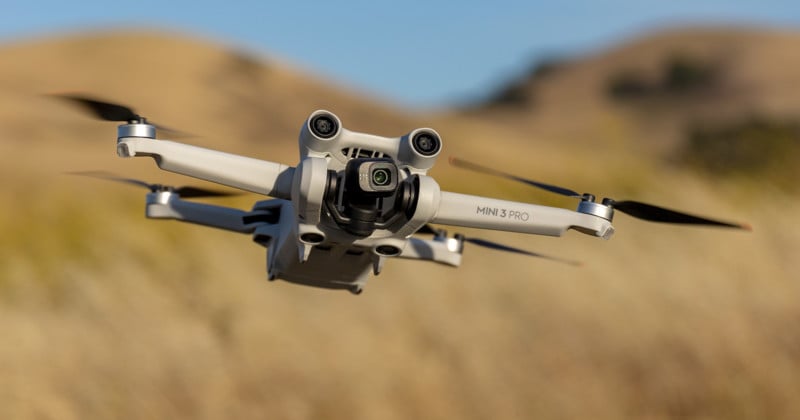 The Federal Aviation Administration (FAA) seems set to roll out its plan for Remote ID, a system that provides in-flight identification of drones. DJI argues it already has a technology that's perfect for this: AeroScope.
Remote ID has been in limbo since it was first published as part of the FAA's final drone rules in 2020 since it was legally challenged as a violation of the Fourth Amendment. Last week, the United States Court of Appeals in D.C. upheld the rules set out by the Federal Aviation Administration (FAA) for Remote ID, paving the way for the federal agency to roll it out across the country.
How different countries choose to enact their forms of Remote ID will vary. For example, the FAA has been using the "digital license plate" analogy, which means that a drone will be required to be outfitted with a device that emits a radio signal and allows those on the ground to scan it and see relevant information on its owner and the status of their flight registration information.
Perhaps in response to a deluge of poor press in Ukraine, DJI has published a blog post that positions its proprietary AeroScope system as the perfect solution to the Remote ID problem. While DJI doesn't specifically call out the U.S. as a great use case for its technology, the timing is so close to the recent court ruling to be seen as a coincidence.
The blog post reads like a well-crafted pitch for the DJI solution. Rather than require an additional radio emitter, DJI says AeroScope can provide law enforcement with the necessary tools to track the most popular drones the second they are put in the air.
DJI says that it first proposed, developed, and deployed AeroScope in 2017 when regulators and law enforcement began looking for a technical solution to identify airborne drones in certain areas. In March of that year, DJI published a white paper that outlined how a system using existing technology could allow drones to fly safely even in crowded, busy aerial paths, and give authorities a way to monitor drone traffic while still protecting the privacy of drone operators, DJI claims.
"At its core, any Remote ID system tries to answer a basic question people have about drones — what's that drone doing? The overwhelming majority of drone pilots fly safely and responsibly, often enjoying an aerial perspective on the world or doing important work such as inspecting bridges and surveying construction sites," a DJI representative tells PetaPixel.
"But when a drone flies in a sensitive location, or when people are concerned enough about a drone to call the police, authorities want to know basic information about it — its flight path, the location of its pilot, and identifying information like a serial number or registration number."
DJI says AeroScope answers those questions and says that it can be a technical solution for Remote ID that can work in just about any situation.
"Every DJI drone continuously transmits a radio signal encoded with basic information, including the drone's location, altitude, speed, and direction [as well as] the location where the drone launched from and the location of the drone pilot and the drone's serial number," DJI's representative continues.
"That signal can be picked up by an AeroScope receiver, when it receives an AeroScope signal, it displays the drone's flight path and other information in a simple interface on a computer screen. Every DJI drone automatically transmits AeroScope information; there is no way for a drone user to turn the signal off because that would defeat AeroScope's purpose of promoting accountable and responsible drone use."
While it is possible that AeroScope could fulfill the needs of Remote ID in the United States, it is still a proprietary system that was the target of outcry from Ukrainians in their fight against Russian invaders. In March, multiple reports out of Ukraine — including a public statement from the Vice Prime Minister and Minister of Digital Transformation of Ukraine — claimed DJI AeroScope was being used by Russians to track a drone operator's position and target that location with artillery and rocket fire.
DJI vehemently denied these rumors on multiple occasions, and eventually halted sales of drones to both Ukraine and Russia in an attempt to prevent its technology from being used in combat.
Whether or not the allegations against DJI were true, the fact remains that AeroScope comes with a lot of public relations baggage now. Even if what DJI outlines in its blog post titled "How DJI's AeroScope System Protects the Public Interest" is true, the FAA would have to be prepared to answer questions about AeroScope's rumored impact in Ukraine.
DJI also isn't in the best position with the U.S. government. The company was added to the economic blacklist in 2020 and was the target of additional calls for outright bans as recently as last October.
Still, the U.S. is not the only nation exploring drone tracking regulation, and DJI might just be putting the argument out there now ahead of other nations taking similar action with the hopes some of them may consider AeroScope as a package that can be deployed immediately with low set-up costs.
---
Image credits: Ryan Mense for PetaPixel