How Pro Photographers Helped Make the Z9, from Prototype to Flagship
Developing a new camera system doesn't happen quickly. Agence France-Presse (AFP) reveals that it had been working with Nikon for several years to develop the Z9, from its early abstract prototype stage through to today, where it is outfitting its staff with the flagship camera.
AFP says that it plans to outfit all of its staff photographers with the Z9 going forward alongside other mirrorless cameras. The agency has a network of over 450 photographers, including 190 permanent shooters, that report from 151 countries – the majority of which choose to shoot with Nikon
The agency says it has been working with Nikon closely for over two decades and provides the company with a direct line of communication between photographers in the field to the engineers developing cameras behind the scenes. This close relationship carried on to the development of the Z9 and perhaps that input is what has made it the top-selling camera in its segment.
Hands-On with the Z9 at its Earliest Stages
"Conversations first began on developing the Z9 over three years ago", says François-Xavier Marit, one of AFP's technical editors.
"During our first meetings, we were shown just a very abstract model of the camera: a plastic box with false buttons. That was our first view of the Z9 and it was designed to test our reaction to the early model, how it felt to hold, handle and operate."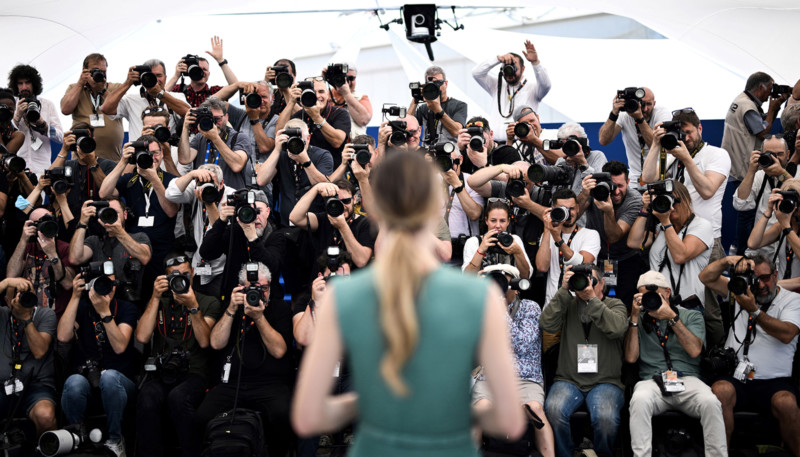 Marit says that the initial feedback it shared with Nikon dealt with the positioning of some of the buttons.
"Some of the very first changes we discussed with Nikon were the repositioning of the playback button from the top left to the lower right of the camera body. This was very important to us and was the topic of many of our early conversations," Marit explains.
"On top of that, we worked together to bring the AF mode button back — something which is prevalent in Nikon's DSLRs. This allows photographers to quickly switch between manual and autofocus at ease."
Antonin Thuillier, another of AFP's technical chief editors, says that the both he and Marit were in regular communication with Nikon's engineers and provided constant feedback from AFP photographers in the field. This included suggestions on improvements, feedback on features, and what those professionals believed needed to change in order to deliver the best photos.
"We speak with the Nikon engineers and they're in another world," says Thuillier. "We can come up with the ideas and say what photographers want but the real challenge is for Nikon — how can they actually realize the wants and needs of photographers through the technology they're creating?"
AFP's photographers have been involved in more than just the Z9, but in features found in Nikon's software and other cameras. Thuillier and Marit joined AFP over 10 years ago and have been working over the years with Nikon to help produce cameras that professionals actually wanted to use.
Pushing Nikon to Develop Beyond the Camera
"We first worked with Nikon to introduce voice tags to the Z 6II — a camera which many AFP photographers shoot with. It's important to remember that photojournalists are never alone, they work in a team. Being able to provide additional information and color to an editor or news wire team is a crucial step in the workflow," Thuillier says.
"On top of that, I often liken a photographer to a conductor and an orchestra, in that there are lots of cameras to coordinate. We worked closely with Nikon to develop NX Field — a software solution which has redefined remote shooting. This technology enables synchronized shutter release of multiple remote cameras while speeding up image transfer workflow," he adds.
"It's not just always about super-fast AF; nuances in function are what's important to photographers — and that's what's great about our relationship with Nikon. We're able to feed all of this back and they're able to make small tweaks which make a huge difference," he says.
AFP says that focusing on these details and providing that information back to Nikon's engineers allows the company to assure certain features aren't left out and that future updates continue to support photographers in a meaninful way.
"Real-time feedback from photographers in the field is continuously reviewed as part of the ongoing development process and incorporated into future firmware updates where possible," AFP says. "Not only does this benefit product development in its infancy, but it strengthens and improves the product during its life cycle, enabling the kit (and photographers) to evolve in-line with technological advances."
AFP adds that its photographers, including Thuillier and Marit, are focused on how Nikon can help them manage the photos they take, which branches the camera company far more into software than has typically been the case.
"The next challenge for Nikon and the industry as a whole will be how to help photographers effectively manage the volume of images," says Marit.
"[Camera] models continue to become increasingly sophisticated and the number of images you're able to take in a single click is mind-blowing. Today's fast-paced news cycle means photographers have to be fast to send the pictures, so helping them edit these images will be key."
---
Image credits: Photos provided courtesy of Agence France-Presse.