DNP's New Camera Captures the Action From Challenging Angles
DNP has launched a new action-oriented camera system called the Action Capture. Designed for adventure-style businesses, it addresses the desire for selfie photos in environments where taking one with a smartphone might prove difficult or dangerous.
DNP Imagingcomm's Action Capture system allows revelers to press an inviting red button at the perfect moment so a strategically-placed camera can capture a selfie-style photo from a unique position.
For example, if a person is at the top of a rock-climbing wall having just scaled it, the Action Capture camera can be placed at the top of the wall so the thrill-seeker can take their own picture of their recently-completed feat from an angle that would otherwise prove extremely difficult with a personal camera.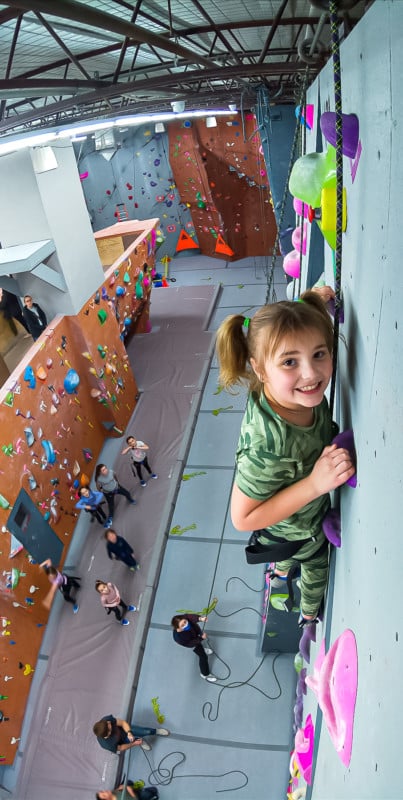 "DNP's Action Capture system snaps candid moments of guests from angles unobtainable by friends or family or with a selfie," says the company, which is probably best known for its dye-sublimation printers.
The company hopes to transform attraction venues into more sharable experiences by allowing guests to freeze their proudest and most fun moments.
DNP says that the technology could also be used at theme parks, family fun centers, ropes courses, and other attraction venues. It also offers the chance to create an on-site automatic updating slide show for guests to view while on-site, similar to a wedding photographer who makes a slide show from earlier that day for evening guests.
DNP's new Action Capture system also enables venues to add their own branded content — such as logos and other graphics — to the images before they are printed. DNP says that will help ensure "a strong brand time with guests and those they share the images with." The venues can also use this feature to upsell photo packages for private events by adding a personal branded image package as a service when booking guests.
Venues will have to install the camera module into a position that will best capture the moment, as well as the trigger button for camera activation. The product also has a touch-screen control unit, network router, and a DNP QW410 printer. DNP does not specify what camera and lens system are hidden in the big blue box.
"Theme parks, family fun centers, rock climbing walls, ropes courses, and other attraction venues thrive on creating a guest experience to remember," says DNP.