The Best Photo Printers in 2023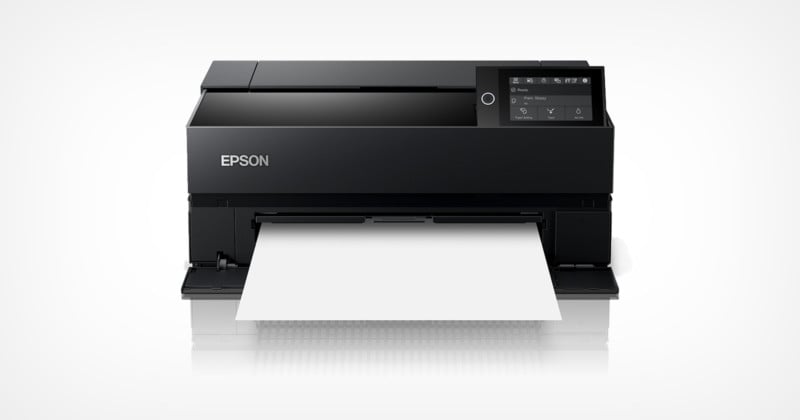 Photographers rarely need to carry a portfolio book of their work to show potential clients these days, but even with constant access to photos online, there will still be moments when every working photographer will need — or want — a printer.
There are still corners of the photography world where clients and agents will ask for expertly created physical prints. This is especially true for the wedding and fashion industry, where it will be incredibly important to have access to a good photo printer. Unless the plan is to outsource to a professional print lab, it will be important to have a high-quality photo printer on hand. While there are an incredibly wide variety of photo printers available on the market ranging from the small battery-powered instant film printers all the way up to piano-sized large-format professional ones, this guide will help narrow it down to the best options for most photographers.
This guide will be updated regularly as new and more affordable printer technology is released to the market so feel free to bookmark this article to reference the latest and greatest whenever the need might arise.
What We're Looking For
The best printers for photography can tap into a few different fields. Whether the plan is to have something small that can travel well to locations or a large printer capable of fine-art prints that is meant to stay at the office or studio, here are our top pics for the best photo printers currently available on the market.
At a Glance
Best Overall Photo Printer: Epson SureColor P900
The $1,195 Epson P900 17-inch pro-grade wide-format photo and fine art printer is an impeccable choice for discerning photographers and graphic designers. Using 10 premium high-definition inks, it is capable of printing up to 17 x 22-inch cut photos in under two and a half minutes, or up to 129 inch long borderless banners and panoramas using the paper roll adapter (which is an additional $249), this printer has a smaller footprint than many of its competitors and weighs just 35 pounds but delivers a fast, easy, and color-accurate output.
The P900 is good at preventing clogs but better when it comes to the value of ink. Epson's replacement cartridges are almost half the price of Canon's (its closest competitor) and it does a better job with not wasting ink.
The Epson P900 can operate via a USB 3.0 connection, ethernet, or WiFi, and features a 4.3-inch touch screen LCD Panel for easy menu navigation and print configuration right on the device without the aid of additional software. At a smaller footprint in both weight, size, and cost, the P900 is the best all-around pro-grade printer most professionals will want to buy.
Best Photo Printer for Color Accuracy: Canon imagePROGRAF Pro-1000
Sitting on just a slightly higher base price than the Epson SUreColor P900, the $1299 imagePROGRAF Pro-1000 inkjet from Canon will satisfy the needs of nearly every professional photographer with its incredible 12 high longevity pigment ink system. This bulky printer provides a wide color gamut and enhanced gloss uniformity in the ink, providing an incredibly accurate color reproduction and clarity. This inkjet printer can handle a max paper size of 17 x 22 inches while achieving a resolution of 2400 x 1200 dpi. The Pro-1000 can print a full color 17 x 22-inch print in just about four minutes, making it one of the best Canon printers for creating professional-grade photo prints with deep and detailed blacks and incredibly accurate colors.
The Canon Pro-1000 features a 3-inch LCD monitor, a USB 2.0, ethernet, and wifi-based connection, and can use the PIXMA Cloud Link for direct access to cameras, mobile devices, and cloud files for direct printing.
Possibly its best feature is its anti-clog functionality which means that it doesn't matter how long the printer stays idle, it will always be ready to print in a few minutes without issue. The downside of this feature though is that the printer absolutely tears through ink, which is extremely expensive to replace and holds us back from giving the Pro-1000 our top pick. Still, it's an outstanding printer that makes some magnificent prints.
Best Mid-Range Photo Printer: Canon PIXMA Pro-200
Canon's $599 PIXMA Pro-200 is one of the best overall "budget" printers for professional photographers, delivering great photo quality at a much more affordable price and coming in at a 15% smaller footprint than the PRO-10 or PRO-100. The PRO-200 inkjet uses eight Chroma Life 100+ inks for impressive color reproduction and clarity on the page, and is capable of printing up to 13-inch prints (A3+) or even 39-inch long panoramas.
Best Budget Photo Printer: Canon TS6420
The $129 TS6420 from Canon is a fantastic secondary printer to have at your disposal on top of the larger fine art printers listed above. Capable of printing a maximum size of A4 at 4800 x 1200 DPI, the TS6320 also has one of the better built-in scanners for photographs on the market. If you have a collection of old film prints that you want to convert to digital, this system is one of the best you can find for the price and functionality.
Using five inks, this all-in-one system can produce great-looking photo prints using its USB, Bluetooth, or Wifi connection on a computer or through the Android or iPhone companion apps.
Best All-In-One Photo Printer: HP Envy Pro 6420
The $149.99 HP Envy Pro 6420 printer is an all-in-one solution capable of printing, scanning, copying, and serving as a mobile fax machine. The print speed is slow, but this system can print 8.5 x 11-inch pages in full-duplex, as well as operate as a full photocopier capable of copying a stack of up to 35 pages using its automatic document scanner. The small all-in-one system connects via Bluetooth or WiFi and enables the use of an Android or iPhone app for added functionality, including some basic photo editing.
The printer will not be as color accurate as some of the larger pro-grade inkjets and is of course limited in the size prints it can produce, but it is still capable of printing small and vibrant-looking images on a variety of photo papers. Keep in mind with this system from HP, the tri-color ink cartridges have been described as wasteful by many, meaning you may find yourself replacing the cartridges frequently — perhaps something the company is counting on since it offers an ink subscription service.
Best Small Print Photo Printer: Canon SELPHY CP1300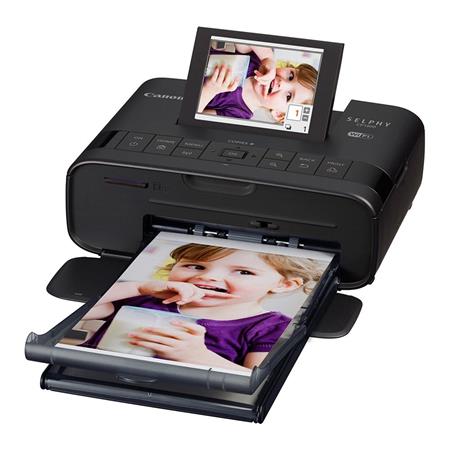 The $129 "Snapshot" SELPHY CP1300 printer is one of the best (and smallest) printers for printing directly from your phone. The compact system can print small 6 x 4 inch images at a max resolution of 300 x 300 DPI over a wireless connection (or SD Memory cards to connect directly). If the plan is to just print out fun A4-sized images to give to friends and family, or even just to stick on the fridge, the SELPHY CP1300 dye-sublimation printer will deliver fantastic and well-defined postcard-sized prints. The ink and paper cartridge systems are very easy to swap for quick refills, and this particular model even has an available battery pack available for an extra $87 making it truly portable.
Best Photo Printer for High Volume Printing: DNP DS820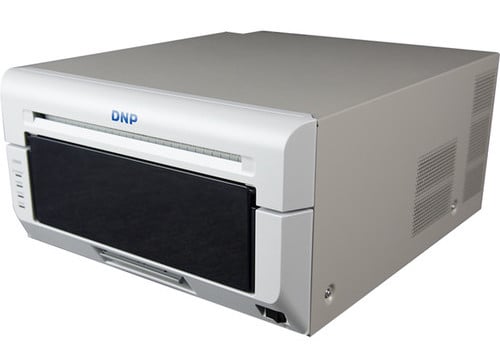 The dye-sublimation DNP DS820 Printer is targeted at commercial and large volume printing situations that require photographers to churn out vast quantities of quality prints with consistent and accurate results. This small but heavy printer can push out a maximum of 300 x 600 DPI and can print an 8 x 10 in as fast as 29 to 30 seconds. It is capable of printing in sizes including 4 x 8, 8 x 10, 8 x 12, and even up to 8 x 32 inch panoramic prints by using the free Hot Folder software. The DS820 can create prints in four different types of finishes including glossy, matte, luster, and fine matte styles, and works via a USB 2.0 connection.
The great thing about this dye-sublimation printer is the images will be 100% consistent from start to finish since there need not be any worry about a particular color ink running low before another. The downside lies in the limited sizes that can be printed — it's clearly specialized for large volumes of smaller prints, and in that area it does extremely well. The DNP DS820 is available for $1,049 and the media kits run from $49 to $350 depending on the type and quantity of prints.
Best Compact/Travel-Ready Photo Printer: Polaroid Mint Pocket Printer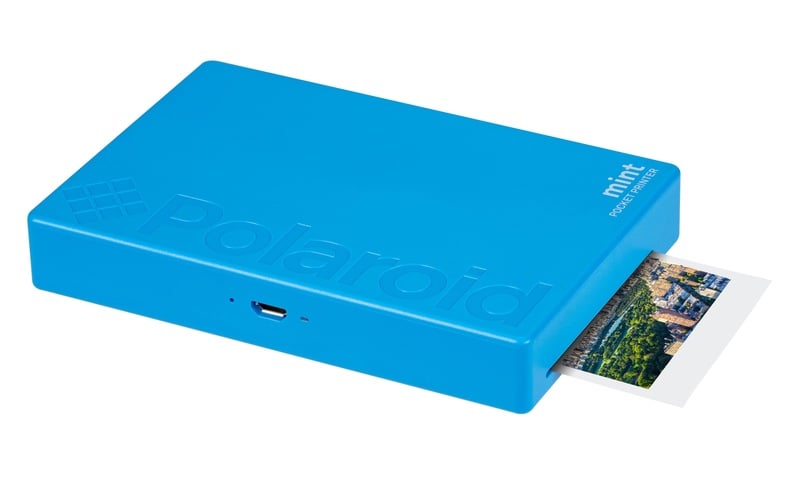 The $60 Polaroid Mint Pocket Printer is the best portable printer for photos. Capable of printing 2 x 3-inch photos, the Mint Pocket Printer takes an up-to-date spin on the vintage Polaroid mentality by keeping a small footprint that truly can fit in your pocket. The system uses small Zink paper that already has color ink in it so you do not have to worry about replacing the ink cartridges. While not exactly "professional level," the Mint printer is ideal for printing smartphone or Instagram shots for a fun project, or even to be used as business cards. The system connects via Bluetooth and even comes in five color options for those looking to make an additional fashion statement.