Capture One Update Adds New Features and Improves M1 Performance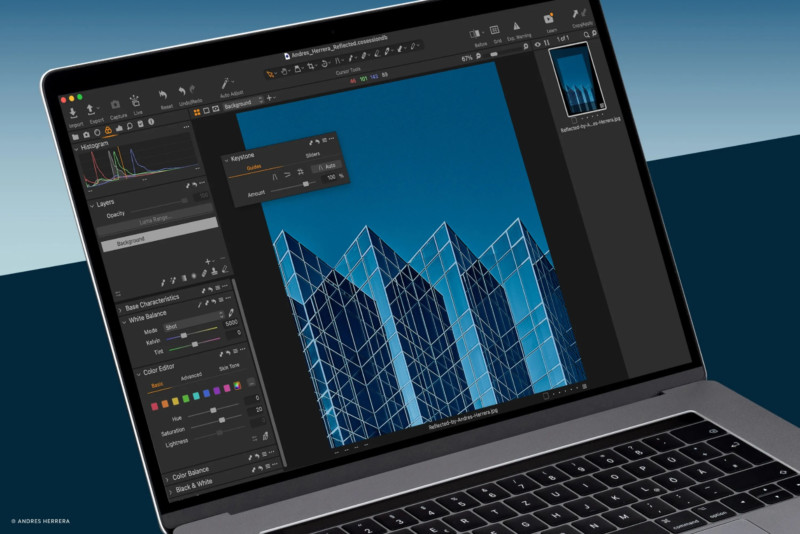 Capture One has announced an update to its popular editing software that has a re-envisioned keystone tool in addition to several other updates including the promise of "substantial speed improvements" on Apple Silicon. The update to Capture One 22 (version 14.2.0) additionally adds new camera and lens support for a number of recent hardware releases
KeyStone Tool Redesign
Capture One 22 introduces a redesigned Keystone Tool with new functionality and a new interface. The tool has been split into two tabs — Guides and Sliders — that Capture One says makes it easy to automatically apply corrections and manually adjust those results afterward. Additionally, Auto Keystone has been added for all camera models.
The Keystone Guides have been redesigned to make it easier to place them with greater precision and can be fine-tuned using the keyboard arrows when a guide is selected. The position of the guides can be fine-tuned using the keyboard arrows, and the new adjustment "Skew" has been introduced to accommodate a wider range of perspective corrections.
Auto Keystone allows Capture One to detect and correct perspective automatically. The software is able to detect and evaluate lines in an image and use those for correction at the press of a button. Capture One says that editors can expect a tool that is swift and highly precise. Auto Keystone can also be triggered from the regular Auto Adjust functionality in the main toolbar.
Only Vertical Keystone is available from Auto Adjust, and Capture One warns that if the software is unable to detect suitable lines in the image, pressing "Auto" will have no effect.
Apple Silicon Performance Improvements
Capture One appears to have fixed the issues with speed when it comes to preview generation. This is an issue that PetaPixel noted in both the MacBook Pro with M1 Max and the Mac Studio with M1 Ultra reviews, and Capture One had said a fix was coming. The company has made good on that promise, and preview generations should now be 100% faster.
In addition, the Luma Mask rendering is 300% faster, Feather and Refine Mask are both 1,000% faster, and Fujifilm X-Trans RAW loading is 100% faster.
Other Changes and Improvements
Capture One has increased the duration of Live Sessions and they can now be configured to 1, 3, 5, 7, or 14 days.
The Auto Rotate algorithm has been improved and Capture One says it should provide more accurate results on images where clear lines (like those seen on a photo of a horizon) are visible. The Crop aspect ratio behavior has been adjusted and when the aspect ratio is changed, the crop will instantly snap to the new ratio.
Capture One says that important functions are no longer hidden behind drop-down menus that could only be accessed through long-pressing icons. Instead, most icons have gotten a downwards arrow that will open the menu, and all menus can be opened by right-clicking their icons. This change affects all cursor tools, export, auto adjust, before and after, recipe proofing, add new layer, and add new export recipe.
The default sorting of images can now be changed. Previously, all images were sorted by Name as the default, and the platform can now be told to set a custom default sort criteria as well as direction.
New Camera and Lens Support
New Camera Support:
New Lens Support:
Olympus M.Zuiko Digital ED 20mm f/1.4 PRO
Sony FE 70-200mm f/2.8 GM OSS II + 2X Teleconverter
Sony FE 70-200mm f/2.8 GM OSS II + 1.4X Teleconverter
Sony FE 70-200mm f/2.8 GM OSS II
Canon RF 14-35mm f/4L IS USM
Sigma 100-400mm f/5-6.3 DG DN OS | C
Sigma 100-400mm f/5-6.3 DG OS HSM | C
The Capture One 15.2.0 update is available starting today.
---
Update 04/05: A sentence regarding an integrated loupe feature on the Keystone Tool guides has been removed at the request of Capture One as it was included in the update notes in error.