Capture One 22 Gets New Features and a Significant Tools Redesign
Capture One has announced version 15.3.0 which it says brings new levels of efficiency, flexibility, and mobility for a modern and collaborative workflow.
The update introduces wireless tethering for Sony cameras, the Magic Eraser tool, Cloud Transfer, and prepares for the launch of Capture One for iPad which is coming later this month. Additionally, it provides a host of workflow and user enhancements. It also brings Metal support on Intel Macs, a guided tour for new users to get familiar fast, new Styles functionality, and upgrades to Capture One Live that it says make it more than a tool for real-time collaboration, but also a post-shoot platform.
In all, update 15.3.0 adds Wireless tethering for Sony, save to card & computer when tethering with Canon, the Magic Eraser, a Tool Panel redesign, cloud transfer from iPad, Crop Ratio saved per image, Rotation smoothness (Mac), Style Pack functionality, Guided Tour, and Metal support on Intel.
The full list of updates can be found on Capture One's website, but below are the most significant changes.
Wireless Tethering for Sony Cameras
Photographers can now tether several Sony cameras over a Wireless Network in Capture One 22. The company says tethered functionality is identical to tethering over USB but provides a more dynamic shooting experience.
Capture One supports wireless tethering on the Sony Alpha 7R IV/IVa, Sony Alpha 1, Sony Alpha 7 IV, Sony Alpha 7s III, Sony Alpha 7C, Sony FX3, Sony ZV-E10, and Sony Alpha 9 II.
Save To Card and Computer When Tethering (Canon)
When tethering to a Canon camera, Capture One now allows photographers to save images from the Camera Settings Tool and select save to card, computer, or both. Capture One says this provides a more convenient backup method as well as the ability to see and review images on the camera's display.
Magic Eraser
Capture One 22 version 15.3.0 adds a new type of Eraser tool, which it says provides similar functionality to the Magic Brush. Editors can now remove parts of masks on similar areas such as a sky or skin.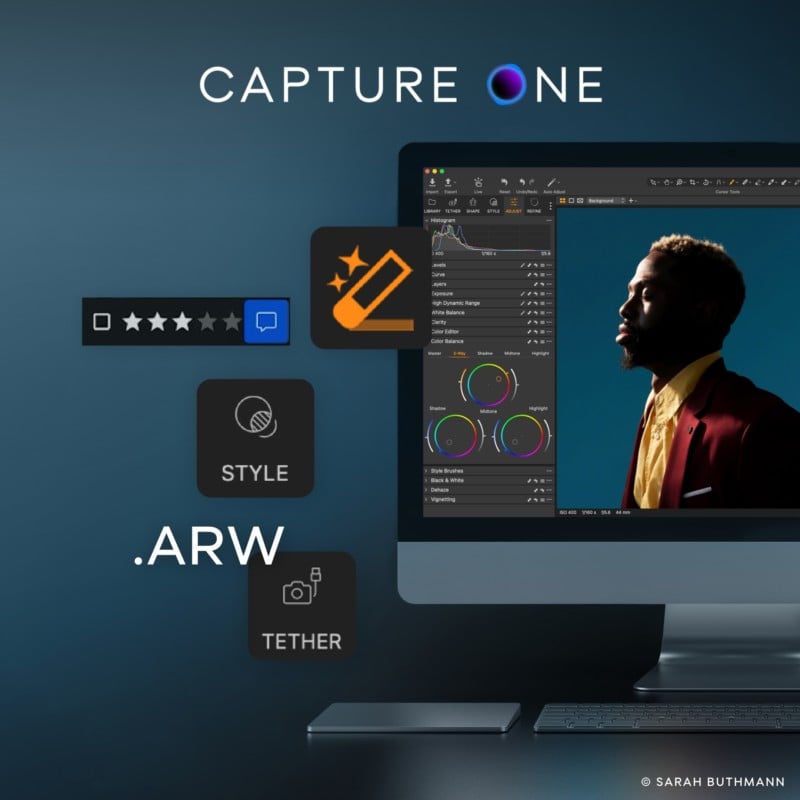 The Magic Eraser is available from the Layers Tool and Cursor Tools. Editors can link the settings of the Magic Brush and Magic Eraser if needed and when linked, the Magic Brush and Magic Eraser will share the same settings for Size, Opacity, Tolerance, Refine Edge, and state of "Sample Entire Photo."
A Tool Panel Redesign
Capture One has updated the Tool Panel to provide an easier and more predictable experience when browsing the interface, as well as to better align with the look and feel of Capture One on iPad.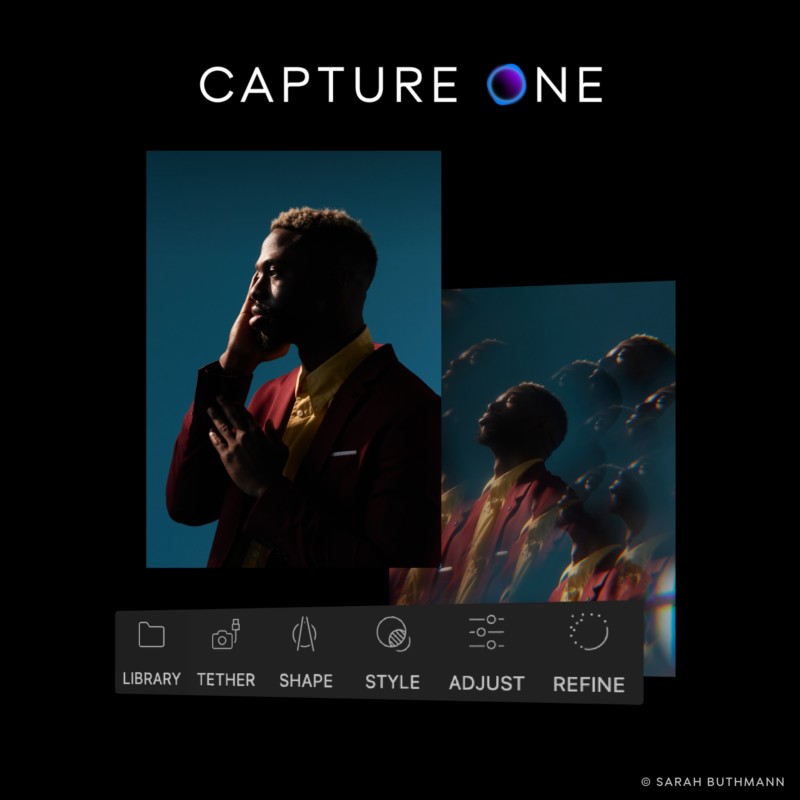 The redesign makes adds new icons for all Tool Tabs and increases their size, adds labels below icons to show the name of the Tool Tab, makes labels enabled by default (but they can be turned off), reduces the number of Tool Tabs by rearranging the tools, and adds easy access to customization options from a three-dot icon.
Capture One says that it automatically makes backups of workspaces if something changes during an update, and previous workspaces can be accessed from the customization menu.
Cloud Transfer
This new feature allows Capture One users to import Capture One Pro images that have been uploaded to the cloud from the iPad app. Users will need to be connected to the internet to use this feature, and the Cloud Transfer button can be added to the main toolbar.
New Camera and Lens Support
In addition to the above updates, Capture One also adds support for the Canon M50 Mark II and R5C cameras as well as for the Canon RF 24-240mm f/4-6.3 IS USM, RF 100-500mm f/4.5-7.1 L IS USM, RF 800mm f/5.6L IS USM, and RF 1200mm f/8L IS USM lenses.
The update is available now for all users on perpetual or subscription licenses.
---
Image credits: Capture One