A Look Inside Sony's Camera Center at the 2022 Winter Olympics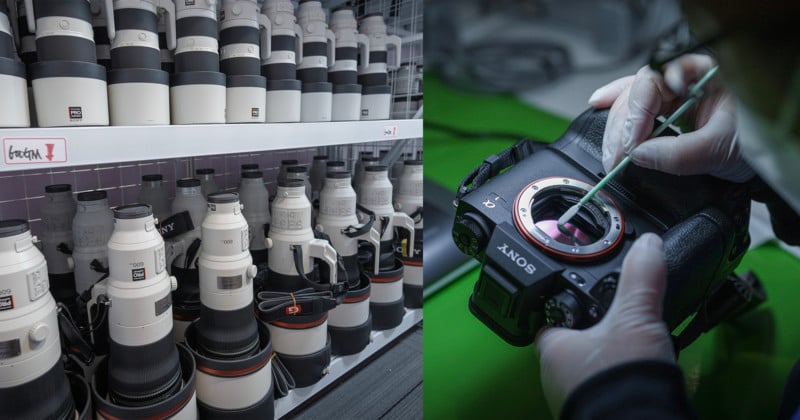 The Winter Olympics are slated to start in just a few days and for the first time, Sony has provided a detailed, high-quality look at its operations to support professional photographers at the massive international competition.
During the 2020 Summer Olympics (which actually took place in 2021 due to the coronavirus pandemic), Nikon and Canon both provided detailed behind-the-scenes photos from the support operations for professionals, but a good look at Sony's operation was not available (there were some photos taken last year, but they aren't particularly flattering nor do they properly show the scale of the operation). That has changed this year
Behind the Scenes of Sony's Olympics Operation
Photographer Nick Didlick is on-site to cover the Olympics and took several high-quality photos that properly show the scale of the photography support operation in Beijing.
At the 2008 Summer Olympics in Beijing, Kodak's top-tier sponsorship with the International Olympic Committee ended. It wasn't only Kodak that delivered services but Canon and Nikon, under the umbrella of Kodak's top-tier support," he says, giving some context to the history of these support centers.
"At the Vancouver 2010 Winter Olympics, Canon and Nikon delivered clean, repair and loan services directly to photographers, which has developed into a gold standard for other major sporting events to follow."
One reason Sony's photos of its presence at the Tokyo Olympics last year were underwhelming may have been because it was the first time the company had attended an Olympics.
"At the 2021 Summer Olympics in Tokyo, Sony, for the first time, joined Canon and Nikon as a service provider in the Main Press Center as Sony mirrorless cameras became popular with photojournalists and sports photographers," Didlick says.
This time, Sony's center shines on camera and appears at least on par with what Canon and Nikon have offered in past years.
250 Cameras and 600 Lenses
"One of the most anticipated services at any Olympics is the Photo Service Center, where photographers worldwide can get their cameras cleaned, minor repairs done, and get loans of the latest and greatest cameras and lenses right on site," he says.
"At the Sony counter here in Beijing, not only can you get your cameras cleaned, and some repairs on sight but a peek behind the service counter reveals a stunning array of cameras and lenses ready to be loaned out at no cost," Didlick explains. "Sony has prepared to loan over 250 cameras and 600 lenses to photographers reporting on the Olympic games."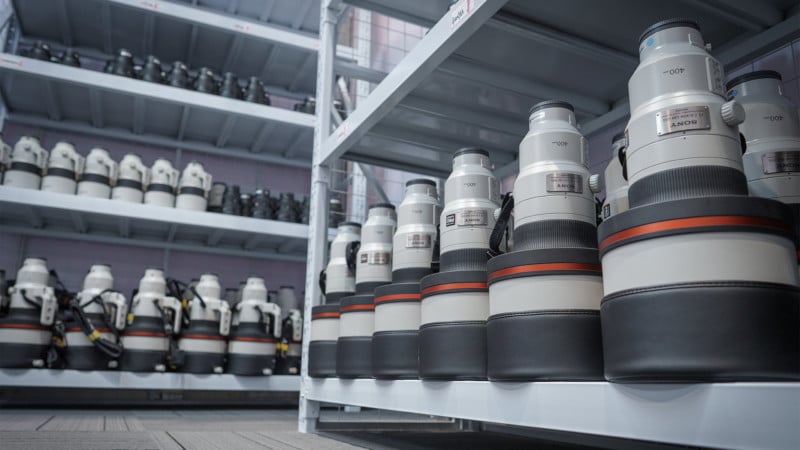 Didlick explains that the large booths and massive stockpiles of equipment that camera manufacturers set up at the Olympics are designed to support large news agencies like the Associated Press, Gannett, and others. He says photographers for these agencies rely on these services to augment their gear and keep their equipment running in top shape for an event where missing the perfect shot isn't an option.
The Beijing Organizing Committee for Organizing the 2022 Olympics (BOCOG) has apparently continued the strict COVID-19 guidelines that were seen at the Tokyo Olympics last year.
"The Sony depot here has 41 local staff working shifts under BOCOG's strict COVID-19 guidelines support with another 30 team members worldwide online ready to help photographers working under tight deadlines in all the time zones around the world," he adds.
"In non-Covid times a Winter Olympics will have about 700 photographers accredited, and at a Summer Olympics, about 2000 photographers accredited. So the demand for photo services is highly anticipated."
---
Image credits: Photos by Nick Didlick and provided in collaboration with Sony.