Inside Canon's Impressively Stocked Olympic Pro Camera Service Facility
The 2020 Olympics in Tokyo are well underway and despite changes that had to be made because of the COVID-19 pandemic, Canon — like Nikon — has set up a fully-staffed Olympic camera repair and loan facility that is home to a massive arsenal of cameras and lenses.

Riki Kakizaki, one of Canon's Global Sports Event Professional Support Department leads, gave
PetaPixel
a tour of its
Canon Professional Services
facility while also answering questions about the steps the company has taken to assure the safety of both photographers and its staff. The back of the facility shown in the photos below is normally off-limits to visitors.
"Because the Tokyo 2020 Olympic and Paralympic Games are being held without spectators, the value of press photography is greater than ever," Kakizaki tells PetaPixel.
"We at Canon are doing our utmost to provide support for photographers so that they don't miss a single moment of the athletes' performances. We look forward to photographers capturing historic and powerful moments of the Games with Canon cameras. We also believe there will be a variety of use cases and photography styles made possible by such equipment as remote image capture systems."
Canon has taken dramatic steps to operate efficiently and within expectations despite the issues brought on by the pandemic and the repair facility is working on a 24-hour turnaround schedule despite all the restrictions.
"In order to provide complete service (repair, inspection, cleaning, loaning of equipment during repair), we select a location as close to the event as possible and dispatch our most highly skilled staff. In addition, we provide the necessary parts and components for the current most popular/widely used equipment so that we can make complete repairs," Kakizaki says.
"This enables us to provide speedy service, complete most repairs and return equipment to photographers in 24 hours or less. In the case of inspections and cleaning, we can generally return equipment within one hour. The greatest benefit to us is that photographers are able to continue capturing photos, without interruption, using the equipment they are most familiar with."
Photographers who bring in equipment for repair or service can expect to pick up that equipment the next day and are given a loaner camera or lens in the meantime. Additionally, Canon can provide loaner equipment if there are other issues.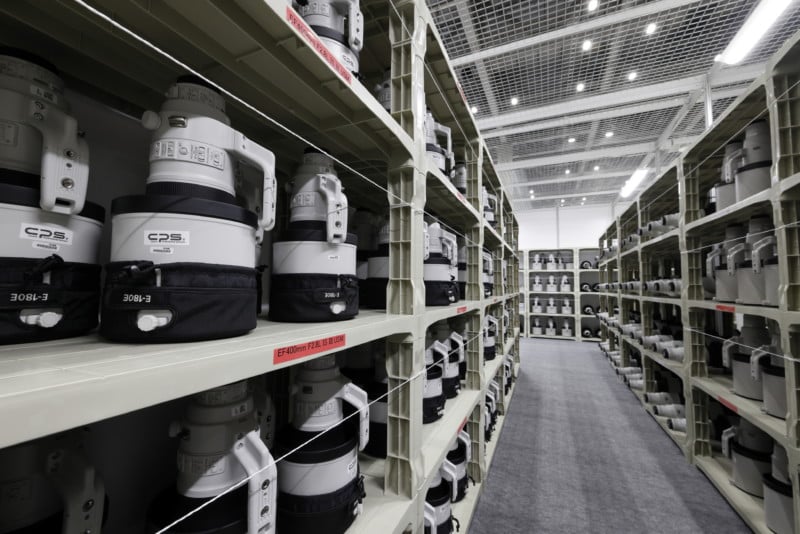 "In the past, there was an incident in which a photographer's equipment was stolen, and we specially provided them with loaner equipment so they could continue shooting," Kakizaki says. "In another case, a photographer's equipment was damaged when an athlete accidentally collided with them. We were able to fully repair the equipment and return it to the very grateful photographer within 24 hours."
While Canon declined to comment on how many cameras and lenses it has on hand, the photos provided by the company another from Jeff Cable (who has a detailed blog post about the facility on his website) show that Canon stocked the facility fully despite early indications showing that there would be limitations on how the company could operate. This turned out to be exceptionally fortuitous, as, at the eleventh hour, Canon was allowed to operate its facility in full, though loans are only provided as replacements for equipment that is currently being repaired.
While the Canon 1DX Mark III is the primary camera used by professionals and as such Canon has the most of that model available, Kakizaki says that the company has a huge number of super-telephoto lenses, zoom lenses, and EOS R5 and R6 camera bodies available. During the tour, he showed that the most popular lens that has been requested for loan is the EF 200-400mm f/4L, the shelf for which was empty.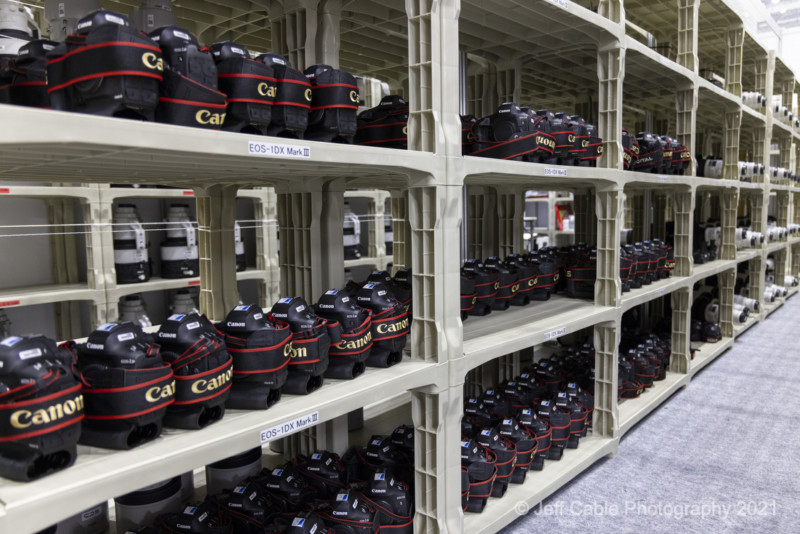 It is well known that there are multiple photographers at the Olympics who are currently testing Canon's forthcoming EOS R3 camera in order to have real-world testing take place so that photographers can provide feedback to Canon on how the new equipment operates. Those tests have revealed the camera will feature a 24-megapixel sensor. While Kakizaki did agree that the cameras are being tested, he and Canon stopped short of providing details on what exactly the company is hoping to hear from photographers about the R3 and what the company might do with that information. That said, the feedback will prove valuable.
"We highly value the feedback given to us by photographers who use Canon equipment, and going forward, we will continue to make every effort to respond to such feedback when developing products," Kakizaki says.
During the tour, Kakizaki showed the various levels of protection that are in place to keep the odds of contracting the virus low.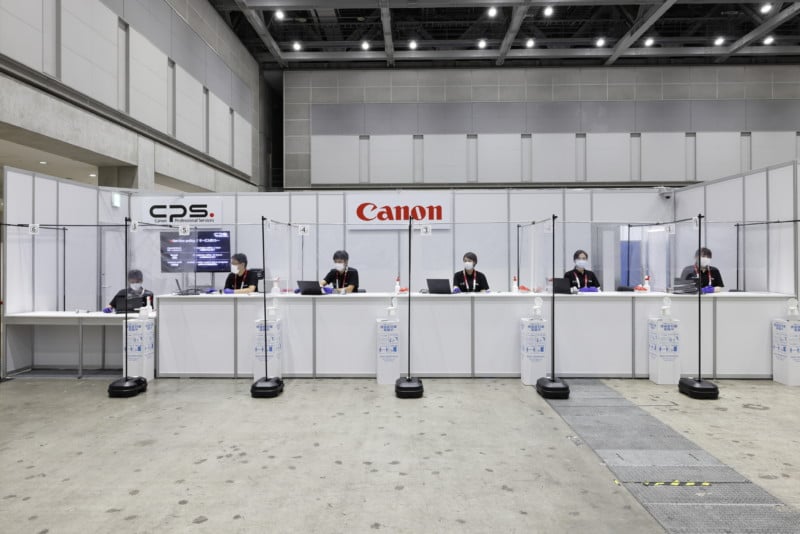 "Various measures have been taken in order to comply with regulations intended to prevent the spread of COVID-19 infections," Kakizaki says. "Due to travel restrictions, we could not bring in staff from overseas. Instead, the staff providing support at this year's service booth are all Japanese."
Photographers, of which over 100 regularly visit the booth daily, wait in a line that has socially distanced points along the side of the booth. There are multiple display monitors that request the use of masks, hand washing or sanitizing, and social distancing as well. When called up, the main front counter is divided into multiple sections that are cordoned off with plastic partitions. Photographers place any equipment that they want to have serviced into a basket, which is then taken to the back. In this way, there is no direct contact between a Canon staff member and the photographer. The entire surface area is also disinfected between photographers.
The repair center itself is impressively staffed, and each technician is required to wear masks and gloves while working. Additionally, plastic partitions are in place between each staff member's workstation. Canon was unable to explain exactly what happens to equipment from the point a photographer drops it off to the time it is picked up the next day, but Kakizaki did show the different stations within the facility where cameras are repaired, cleaned, tested, and stored.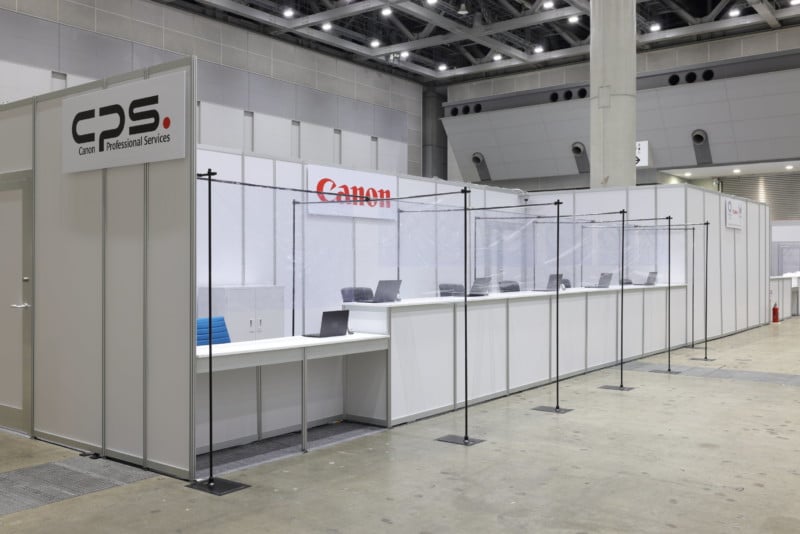 The Canon Olympic professional photo service Center looks deceptively small from the front of the booth, as behind those closed doors there are racks of camera equipment and various spaces where the company's technicians can work. Canon has several specific areas that allow them to test the performance of longer focal length lenses, for example, as well as an area that can be made fully dark to allow the staff to test a camera's sensor performance in various light conditions.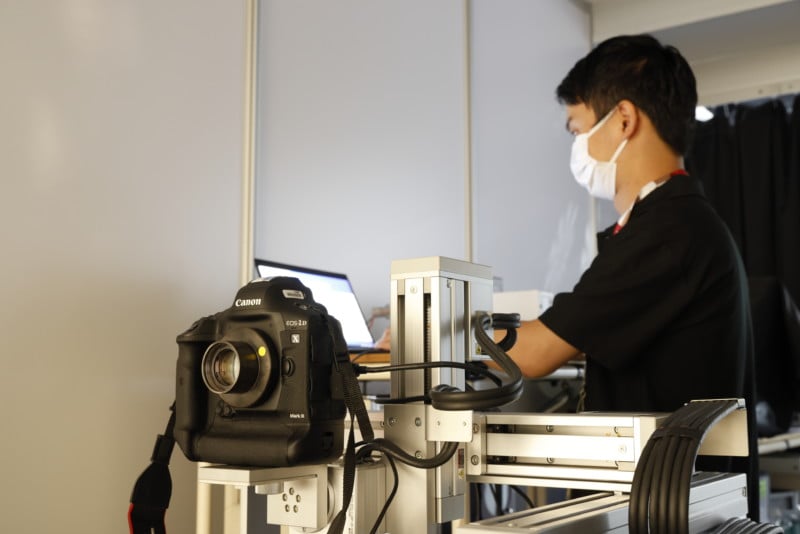 For more photos that go behind the scenes at Canon's photo service center at the Tokyo Olympics, Jeff Cable has additional photos worth checking out.
---
Image credits: Photos provided courtesy of Canon aside from those that are specifically noted.