Huion Kamvas Pro 24 Review: A Flagship 4K Pen Display for a Lot Less
The Kamvas Pro 24 (4K) is Huion's flagship pen display: a high-resolution graphics display that delivers most of the benefits of a Wacom Cintiq Pro 24 at about half the price. In the two months I've spent using it on-and-off in preparation for this review, I've come to three important conclusions: (1) this is an excellent product, (2) a large 4K pen display is the best way to edit your photos, and (3) I can't realistically use this display as my daily driver.
Before unpacking the Kamvas Pro 24 (4K) from its box and setting it up on my desk, I'd forgotten how much I love editing photos on a big pen display that takes up your whole field of vision and gives you such granular control. I'd also forgotten how frustrating it is to have your entire desk taken up by a single-use device that's so big you have to pack it away every time you're done using it, only to set it back up a few days or a few hours later when it's time to edit another shoot.
This has nothing to do with the product's performance, but it's important to point out as a piece of buying advice from the get-go, because anyone who is considering a 24-inch graphics display has to understand what they're getting into.
If you have the room on your desk or you're able to set this up as a functional secondary display by mounting it on very flexible monitor arm, then great — I don't want to play down the benefits of using a big high-quality display as your canvas. But if you live in a smaller home where you edit on your kitchen table or your tiny desk is already being eaten by your current photo editing display, then you should probably consider something smaller like the XP-Pen Artist Pro 16 or the Kamvas Pro 16 (2.5K) instead.
Alas, I fall into the second category. So for the past couple of months, I had to haul this thing out pretty much every time I wanted to edit a photo shoot. Fortunately, the actual editing experience was excellent, and now that I'm done complaining about my desk space woes, I'm here to tell you that the Kamvas Pro 24 (4K) is an excellent pen display that's worth every penny. In fact, I think it's worth a lot more pennies than Huion is charging.
Design and Build Quality
The design and build quality of the Kamvas Pro 24 (4K) is definitely "flagship" grade. It's a surprisingly heavy display that feels solid and features a clean "minimalist" design aesthetic that borrows a lot from Wacom's Cintiq Pro 24. Actually, let's be honest: it basically is a Cintiq Pro 24 with slightly thinner bezels. Other than the display technology itself, which we'll talk about in a second, the two products are extremely similar in both good ways and bad.
In the pros column: the display housing is well-built, with convenient flip-out "feet" built into the back and the ability to connect with HDMI + USB, DisplayPort + USB, or go single-cable via USB-C. There's also a two-port USB Type-A hub and an audio port that you can use to plug headphones or speakers directly into the pen display. In the cons column: neither display comes with built-in express keys, opting for a design the company describes as "minimalist." There's also no adjustable stand included in the box, so you're stuck with the 20° drawing angle provided by the built-in feet.
Like the Cintiq Pro 24, the Kamvas Pro 24 (4K) makes up for the lack of built-in function keys by shipping with an external remote the company calls the Mini Keydial KD100. It's a wireless express key remote with 18 buttons and a mechanical dial that can switch between three different settings:
The Keydial lacks the solid metal build quality of Wacom's ExpressKey remote or Xencelabs' Quick Keys remote, but I actually found it to be more functional. Because it's designed to mimmic the number pad on a full-sized keyboard, it was much easier to get used to the button placement and use the remote without constantly looking over to see which button I was actually pressing. It's also worth noting that an external "remote" like this is more convenient for left-handed users.
All of that said, I still prefer pen displays with built-in function keys, and I like the way Huion and XP Pen have tackled the left-handed issue before. Both the regular Kamvas Pro 24 and XP-Pen's Artist 24 Pro feature dual rows of function keys: one on each side of the display. Neither of these older displays can match the quality of the Kamvas Pro 24 (4K), but I find it more immersive when I don't have to keep track of an external remote that takes up room on my desk (or display), uses up one of my USB-A ports for the wireless receiver, and needs to be charged from time to time.
Overall, I'm happy with the design and the build quality of the Kamvas Pro 24 (4K), especially the included Keydial remote. I just wish Huion had done a bit of innovating instead of sticking so close to Wacom's Cintiq Pro design language. For all of the Kamvas Pro 24 (4K)'s technical improvements over the regular Kamvas Pro 24, the choice to go with such a sleek, minimalist design arguably takes away a little usability, and there are no exciting or quirky design elements to make it stand out.
Fortunately, this feeling that the display isn't anything "special" tends to fade away the moment you turn it on and lay eyes on the gorgeous, 4K QLED display.
Display Quality
The most important and impressive piece of technology packed inside the Kamvas Pro 24 (4K) pen display is the display itself: a QLED (AKA "Quantum Dot") 4K panel with 10-bit color, impressive color accuracy and gamut coverage, and "support for HDR."
Huion really emphasizes the HDR support, a first for a pen display, but I've put it in quotes for a reason. With a maximum brightness of 220 nits and no local dimming, the Kamvas Pro 24 (4K) isn't equipped for proper HDR editing. We at PetaPixel have maintained for quite some time that anything below 600 nits isn't really HDR, as it would not be bright enough to provide proper contrast against the darks of an image. It's nice to be able to view HDR content, and the increased contrast of a QLED display helps with that, but this feature is 80% marketing and only 20% useful.
What actually stands out about this display is the gamut coverage, color accuracy, uniformity, and the amount of control that Huion gives you through its on-screen menus. These are the features that make this one of the best panels you'll find in a pen display.
In terms of gamut coverage, the Kamvas Pro 24 (4K) hit 99.7% sRGB, 95.9% Adobe RGB, and 86.7% DCI-P3 in our testing, with a maximum Delta E of 2.2 and an average Delta E of just over 0.6.
This is a very solid performance, especially when you combine it with the extensive on-screen controls that Huion's latest Kamvas Pro displays provide. Just like we saw in the Kamvas Pro 16 (2.5K), the Kamvas Pro 24 (4K) features on-screen menus that allow you to dial in brightness, contrast, and individual RGB gains so you can properly calibrate your white point.
I'd love to have a built-in LUT for proper hardware calibration — a feature we've yet to see in a pen display — but this is definitely a step in the right direction.
Once I adjusted the RGB gains to match D65, I was able to get the measured vs expected white point Delta E below 1.2 and produce a perceptual match between this and the ASUS PA32UCG that I use for serious photo editing, making for a seamless experience when transitioning from mouse-and-keyboard editing in Lightroom to pen-on-display editing in Photoshop.
The screen was also impressively uniform. We ran a 35-patch test (7×5) and found only 13 patches that fell below the recommended tolerance (yellow outline) and none that fell below nominal tolerance. I've tested several "creator" displays that performed worse than this, so credit where credit is due: for color-critical work, the Kamvas Pro 24 (4K) makes the grade.
The last display feature worth noting doesn't have to do with performance, but usability. The screen on the Kamvas Pro 24 (4K) is fully laminated — meaning the glass surface is fused to the display to reduce parallax — and Huion opted for anti-glare etched glass instead of the cheaper anti-glare coatings you find on many displays. This makes for a nice pen feel with a little bit of bite, and it doesn't cause the kind of rainbows/haloing you experience with some anti-glare coatings. Both are necessary features for a flagship pen display, and it's nice to see Huion didn't cut any corners.
It's safe to say I was surprised by the quality of the new QLED display. Many of the large pen displays I've used or tested in the past suffered from poor contrast, mediocre resolution, crappy gamut coverage, and/or color artifacts caused by the anti-glare coatings. None of this was the case with the Huion display, and while I would have loved to see a peak brightness of 400 or even 600 nits to help justify the claim that this supports HDR content, as a photo editor who hardly ever touches the HDR switch anyway, I never felt let down by this display.
As Huion tries to expand its user base by wooing photo and video editors, upgrading to a high-quality, color-accurate panel and giving users more control over their display settings was a very smart move.
Stylus Quality
The stylus is where Huion has done the least to improve when you compare it to the options from Wacom, Xencelabs, and XP-Pen. It's not that the PW517 pen that ships with the Kamvas Pro 24 (4K) is bad, it's just… bland. There's no eraser, only two buttons, and the same old specs as everybody else: it's a battery-free EMR pen with 8,192 levels of pressure sensitivity, 5080 LPI resolution, and 60% tilt support.
Part of the problem is that the EMR pens used by all the major graphics tablet brands, Huion included, have gotten so good that you have to do something interesting to stand out. That's why Xencelabs offers you two pens — a 3-button thick pen and a 2-button thin pen — and XP-Pen recently debuted the "X3" pen that's thinner, better built, and offers a lower initial activation force than previous iterations. By comparison, Huion has just sort of stuck with what has worked. The PW517 stylus benefits from some new felt-tip nib options and "PenTech 3.0" for improved stability while drawing, but is otherwise unchanged from its predecessor in any noticeable way.
There's nothing wrong with that, but there's nothing particularly right about it either. This is one area where the Kamvas Pro 24 (4K), as the company's flagship offering, would benefit from a high-end pen that offers some significant improvements over Huion's previous generation… to say nothing of the competition.
A Cintiq Pro 24 for Half Price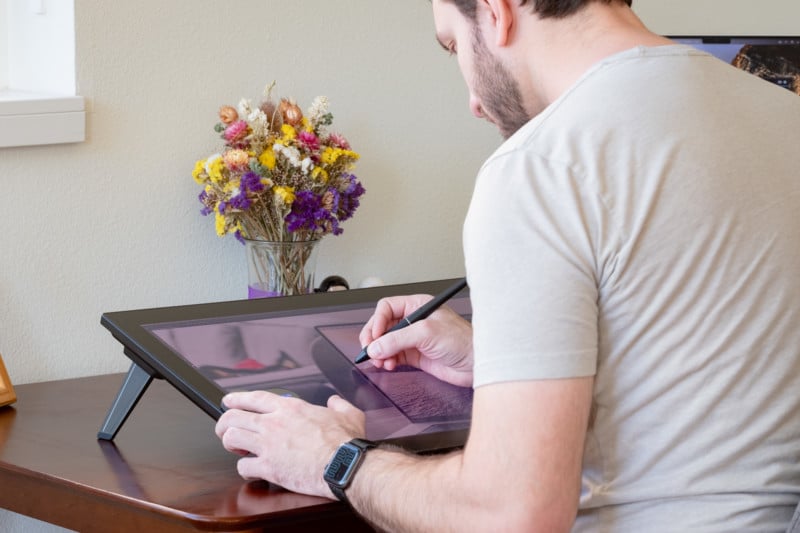 Huion threw everything it could at the Kamvas Pro 24 (4K) and it shows: this is a proper 4K flagship pen display that goes spec-for-spec with the Wacom Cintiq Pro 24 while shrinking the bezels, packing in a high-quality Samsung QLED display, and cutting the price by $700.
It's not a perfect display, but overall, my impressions were 90% positive. I think the pros and cons list bears this out:
Pros
4K resolution
Solid color accuracy and gamut coverage
Full control over your display settings
Fully laminated display with minimal parallax
External keypad with mechanical dial
Built-in USB Type-A Hub and Audio Out
Single-cable connectivity via USB-C
Offers both HDMI and DP ports
Cons
Built-in feet limit you to a single drawing angle
No built-in shortcut keys
No touchscreen functionality
PW517 pen isn't anything special
My only major complaint is that Huion went too far trying to beat Wacom at its own game. By opting for the same "minimalist" aesthetic of the Cintiq Pro series, Huion has left out some nice-to-have features that might have helped the Kamvas Pro 24 (4K) stand out. As it stands, the door remains open for a competitor to release its own excellent 4K pen display that includes these missing features, or at least does something new or different or exciting.
In the meantime, I can confidently recommend the Kamvas Pro 24 (4K) for anyone who wants a top-tier, high-resolution pen display for color-critical work. In fact, as of this writing, I'd have a hard time recommending anything else.
Unfortunately, I can't use this display as my daily driver because I simply don't have the space on my desk or any way to mount it that would actually make sense. If you're like me, the smaller, cheaper Kamvas Pro 16 (2.5K) or XP-Pen Artist Pro 16 might make more sense. But if size isn't an issue, editing photos on a large 4K pen display is an amazing experience that just got a lot more affordable, and we have Huion to thank for that.
Are There Alternatives?
Until Huion unveiled the Kamvas Pro 24 (4K) there was only one 4K 24-inch pen display on the market: the Wacom Cintiq Pro 24. As I've already mentioned several times, that display is much more expensive ($2,000 without touch or $2,400 with touch functionality), and yet it doesn't offer any must-have features or intriguing add-ons that you don't already get with the Huion. Wacom's build quality may be a notch better, and it claims slightly higher AdobeRGB coverage (99% vs 96%), but the feature set is otherwise identical.
Your other 24-inch and 22-inch pen display options are all QHD resolution or 1080p, putting them in another category entirely. They include the 2K XP-Pen Artist 24 Pro for $630, the 1080p Wacom Cintiq 22 for $1,200, and Huion's own 2.5K Kamvas Pro 24 for $720. These are all solid pen displays in their own right, but none can match the screen quality, gamut coverage, and overall build quality of a flagship display like the Kamvas Pro 24 (4K).
We anticipate that XP-Pen will put out a 4K 24-inch pen display soon-ish, Xencelabs has hinted that pen displays are in their future, and Wacom may update or replace the Cintiq Pro 24 sometime within the next year or two, but all of that is speculation. At least for now, your choices are somewhat limited.
Should You Buy It?
Absolutely. If you want a 24-inch 4K pen display and you're willing to try something that isn't made by Wacom, then you can save a bundle without sacrificing in any significant way. As far as I can tell, the Kamvas Pro 24 (4K) doesn't cut any corners that should seriously push you to consider the Cintiq Pro 24 instead. If anything, the improved contrast of the QLED display might make this the better option even if these two pen displays were much closer in price.