Huion Kamvas Studio 16 Review: More Than a Pen Tablet, Not Quite a Laptop
Pen display tablets have been getting better and more affordable, so it makes sense that all-in-one devices like the Huion Kamvas Studio 16 would follow the same path. But what makes this device a little different is it's a pro pen tablet made for designers, illustrators, and photographers to help them get their art created quickly and easily while also being a fully functional Windows PC.
The Kamvas Studio 16 is a Windows 11 based multi-touch enabled pen computer that, while feels somewhat limited in its peripheral connectivity and performance, will give most users exactly what they need to do their work in a package with half the footprint of a normal portable workstation and does so at a rather affordable price.
The ability to draw and edit directly on the screen's surface along with proper touch controls brings a new level of performance to the craft for retouchers. While this is still more expensive than the traditional pen tablet (one that doesn't include a computer display), the ability to get seamless performance and a smooth drawing/brushing experience in an all-in-one machine will bring a new level of enjoyment and freedom to creatives who make the leap by letting you take your work anywhere you want with a very small footprint. Don't get me wrong though, just because you can do everything with the pen/touch and virtual keyboard, you'll still want to have a Bluetooth or USB connected Keyboard and/or Mouse tucked away in your kit.
What Exactly is the Kamvas Studio 16 Pro?
At a glance, Kamvas Studio Pro ($1699) could be easily confused with the Microsoft Surface Pro, and while it is a Windows device and is incredibly similar in design, the Surface Pro is a computer that was designed to be portable and have touch screen capabilities whereas the 3.75 pound Huion Kamvas Studio 16 is a pen-display tablet with a PC built in.
The company says the Studio 16 was designed specially with illustrators and retouchers in mind and as such, the multi-touch enabled computer comes with the Huion Pen Tablet drivers pre-installed, so out of the box it's pretty much ready to go with whatever graphic design or photography retouching tools you end up installing.
The tablet features a 15.8 inch IPS LCD with a maximum resolution of 2,560 x 1,440 (1440p QHD) and 60.01Hz refresh rate in an 16:9 aspect ratio. It reports a maximum brightness of about 400 nits with a contrast ration of 1200:1 and offers users about 16.7 million colors in 8-bit covering 100% of Adobe RGB with a response time of about 14 milliseconds.
Huion Kamvas Studio 16: What's in the Box?
Other than a keyboard and mouse, the Kamvas Studio 16 ships with nearly everything you'll need to get up and running as a working photographer. The tablet computer ships with a 65W charger and USB-C cable, a durable kickstand for drawing, the "PenTech 3.0+" inductive battery-free pen, a comfortable half-glove for better palm-rejection on the touch surface while drawing, and a pen case loaded with six additional replacement plastic and felt nibs.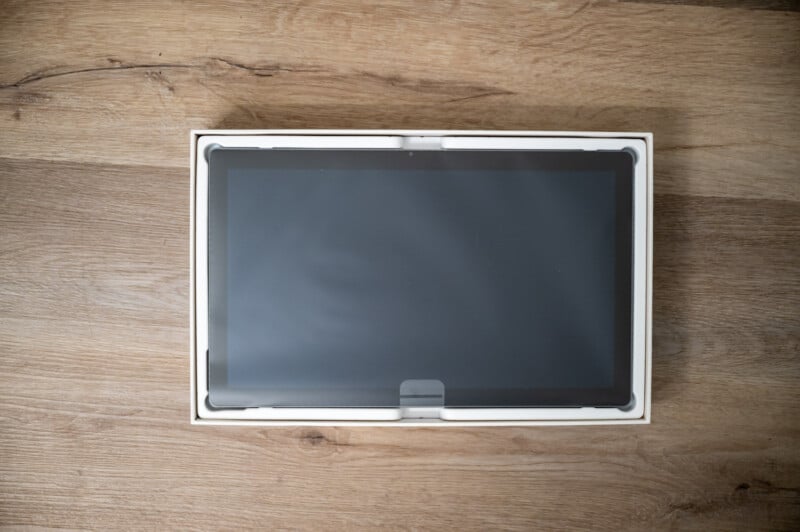 I wasn't expecting to have an additional kickstand included since the device has a built-in stand, so that was a nice and welcome surprise. That bonus stand is mostly made out of plastic on the base and has rubber feet for slip prevention as well as an adjustable metal holder (also lined with rubber to grip the tablet and prevent scratching) that stands into the pre-fabricated notches of the plastic base to provide six angled positions for the tablet depending on which "leg" you choose to use.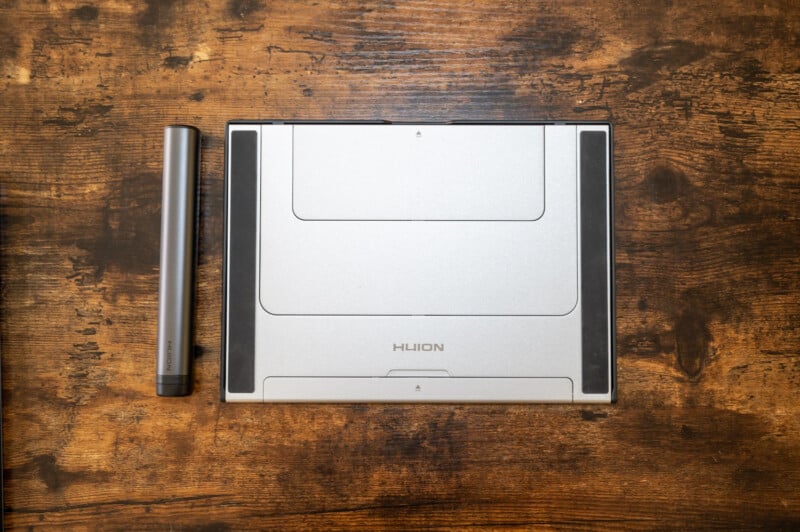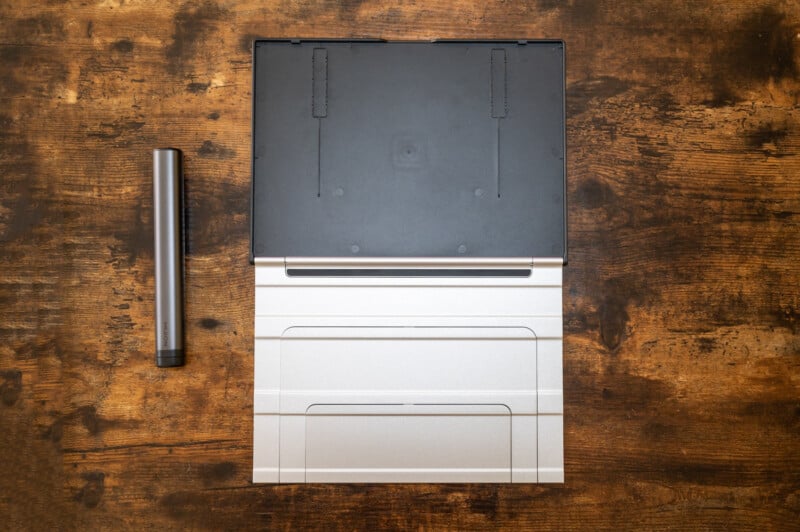 Huion Kamvas Studio 16: Design and Build Quality
The Kamvas Studio 16 has a mostly metal construction that comes stock with 512GB SSD, 16 GB of DDR4 RAM, an Intel Core i7-1165G7, 4-core, 2.8Ghz CPU and Intel Iris Xe GPU. This hardware makes it below top of the line, but it is certainly usable for the target applications. In addition to the internal specs, the device includes two USB-C 3.2 ports and a 3.5mm audio jack, a 5-megapixel front facing camera (slightly off centered to the left), an 8-megapixel rear camera, two two-watt speakers (nothing amazing but at least it has something), dual microphone pickups and even has a fingerprint/gravity/hall voltage sensor for added security and safety.
As I mentioned above, the Kamvas Studio 16 has a 60Hz screen where the Microsoft Surface lineup tends to have a 120Hz refresh rate and a higher pixel density. Despite this though, the screen on the Kamvas Studio still looks pretty good and it calibrates rather easily (using the Datacolor Spyder X2 Elite) for some impressive and accurate color representations on the screen.
The tablet itself is quite durable and tough but it still has a little bit of flex to it if you were to grab both sides and twist it. While it does have some flex, it's not substantial.
Calibrating and testing the screen provided a brightness of something closer to 368 nits (a tad lower than the advertised 400), which is below what we would like to see but it still manages to be usable in a bright room. During my testing, I had the computer placed right under a large window and still had no issues using it or seeing the screen and colors properly.
The screen has an etched glass coating that provides a sort of matte finish that helps reduce reflections and glare. It's not as sharp looking as, say, a MacBook Pro's display, but it is built for drawing and touching directly, so this finish helps reduce the amount and visibility of fingerprints, smudges, and scratches.
The 11.9mm thick device is a bit heavier than most other tablets coming it at 3.75 pounds (1.7 kilograms), making it a little awkward to operate as a simple hand held device without any form of support. It's not that you can't do it, it's just, why would you want too? The strain plus the excessive pressure you'd have to put on the sides of the tablet could potentially cause some damage after extended use. Compared to an iPad (which average about one pound) or even a new Surface Pro (1.9 pounds), the Huion Kamvas Studio 16 is definitely the beefier device in its class.
There are vents located along the top left/right side of the tablet as well as the entire top of the device for airflow and cooling, while the speakers can be found on the bottom left/right sides of the tablet. The two USB-C 3.2 ports are located on the top left of the device and while it's useful having two, you'll definitely want to invest in a good USB-C hub to take full advantage of the device if you intend on using it with standard connected peripherals, especially since one of the ports will likely be used just to power it.
It is possible to output video to another display (second screen) using a USB-C to USB-C connection, but for some reason it wouldn't support using a USB-C to HDMI or a USB-C to DisplayPort connection.
The power switch (also the fingerprint sensor) can be found on the right hand side of the top of the tablet for easy powering on/off of the device, and the headphone jack is located just above the volume control located on the top of the right hand side of the tablet and it works as advertised.
The tablet has its own built in kickstand but that's better used for when operating the device as a normal computer and day to day operations as it doesn't feel like it would be able to hand a lot of pressure. Using it as a PC or tablet with the built in kickstand was actually fine, but I didn't want to push it by using the built-in stand alone while drawing and retouching with the extra pressure on it. During that part of my testing I made sure to lay the tablet flat on my desk or on the bonus heavy-duty stand.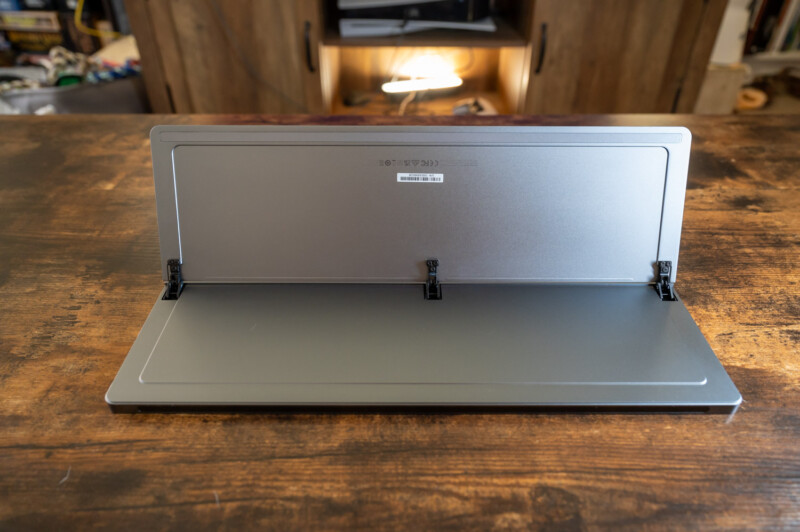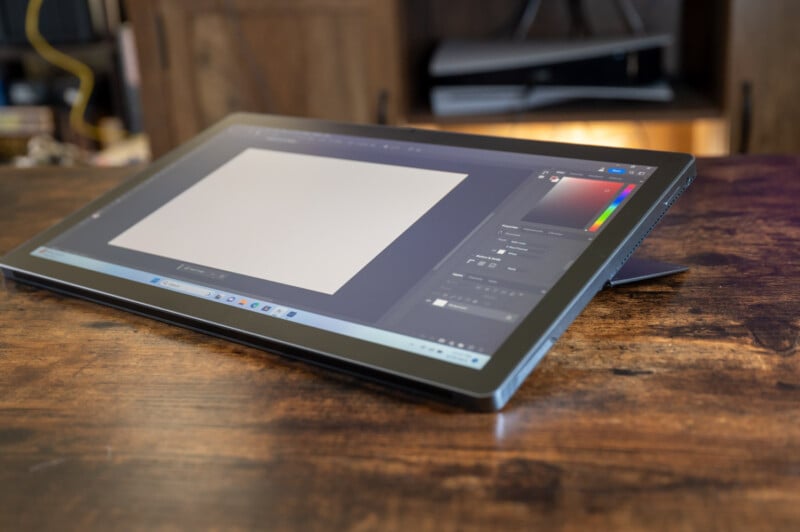 I didn't have any real issues myself but the metal is rather thin. Since the device ships with another larger/more durable stand for drawing with, I'd recommend using that instead.
Unlike many other tablets, the Huion is completely flat along its edges with no curve or bevels, making it somewhat awkward to pick up if you have had it laid flat on a table or desk. Additionally, the Kamvas Studio 16 doesn't ship with a protective case or bag, meaning if you plan on traveling with the device you'll have to find your own system to ensure it's protected while in transit — especially since you'll want to protect the display from being scratched or damaged.
Much to Huion's credit, over the few weeks of my testing the tablet out for my day to day life, the screen was impressively resilient and shows no signs of scuffs, scratches, or indents.
Huion Kamvas Studio 16: The Touch Screen and Tablet
Honestly, I was quite impressed with this side of the testing as the touch capabilities were very accurate and easy to use. Native iPhone/iPad users will feel right at home with the hand gestures to pinch, zoom, scroll, and pan within the respective apps.
By default (after the initial Windows 11 setup), the screen will automatically rotate based on how your holding it, even when you lay the device flat on a table, making it incredibly easy to use regardless of its positioning.
As I mentioned above, the screen is has a matte texture with a very low reflection rate making it pretty easy to use in most lighting conditions. That being said, because of that matte design, some may feel like the colors are a little muted or grainy in certain light conditions. I understand that sentiment, but honestly I don't think any but the most discerning users will even notice it unless you actively go seeking it out.
While many of the newer pen tablets on the market (both display and normal) have touch capabilities, only a few feel "just right" or natural in the middle of a retouching session. Thankfully, this is something that Huion seems to have gotten right with the Kamvas Studio 16. You can quickly go from using a mouse, to the pen, to quick pan/zoom gestures with your hands and back again for a ver seamless workflow.
Doing macro skin retouching was actually pretty fun on this device as it was incredibly easy to zoom in and out and reposition the screen without having to use a keyboard or mouse. I was able to hold the tablet in my lap while kicked back with my legs on my desk for a lot of that work. You'll still want a proper keyboard handy for a lot of the normal work, but the smooth touch controls just feel great.
Huion Kamvas Studio 16: The Software
The tablet comes with absolutely no "bloatware" one would expect on an all-in-one branded device such as this, and the Huion software is very direct and minimal for the Kamvas Studio 16. This particular tablet doesn't have many features that you would find in other tablets with programmable buttons and dials since it doesn't have any. There isn't really anything you can customize or adjust in the software outside of screen mapping, the pen buttons, and pressure sensitivity. You can disable and enable the touch screen capabilities here should you want to operate the tablet as a pc like device only.
It doesn't really get any more straight forward than this for a display pen tablet.
Huion Kamvas Studio 16: Usage, Pen Pressure, and Performance
The company claims about six hours of battery life for general usage but if you're hitting some graphic heavy processes like I was during my testing, you should expect a battery life close to about three to four hours (also with the brightness on max).
According to the system specs, the Kamvas Studio 16 ships with the 16 gigs of DDR4 RAM and an 11th generation Intel core, meaning it is two generations behind what is available at the time of this review. So with that in mind, during my testing I was able to push the system to its limits and make Photoshop (beta) crash while testing the Generative Fill AI tools. But to be fair, I was working this machine pretty hard and going beyond what I would normally do with my own day to day retouching. For my regular testing and retouching as well as batch processing in Adobe Lightroom, while the computer was slower than my main M1 Mac Mini and MacBook Pro, it wasn't that far off.
For instance, loading a 100-megapixel medium format file from Lightroom to Photoshop took about 25 seconds on the Huion, and on my Apple Silicon devices it took less than 10 seconds to do the same. Stress testing the import of the device, I loaded 250 100-megapixel Phase One Files into Lightroom Classic on the Huion with 1:1 previews, and it only took 4 minutes and 21 seconds to complete. No, it's not as fast as a fully loaded M1 or current Generation Intel powered device, but it still got the job done pretty quick.
Even though the hardware is not top-of-the-line, I think since the device is devoid of any bloatware beyond that each user will independently install, when retouching or drawing the tablet works impressively well.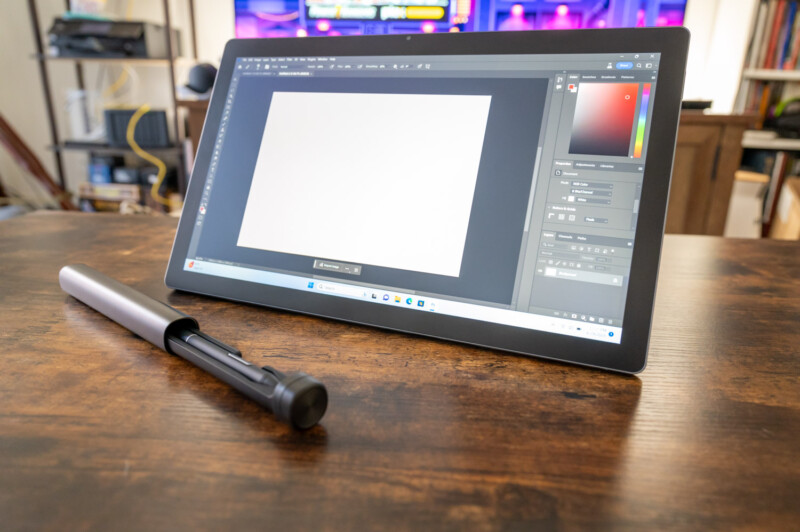 As I mentioned above, the PW550S Slim pen ships in a nice magnetic slide-out protective case made that houses the spare nibs at the base (Includes 3 plastic and 3 felt nibs). Upon installation you may want to run the pen's calibration tool to ensure you have the best accuracy available, but even straight out of the box there was virtually no gap between the tip of the pen and the curser on the screen at every angle of use. During my testing I experienced a flawless pen-to-screen connection with absolutely no jitter or lag. The only shakes or jitter I experienced was from my own poor penmanship and unsteady hands.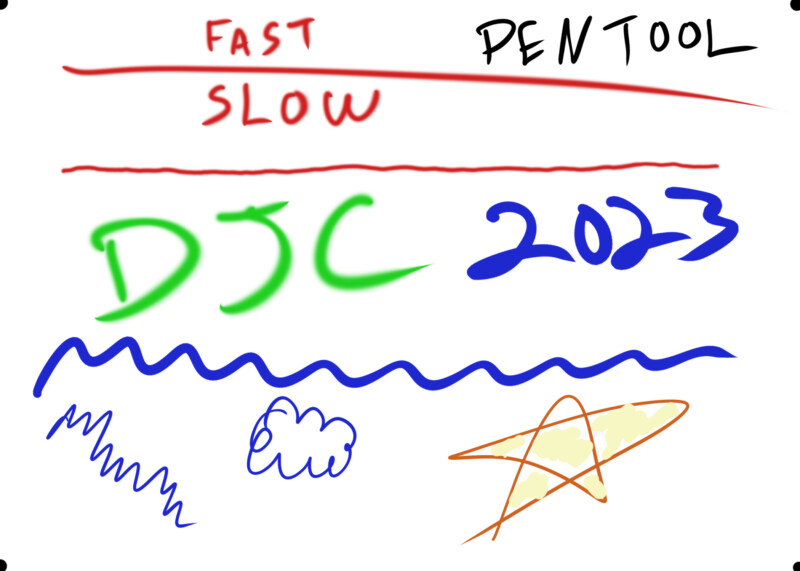 The pen has the industry standard 8,192 levels of pen pressure with a ±0.3mm (Center), ±1mm (Corner) accuracy, and ±60-degree tilt recognition. Like most professional tablet pens, it includes two customizable buttons that can be configured in a plethora of ways to meet your personal workflow needs, but it does not have the eraser button normally found on the back of pens like from Wacom or Xence Labs. Not necessarily a deal breaker, but I'd love to know why many of the competing brands never seem to have the built in eraser tool. Despite this small shortcoming, the Kamvas Studio 16's pen performance puts it on par with some of the best known systems like Wacom and Xencelabs.
I didn't have any real issues with "palm" detection during my testing so it's fair to say the palm rejection systems work pretty dang well on the device. The only time I had any issues with laying my hand on the screen seemed to be outside of "design" work and more general PC navigation as depending on your positioning, you can accidentally activate some of the taskbar items if you linger too long.
The only real quirks I ran into were Windows issues and not "tablet" ones and those came up when trying to operate the device without any connected peripherals and using the Windows virtual keyboard. By that I mean sometimes it would behave inconsistently with when it would appear and disappear. Outside of this, the overall experience using the tablet as a portable photo editing and retouching device was very positive, even with the few instances of Photoshop (Beta) crashing. The only time I experienced any real lag was when I was doing some heavy multitasking like batch processing/imports while trying to retouch in Photoshop at the same time.
Huion Kamvas Studio 16: Not Really A Laptop, More Than Just A Pen Tablet
The user experience with the Kamvas Studio 16 was actually surprising. I went into the review with very low expectations and even though it was a little bit slow compared to a desktop or full-blown laptop, the drawing and retouching experience actually felt rather fantastic. As much as I love the larger Wacom Cintiq and Xencelabs display tablets, the compact and travel-ready size of the Kamvas Studio 16 was far more attractive to me as a travel-heavy photographer and retoucher since it actually fits in my general workflow much better. Not to mention it could even sit on my small desk without taking up the majority of the space from my other computer(s) and screens.
It actually was kind of fun to go from using the Kamvas Studio as a tablet for general internet surfing and app usage while sitting on the couch, to a full blown Windows PC connected to external keyboard, mouse, and speakers and/or a very accurate pen-tablet for retouching work when sat at a desk.
Something I would like to see brought into a future generations of the device is the ability to add external memory cards (SD/MicroSD) as well as see improved battery life, but even with its current output it is still on par with many of the competing all-in-one devices. Additionally, I'd love to see what it could do with current-gen processing power but that could affect the price of the tablet significantly.
Are There Alternatives?
On the larger and recognizable side of the pen-tablet only world there is the $3,500 Wacom Cintiq Pro 27 and the $1,899 XenceLabs Pen Display 24, followed by Huion's own $1,299 Kamvas Pro 24 (4K) and $599 Kamvas Pro 16 (2.5K). Additionally in the pen-display market there is the $899 XP-Pen Artist 24 Pro (2K) and the significantly more affordable $379 Veikk Studio VK2200 Pro.
Diving into the all-in-on options we have the $1,999 Wacom MobileStudio Pro 13, the fully loaded $2,799 Microsoft Surface Studio, and finally the latest $2,399 iPad Pro.
Should You Buy It?
Yes. Overall, the Huion Kamvas Studio 16 is actually an versatile pen tablet at an affordable $1,699 price, so for creatives seeking a mid-sized touch-enabled computer that they can do their design and retouching work directly on, it actually is worth looking into.