Huion Kamvas Pro 16 (2.5K) is the Perfect Pen Display for Photo Editors
As displays have become better and cheaper to manufacture over the past several years, high-quality pen displays have slowly been edging out pen tablets as the best way to edit your photos. One of the companies making a major push in this space is Huion, and over the past couple of months we've had the chance to go hands-on with the company's brand new, color-accurate Kamvas Pro 16 (2.5K) — one of the most compelling options for any photographer looking for a high-quality pen display at a reasonable price.
For many years, professional photo editors have been using pen tablets to do most of their editing work, drawing on a plastic tablet while staring up at a computer monitor. But as display technology and manufacturing efficiency have improved over the past decade, a new, better option has made significant inroads into the creative community: more affordable pen displays with color-accurate panels are now available that let you directly edit on your photos.
It used to be your options fell on either side of a wide spectrum: either you spent $1,500 to $2,500 on a high-end, high-resolution pen display or you bought an "entry-level" model that sacrificed color accuracy, convenience, and resolution in order to bring the price down below $1,000. For many photographers, where color is key, a pen tablet was still the best option.
That's all about to change.
The Kamvas Pro 16 (2.5K)—and its little sibling, the Kamvas Pro 13 (2.5K)—appear to offer the best of both worlds, taking advantage of the latest display technology to offer better resolution, excellent color accuracy, and a sleek portable design that only costs $600 for the Kamvas Pro 16 or $400 for the Kamvas Pro 13. These two displays were only just announced this morning, but Huion sponsored this Showcase and sent over the 16-inch model so we could get some hands-on time ahead of release, and man were we ever impressed by this product.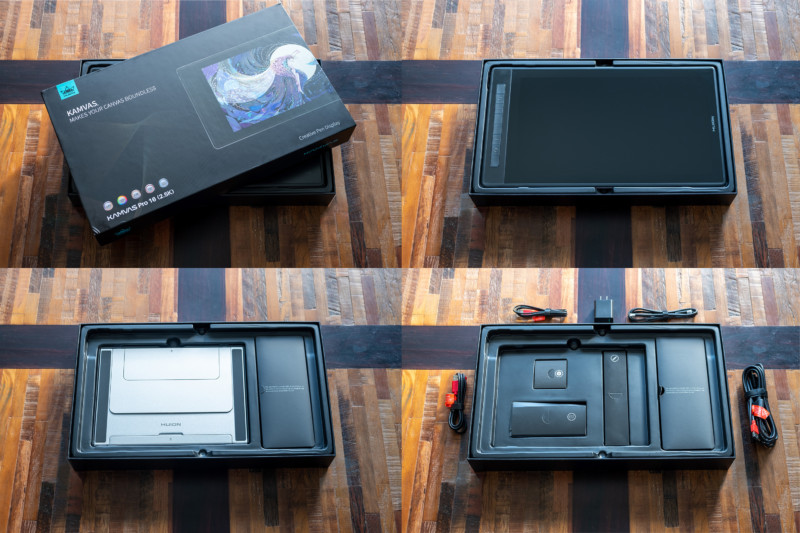 What's in the Box
First things first: when you unbox the Kamvas Pro 16 (2.5K) you'll find a little adventure in three layers.
Layer one is the tablet itself, which is enclosed in a plastic sheath with an additional peel-off plastic covering the screen itself. Next, you'll find the "Foldable Stand ST200," a basic stand that's adjustable between 20 and 45 degrees, and folds flat when not in use. Finally, the last layer includes the pen, a pen holder filled with 10 replacement nibs (five standard and five felt) and a nib clip, a drawing glove, cleaning cloth, quick-start guide, and all of the cables you might want or need in order to hook the tablet up to your computer.
The cable selection is actually one of the major features of the Kamvas Pro 16 (2.5K) that's missing from many similarly priced pen displays.
There's a new "3-in-2" cable, which features a dual USB-C connector that forks into an HDMI and two USB Type-A cables. The HDMI carries video, one USB-A carries the pen input, and the third cable connects to the power adapter, while the dual USB-C plug makes for a more stable connection to the tablet itself because it doesn't try to cram HDMI, a USB output, and USB power delivery into a single cable. That's already a small improvement over most affordable pen displays, which use a "3-in-1" cable, but Huion also offers the option to connect to your computer using only a USB-C to USB-C cable, which is also included in the box.
That single-cable option, which can provide power, display input, and pen input all at once, is the kind of feature we're only used to seeing from high-end displays that cost over $1,000, not affordable "mid-range" options. What's more, some high-end displays are too power-hungry to run entirely off of a USB-C input, but the Kamvas Pro 16 (2.5K) is small enough that you can get away with a true single-cable connection—no power outlet required.
That's a big plus for a tablet that's so small and lightweight. There's nothing holding you back from editing your photos on your couch or at the nearby coffee shop.
Key Features
In addition to the variety of included goodies, there are a few key features of the Kamvas Pro 16 (2.5K) that are worth calling out. For one, the tablet comes with Huion's latest PW517 battery-free pen with "PenTech 3.0," which boasts a more stable drawing experience, lower response time, more precise cursor position, and improved drop resistance. Other specs are similar to most of the battery-free EMR pens out there: 8192 levels of pressure sensitivity, 5080LPI resolution, support for ±60° of tilt, and two programmable buttons built into the pen itself.
I have an old Huion Inspiroy tablet lying around that uses the older PW100 pen, and I can definitely feel a marked improvement in both drawing stability and build quality for this newest pen. My only complaint is that they didn't add an "eraser" to the back of the PW517, but that's a minor gripe when you can just program one of the pen buttons to the letter "E" and activate the eraser on command.
Truthfully, I like the new pen, but my favorite feature on the Kamvas Pro 16 (2.5K) is something else — something that companies have been systematically removing from their high-end options. My favorite feature is the eight programmable express keys on the left side of the display.
I absolutely love having built-in express keys. It's way better than an external remote (in my personal opinion) because it allows me to stay fully focused on the editing task at hand, one hand on the express keys and one using the pen to do my actual editing. I've spent many an hour cleaning up dust or cutting out backgrounds without ever having to look up or, indeed, look over to the buttons themselves because they each have a raised plastic marking so you can feel your way across the keys.
No need for a keyboard and mouse, just full-on photo-editing flow.
Another really nice feature that will appeal directly to photographers is the option to use the tablet in "pen tablet mode," which allows you to turn off the display and use the surface as a more traditional pen tablet. I'm a big proponent of editing with pen on screen because of the immediate feedback it provides and the precision that it enables, but once in a while, it's nice to turn the screen off, even if it's just to correct your posture for a little while.
Finally, the last (rather important) feature is the fact that the display is compatible with Mac, Windows, and even Android phones. I mostly used the tablet on Mac, though I did test it on Windows, and found the driver software easy-to-use and intuitive. You can remap the display, set the express key commands, adjust your pen pressure, rotate the display orientation (particularly useful for lefties), and dial in different settings for different apps, all within a few clicks.
A Huge Display Upgrade
The last, and most important, feature that I want to talk about is the 2.5K display that Huion is using on the new Kamvas Pro 16 (2.5K) and Kamvas Pro 13 (2.5K). More than anything else, this is the feature that wins me over and makes me want to recommend this display to photo editors because the panel inside this tablet is excellent.
Many affordable pen displays I've tested make at least one or two significant compromises in display quality. It's either 1080p resolution, and/or it doesn't get very bright, and/or it isn't particularly color accurate. The affordable Wacom One, for example, is a convenient little pen display, but it uses a 1080p panel that barely covers 84% sRGB, despite costing the same as the Kamvas Pro 13 (2.5K).
I was eager to know: did Huion make the same sort of compromises with these new Kamvas Pro displays? As you may have guessed, the answer is a resounding "no."
Both the Kamvas Pro 16 (2.5K) and Kamvas Pro 13 (2.5K) use QLED (AKA "Quantum Dot") display technology to improve color accuracy, brightness, and contrast, producing the best visual quality I've yet tested in a 16-inch pen display.
According to my results using DisplayCAL and an XRite i1Display Pro Plus colorimeter, the Kamvas Pro 16 (2.5K) that we've been testing achieves 99.9% sRGB coverage, 96.6% DCI-P3, and 95.7% Adobe RGB at a Delta E of 2.25 and an average Delta E of just 0.5. That's high-end "creator laptop" territory, and far better than I expected from a $600 pen display.
What's more, Huion also gives you control over your display primaries — not just brightness, contrast, or color temperature, you can actually change the gains on your RGB channels to dial in your white point. This level of control is usually reserved for dedicated photo- and video-editing monitors, and it's key if you want to properly calibrate your display. After futzing around with the primaries, I was able to hit D65 and match my main 32-inch 4K display perfectly.
And Huion didn't stop with color accuracy and control. The company continued to borrow technology from more expensive displays by using proper anti-glare etched glass; most affordable displays use a light scattering "film" that can have a noticeable effect on color accuracy—and laminating the display itself to the glass surface in order to reduce parallax.
All of the above makes for a display experience that far outstrips most pen displays in this price range. It almost feels like Huion has shifted focus from the digital artists that usually use these products to the photo editors who are increasingly interested in taking advantage of this technology for themselves.
The Best of All Worlds
The recent trend among pen display manufacturers like Huion and Wacom has been to split the lineup into an entry-level tier with 1080p resolution, buttons built into the display, and a three-way HDMI/USB/Power cable for connection, and a high-end 4K display with better color, a "minimalist" design with no built-in express keys, and the option to connect to your computer using a single cable. Up until now, Huion's Kamvas Pro product line basically fell in line with the above: you have the 1080p Kamvas 16 (2021), the Kamvas Pro (4K), and the Kamvas Pro Plus (4K) that's identical to the regular Kamvas Pro 4K but features a more color-accurate QLED "Quantum Dot" display.
The Huion Kamvas Pro 16 (2.5K)—and, by extension, its 13-inch sibling—is essentially a combination of the best features from these three displays, making it (in my humble opinion) the best option for price-conscious creators.
You get the built-in shortcut keys lacking from the high-end models, a QLED "Quantum Dot" display that's on par with the most expensive of the three, and more resolution than the entry-level "non-Pro" Kamvas 16. Sure, you're losing a bit of resolution over the Kamvas Pro 16 4K and Kamvas Pro 16 Plus 4K, but at 16-inches that resolution difference is basically imperceptible since you're likely to be using it from only 1 or 2 feet away.
Given the choice between these three tiers, I can honestly say that the 2.5K variant—the "mid-tier" Kamvas Pro 16—would be the pen display I would personally purchase. The improved screen quality and resolution are worth it all on their own, but when you add in the built-in express keys and the ability to connect my computer with a single USB-C cable instead of the clunky HDMI/USB/Power combo cables that are used by many pen displays, there's no doubt in my mind that the new Kamvas Pro (2.5K) models offer the best bang-for-your-buck in Huion's whole pen display lineup.
---
Welcome to a PetaPixel Showcase, where our staff gives you a hands-on with unique and interesting products from across the photography landscape. The Showcase format affords manufacturers the opportunity to sponsor hands-on time with their products and our staff, and it lets them highlight what features they think are worth noting, but the opinions expressed from PetaPixel staff are genuine. Showcases should not be considered an endorsement by PetaPixel.