XP-Pen Artist Pro 16 Review: A Great Portable and Affordable Pen Display
XP-Pen's new Artist Pro 16 is one of the most compelling entry-level graphics displays on the market. It's lightweight, well-built, highly customizable, color-accurate, and all for a price that will make Wacom owners blush. It's not a perfect product, but no other Full HD pen display on the market offers this kind of experience and build quality for just $450.

Modern pen displays from companies like Wacom, Huion, and XP-Pen come in a few different tiers. The easiest way to tell them apart is usually resolution and size: entry-level displays typically come with Full HD screens in either 13- or 16-inch varieties, mid-range displays come with 2 or 2.5K displays in 16- and 24-inch varieties, and the top-tier models pretty much all sport 4K displays no matter what size you choose.
That puts the new-and-improved XP-Pen Artist Pro 16 squarely in the entry-level category. But where other Full HD pen displays like the entry-level Wacom One tend to cut corners on build quality, stylus quality, and color accuracy, the Artist Pro 16 provides a premium experience in all of the above.
Let me put it this way: as of this writing, the XP-Pen Artist Pro 16 is my favorite pen display to use for day-to-day photo editing, and that includes the $1,500 Cintiq Pro 16. That's high praise.
Design and Build Quality
The new Artist Pro 16 is basically a rebranded Innovator 16: the "slim, swift, and sleek" 16-inch pen display that XP-Pen released in June of 2020. Obviously, the ultra-slim Innovator 16 struck a chord with buyers, and we're glad that XP-Pen has decided to adopt the same approach with the Artist Pro series — both the design and built quality of the Innovator 16 are a huge step up from most entry-level pen displays.
The housing is solid metal with a "space gray" finish and measures just 1/4-inch thick. It's solid, unlike so many of its entry-level competitors, which makes it that much more portable. I probably wouldn't hesitate to throw this display in my backpack and take it on location.
The only thing that would possibly hold me back from doing so is the clunky three-way cable that you have to use to actually connect and power the thing. A single USB-C connection on the display forks into an HDMI cable for display input, a USB Type-A cable for pen input, and another USB Type-A cable for power. The fact that there is no USB-C to USB-C single-cable solution is baffling to me, and one of the only major cons that hold this display back.
Customizability is excellent for a display this size. On the left-hand side of the screen is a row of eight programmable function keys and a mechanical dial, which itself surrounds a touch-sensitive surface that acts as a secondary dial.
I really like this design. The buttons feel great and the mechanical dial is my favorite way to adjust brush size, zoom in and out, or rotate the canvas, but I could have done without the touch dial. Because the mechanical dial is relatively small, my fat fingers accidentally activated the touch dial all the time, which eventually forced me to turn it off in the settings. I suppose it's better to have the option, but at this small size, I found it more cumbersome than useful.
My only other complaint is that the mechanical dial has no "click" mechanism. It's a smooth rotation, and I'd prefer some tactile feedback since the dial basically just presses "CTRL + +" or "CTRL + ]" when you're zooming or adjusting brush size. Without any feedback, I often overshoot and have to adjust backward, since there's a slight delay between the mechanical input and the digital output.
These are, of course, nitpicks. The very fact that it has a physical dial and eight programmable express keys already puts the Artist Pro 16 at the top of the heap. Its main competition either doesn't have a dial or, in the case of Wacom's current lineup of pen displays, no buttons whatsoever.
Overall, I was delighted by both the build quality and design of the new Artist Pro 16. Its solid metal construction and polished aesthetic put it right up there with much more expensive, high-end 16-inch and 24-inch pen displays that I've reviewed, and make it one the only pen displays I'd feel comfortable traveling with.
I genuinely hope that the entire Artist Pro lineup benefits from a similar shift in design and build quality moving forward.
Screen Quality
The screen on the Artist Pro 16 benefits from two big pros: it's fully laminated, and it boasts a surprisingly wide color gamut for an entry-level option that costs just $450.
"Full lamination" means that the touch layer of the tablet has been bonded directly to the LCD screen underneath, minimizing the distance between the surface that detects your pen input and the display itself. This helps to minimize parallax, which makes a huge difference when you're trying to do something precise like cutting out a selection using the Pen Tool.
As for the gamut, the Artist Pro 16 benefits from a very slight upgrade over the Innovator 16. Where the Innovator 16 claimed 125% sRGB, the Artist Pro 16 allegedly covers 133% sRGB. But these numbers need some explaining.
Without getting into the weeds, just know that XP-Pen and all of its competitors like to engage in the dubious practice of sharing gamut volume instead of gamut coverage because it makes their products sound better.
Gamut coverage maxes out at 100%: it literally indicates what percentage of a particular color gamut your monitor can actually produce. If any part of the sRGB color space falls outside of the display's native panel, then gamut coverage is less than 100% sRGB.
Gamut volume, on the other hand, takes into account how many colors the display can produce above and beyond the borders of a given color space, and it's expressed as a percentage that includes those additional colors. That means that a display can have less than 100% sRGB coverage while reaching well over 100% sRGB volume.
That's exactly what we have here.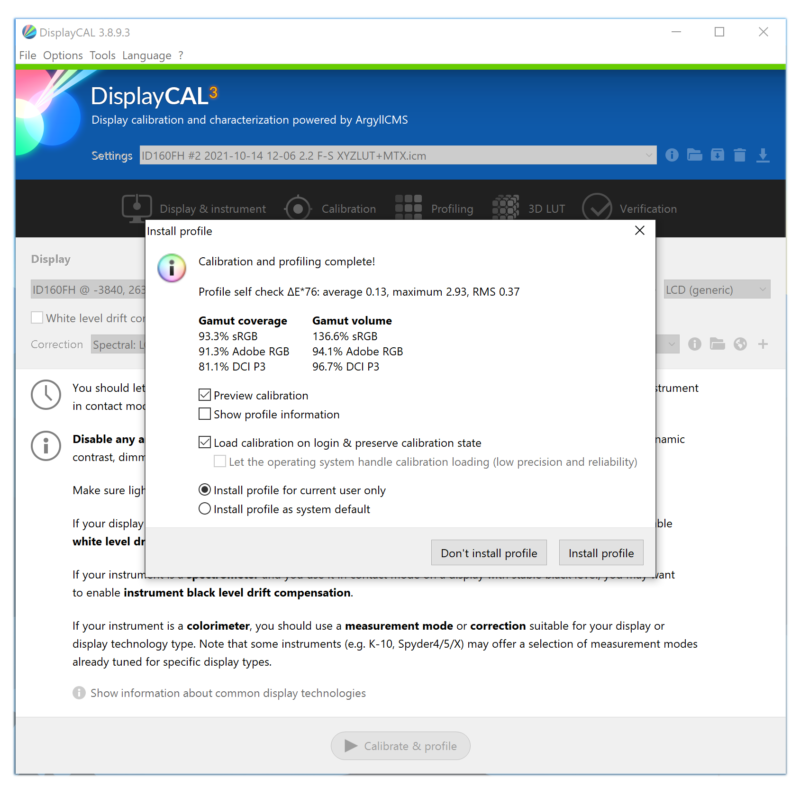 In our testing, the Artist Pro 16 was able to cover 93.3% sRGB, 91.3% Adobe RGB, and 81.1% DCI-P3 with a maximum Delta E of 2.93 and an average of just 0.13. That's a great result, especially at such a low price, but you can see why XP-Pen decided to report gamut volume instead of gamut coverage.
When you look at the panel's native gamut, you can see that the display's blue primary isn't saturated enough to show the most vibrant blues in the sRGB color space, even though it covers way more than sRGB elsewhere. That's why it can't quite hit 100% sRGB, not really: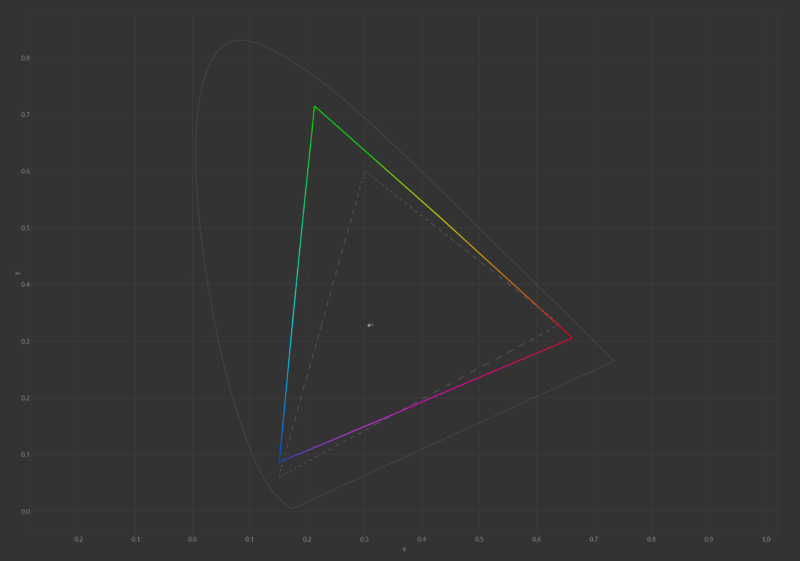 The other downside of this panel is the lack of control. You can only adjust brightness, so what you see is what you get when it comes to both color temperature and white point.
For our unit, the color temperature hovered around 6,675K and the white point was a bit off-balance towards the green. That balance gets better and better the lower we put the brightness, but I found anything less than 50 on the brightness scale was just too dim to comfortably use in a well-lit room.
For professional users, we would recommend picking one brightness setting, calibrating the display at that level, and then never touching this setting again. This will give you the best overall results. The display is more than accurate enough for web-based color-critical work in terms of Delta E, just be aware of its limitations in the blue region.
Stylus Quality
In addition to the slightly improved screen, the other new feature that sets the Artist Pro 16 apart from the Innovator 16 is XP-Pen's new X3 "smartchip" stylus.
I'll be honest with you, this upgrade alone is reason enough for me to go with the Artist Pro 16 over some of XP-Pen's other options. XP-Pen's other stylus is fine, but just like Wacom and Huion's EMR pens, it's kind of fat and uncomfortable for me to use. In contrast, the new X3 stylus is much thinner, sleeker, and feels a lot more like an Apple Pencil or the thin pen that comes with the Xencelabs pen tablet.
I find this form factor much more comfortable to use for long editing sessions, and XP-Pen claims that the X3 chip inside offers other benefits besides. Apparently, it produces a 10-fold decrease in initial activation force, bringing the IAF of this pen down to just 3 grams, and XP-Pen claims the chip is also more resistant to electromagnetic interference.
That second bit is actually interesting to me, as my standing desk mechanism has occasionally sent the cursor flying while I've been using some cheaper pen tablets. It's a niche problem to be sure, but anything that makes the pen more reliable is a bonus in my book.
In terms of real-world use, I honestly didn't notice a huge difference between this pen and any other pen display I've used. I'm sure if I had them side-by-side I'd notice some minor improvement in IAF, but for me, the biggest reason to praise the X3 smartchip pen is simply the improvement in form factor and reliability.
That, alone, makes the Artist Pro 16 a worthwhile buy over the slightly cheaper Innovator 16. Everything else is just spec sheet fodder.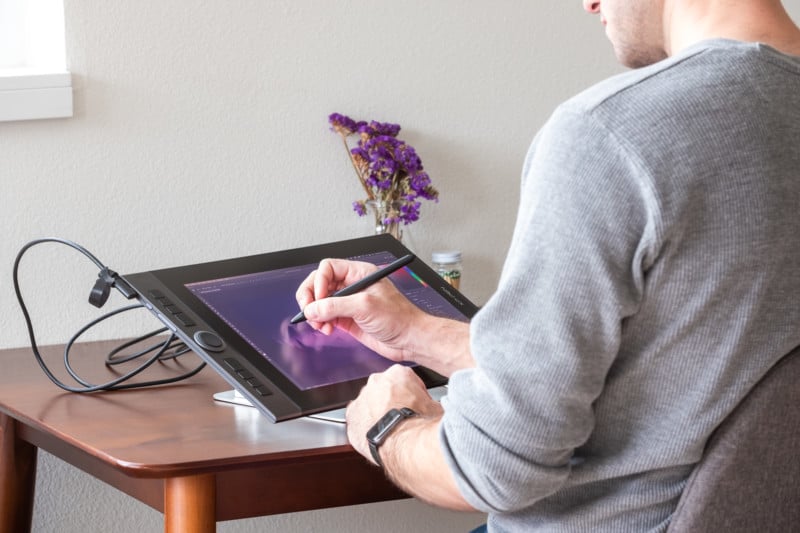 A Portable, Affordable Pen Display
Overall, I found the new Artist Pro 16 to be a near-perfect combination of portability and features at an irresistible price. I can certainly find things to gripe about, but the fact remains: for just $450, XP-Pen is selling a pen display that's more convenient and enjoyable to use than some $1,000 or $1,500 displays that I have available to me.
Pros
Thin, light and sturdy
Decent gamut coverage with excellent Delta E
Improved "X3 smartchip" stylus
Includes function keys, physical dial, and touch dial
Great price
Cons
Only 1080p resolution
No control over RGB gains or color temperature
Three-way cable is bulky and awkward
HDMI-only display connection
No included feet or stand
The more pen displays and pen tablets I use, the more I tend to value portability and customizability over size or resolution. Maybe that's why I enjoyed the Artist Pro 16 so much. Whatever the case, it delivers build quality, design, and performance that far outstrips its $450 price, and XP-Pen deserves to be praised for it.
For the first time in … ever? … it might actually be cheaper for photographers to opt for a high-quality pen display instead of a high-end pen tablet. That's awesome.
Are There Alternatives
In this price range, the main competition for the Artist Pro 16 is Huion's Full-HD Kamvas 16 and Kamvas Pro 16 or the Wacom One we reviewed last year. Unfortunately, neither of these options can compete in terms of build, design, or color gamut.
From there, the options quickly get more expensive. The Full HD Wacom Cintiq 16 offers slightly improved color gamut but it's not fully laminated, it's bulkier, and it costs $650; the Huion Kamvas Pro 16 4K and Kamvas Pro 16 Plus 4K are $830 and $900, respectively. Ironically none of these more expensive options offer a single express key or adjustment dial, forcing you to spend an additional $40 to $100 on a separate shortcut key remote.
For now, the Artist Pro 16's particular combination of features is hard to beat at its price.
Should You Buy It
Absolutely. Most photographers have probably never considered a pen display for their photo editing. For a long time, the cost simply outweighed any benefit that you might get over a traditional pen tablet like the trusty Wacom Intuos Pro line.
Options like the XP-Pen Artist Pro 16 turn that whole equation on its head.
For the first time, you can actually get a high-quality, rugged, ultra-thin, ultra-portable pen display for less than the cost of a good pen tablet. Whether or not you'd prefer this style of editing is for you to decide, but cost should no longer be a factor.