Manfrotto Move is a Ridiculously Good Idea and a Workflow Wonder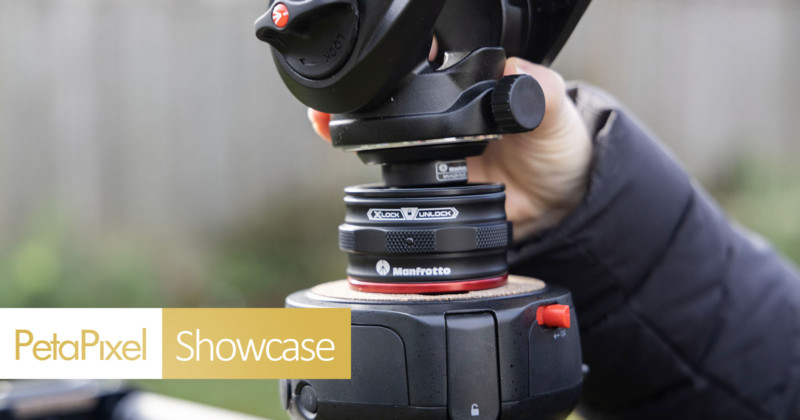 Manfrotto's Move system felt like a good idea when I first saw it in October: one small puck would play host to a quick-release system that makes it easy to swap tripod heads, legs, and more. After testing, it's even better than I expected and I can't believe it took someone this long to make a product that has been an absolute boon for on-set workflow.
Manfrotto sponsored this Showcase so that we could take a look at the Move ecosystem, and while everything in this story is made by Manfrotto, the beauty of the Move device itself is that it can fit into any existing system seamlessly with full compatibility thanks to a universal 3/8-inch thread connector and 1/4-inch thread adapter, allowing you to flow instantly between existing setups.
Designed around the idea of speed and versatility, the Move system was made by Manfrotto to make it easier for a hybrid photographer/videographer to adapt to the changing needs on set. Pitched as a way to quickly move from different types of tripods, sliders, gimbals, and other stabilization accessories, the Move is a tiny puck and quick release system that lives between any two points that need the ability to easily swap between one another.
Design and Build Quality
Below is the Move: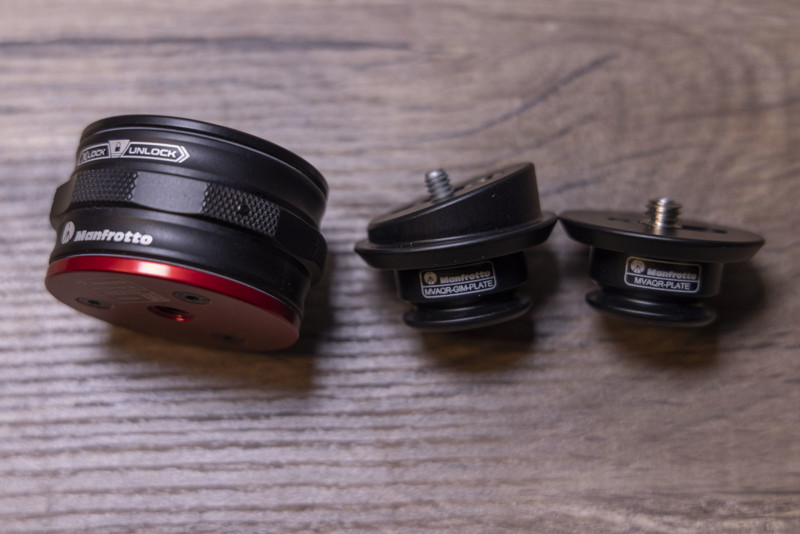 As you can see, it's not a particularly large device. It's only 2.36-inches wide by 1.18-inches tall and weighs a scant 220 grams (7.8 ounces). It's made entirely of metal (specifically, machined aluminum combined with hard anodizing for high-durability), so it's robust and strong enough to handle the rigors of repeated use on set, where tripods and other stabilization accessories generally take a beating.
The Manfrotto Move is ingenious in its simplicity. The larger "catcher," which I like to call the puck, screws into place on the base of a tripod, on a slider, or on a monopod and boom. The quick-release plate can then screw into place on the base of a tripod head, on the bottom of a slider, onto the bottom of a timelapse machine like a Syrp Genie, or even on the base of a gimbal. Basically, if it accepts a 3/8″-16 screw, the puck can attach to it (it comes with a 1/4″-20 adapter screw as well) and the plate fits on anything that takes 1/4″-20. The system is able to support a payload of 44 pounds, which is way more than most will need.
The system works like a charm. To attach any plate-equipped device, just drop it in the catcher and it automatically locks into place. You can screw the catcher closed to further lock it, but this was generally not required. The same dial can be twisted in the other direction to release any plate into the Quick Release system, and that pops it up out of the catcher quickly.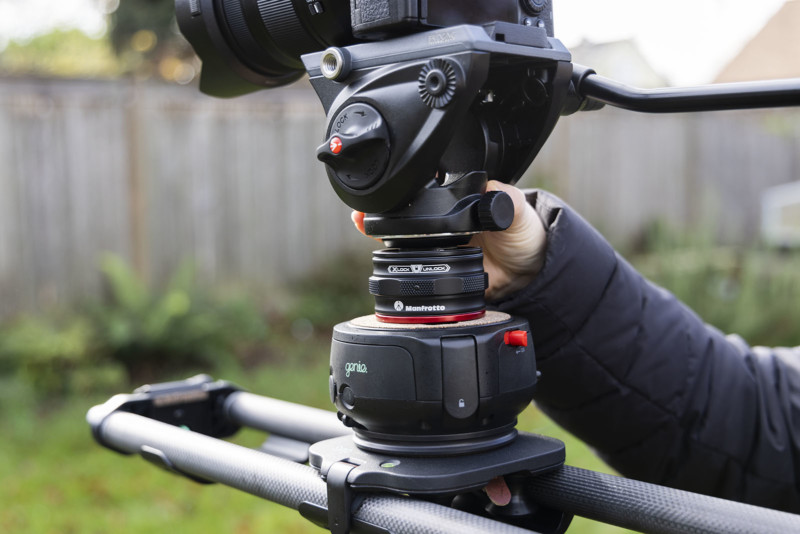 Not only does it work reliably, but the clicking action of locking a plate into place and the twisting action of popping that plate back out is incredibly satisfying.
When I ran my production company in San Francisco, we would regularly be tasked with capturing video footage, timelapses, and photos for jobs. That would mean multiple cameras, tripods, and plates that needed to continuously get swapped and moved around, and it also meant we had a lot of redundant parts. I had two or three fluid heads per shoot, for example, because I needed two on tripods for interviews and another on a slider for B-roll. On top of that, we would use the same slider to capture timelase footage, which meant we would be screwing and unscrewing heads from the same slider multiple times in the same day.
If that sounds confusing, it's because it was, and it was a major pain to do all of this and make sure we didn't forget to screw something tightly into place — which definitely happened on a few occasions.
If I had the Move back then, I would be able to dramatically simplify my workflow. Placing one capture puck on the slider would allow me to swap heads easily. I could use a ball head for my photo camera and then quickly and easily swap to the fluid head for video.
One of my favorite applications of the Move is with a gimbal. Manfrotto recently released what it calls the Gimboom, which is a thick monopod boom arm designed to hold the weight of a camera and a gimbal and go from ground level to an overhead position quickly, adding additional versatility and flexibility with its Gimbal. This lets you get unique, higher angles than you would be able to previously.
With a catcher on both the end of the Gimboom and on a set of tripod legs, I could pop the gimbal off from the resting position on a tripod and onto the boom to immediately get those angles. When done, I could just set the gimbal back on the tripod where it would be up and out of the way. While Manfrotto's gimbal and others on the market ship with their own collapsible feet, the Move feels a lot safer. Instead of having to set the gimbal on a table or on the ground (which is, let's be honest, really common), it can instead sit safely at eye level on the top of a tripod.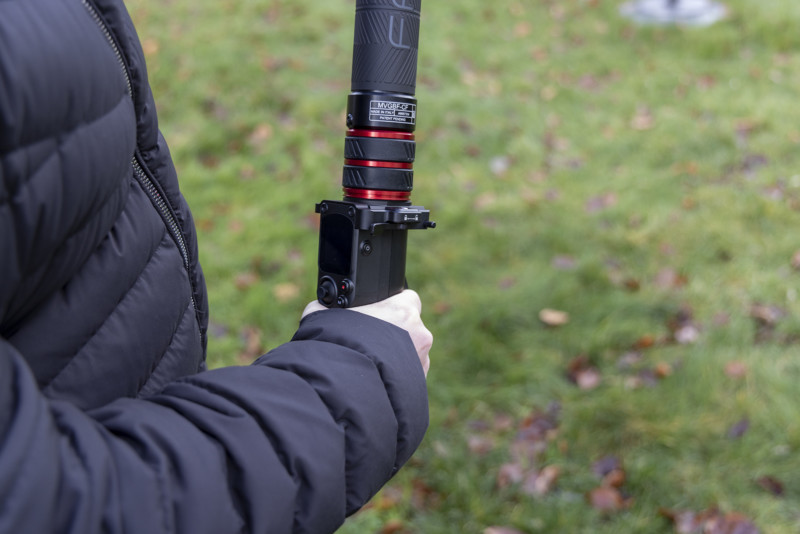 Could you do this before? Totally. Was it nearly as fast and easy to get it on and off the tripod? Nope. The Move just makes everything so much easier.
It is also worth noting that Manfrotto's modular gimbal allows you to detach the handle from the head and use it as a remote control that, thanks to its perfect integration with the Move, lets you set up and use it in additional, useful ways much faster and more easily.
One thing that I was concerned about was if the plate would rotate while inside the catcher and make it difficult to tell if I was using a fluid head or just rotating freely in it. Luckily, the catcher holds the plate securely, and while you can turn it inside the catcher, you have to give it a significant force to do so. Once you do the secondary lockdown twist, however, it doesn't move at all. Manfrotto says the Move is supported by an "Xlock" feature that increases the rigidity of the entire system when mounted and says that it's not just a simple accessory but something that can improve the performance of the entire kit. I can't find any reason to not believe them.
The other concern some might have is an issue my friends and I used to call "totem poling," which is when gear gets too tall on top of a tripod or slider which can make it susceptible to moving in the wind. The addition of the height from one Move unit isn't enough to cause this to happen in my opinion, but stacking two or more in a single system might cause this issue to arise. Luckily, the Move is really sturdy so it doesn't like to flex much even if you get a bit tall.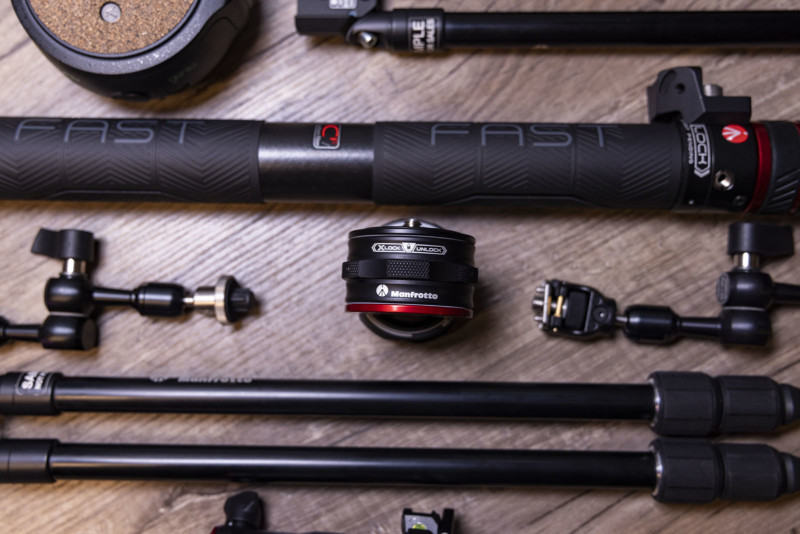 Where Has This Been All My Life?
Sometimes it's a shame that stories like this are sponsored because it might undermine the real opinions about how good something is. I hope that isn't the case for you reading this, because the Move is legitimately one of the most useful and downright revolutionary tools I've come across from an on-set workflow standpoint. The Move was our PetaPixel Photography Accessory of the Year for a reason.
If I still ran my production company, I would buy 10 of these and put them on every tripod, slider, jib, timelapse machine, and gimbal I owned. I absolutely love how easy the Move makes it to transition between accessories and it would have saved so much time and effort on set to more than cover the $100 cost of entry.
For additional examples of the Move in different use cases, make sure to check out our coverage from October.
---
Welcome to a PetaPixel Showcase, in which our staff gives you a hands-on with unique and interesting products from across the photography landscape. The Showcase format affords manufacturers the opportunity to sponsor hands-on time with their products and our staff, and it lets them highlight what features they think are worth noting, but the opinions expressed from PetaPixel staff are genuine. Showcases should not be considered an endorsement by PetaPixel.