Getty Photographer Shares A Look Back at 2021 in Photos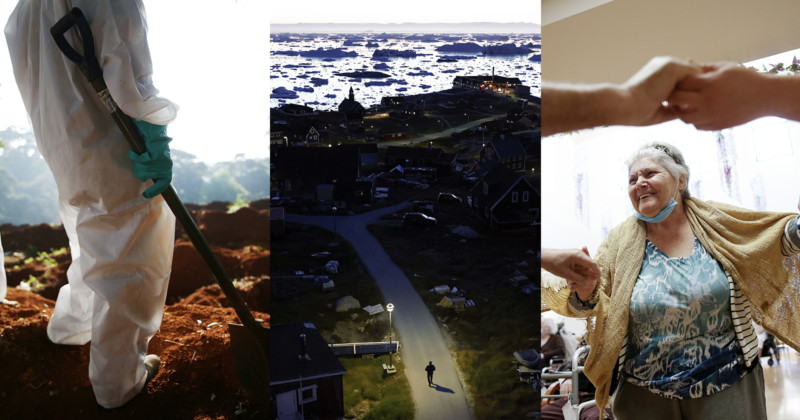 Getty photographer Mario Tama shares some of his thoughts and photos that he captured over 2021 that highlight a particularly impactful year as the planet began to emerge from the worst of the COVID-19 pandemic.
Tama is a Getty Images staff photographer based in Los Angeles. Mario joined Getty Images in New York in 2001 and has covered key global events including the attacks of September 11th, the wars in Afghanistan and Iraq, Hurricane Katrina, Superstorm Sandy, along with environmental issues in the Arctic, and above Antarctica. He was based in Brazil from late 2013 to early 2018 where he covered social and environmental issues surrounding the World Cup, the Olympics, and the Amazon basin. Since moving to Los Angeles in 2018, he has covered U.S.-Mexico border issues, wildfires and other climate-related issues, the eruption of Hawaii's Kilauea volcano, and the COVID-19 pandemic.
The 2021 experience covers a range of topics, from issues involving climate change, to the rollout of the vaccine, to the election and Capitol insurrection, to the return to in-person entertainment and events. As Tama looked back on the past year, the topics of climate change and the continued COVID-19 pandemic were the most prominent topics of his work. Below are his photos and his thoughts on each that look back over the last year.
---
As climate change became more of an urgent topic for us at Getty Images over the past decade, I became really interested in exploring the cryosphere, essentially the places on Earth where water is frozen amid the larger picture of our rising seas. In September of this year, I had the unique opportunity to document nine days at the end of the Greenland Ice Sheet's summer melt season. This image was taken from the rooftop of my hotel in Ilulissat and shows icebergs which calved from the Sermeq Kujalleq glacier. The sunset seemed to last for hours amid the long polar summer day, and I was able to wait for a pedestrian to walk beneath the streetlamp as dusk approached.
The genesis of the Greenland trip was a fairly unexpected opportunity to document a flight aboard NASA's Oceans Melting Greenland (OMG) research aircraft. Each summer, OMG releases around 250 probes from a modified DC-3 aircraft into the ocean to monitor the temperature and salinity of Atlantic subsurface waters around Greenland– data which cannot be captured by satellite. The campaign was wrapping up a six-year mission studying the ocean and glaciers along Greenland's 24,000-mile remote coastline with airborne and shipborne instruments. According to NASA, the goal of the mission is 'to figure out how much of Greenland's ice melt is caused by warming oceans.' This image was taken from aboard their aircraft and shows icebergs and light snowfall during one of their final mission flights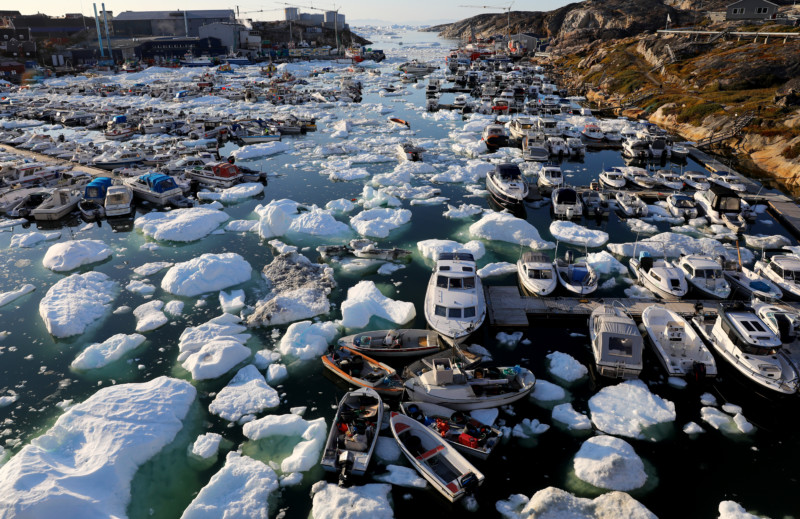 Melting glaciers, ice sheets, and sea ice help to drive up global sea levels and ice melt from Greenland is the single largest contributor on the planet to global sea level rise. More than 600 million people live in coastal areas which are less than 10 meters above sea level. This image was taken from a road overlooking the town's boat harbor. Earth is now suffering 1.2 trillion tons of ice loss each year.
The Arctic is a part of the Earth that few people get to witness, and I felt I had a responsibility to communicate that beauty and that fragility to our audience. The Arctic is sometimes referred to as Earth's refrigerator, and rain fell on the summit of Greenland's ice cap for the first time in recorded history in August; it was so unexpected there was no gauge to measure it. According to NASA, 5 trillion tons of ice have melted in Greenland over approximately the past 15 years. This image was taken from a drone in September.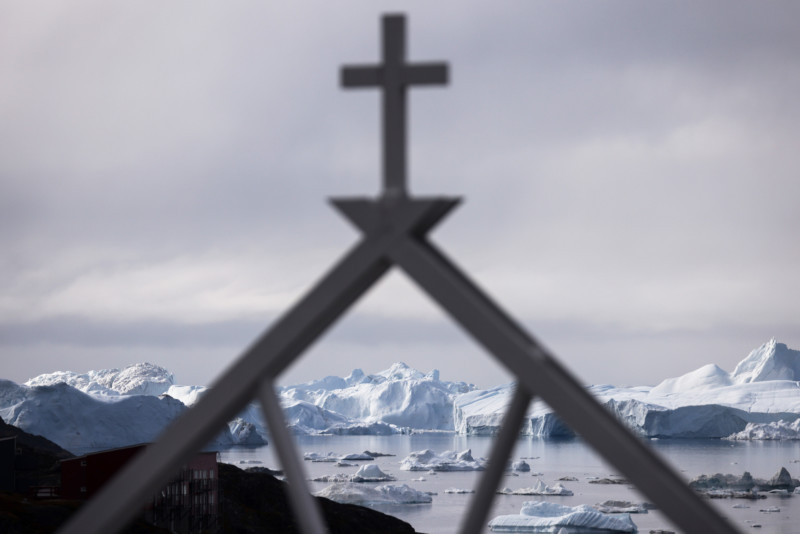 This is the story of our time and I believe we are obligated as photographers, and as humans, to bring to life all of the pieces of this giant puzzle of our warming planet. It doesn't matter how you vote or where you live, this affects everyone. We need to continue to make people aware that this is the emergency that climate scientists say it is. For me, I had the privilege to fall in love with nature as a child and I want people to fall in love with these threatened places the way I have. I believe photographs can make people curious–simply just by talking about climate, by photographing it, by sharing our images and making them ripple, photographers can raise awareness and make a difference
I met these gravediggers before sunrise at Vila Formosa cemetery in Sao Paulo, Brazil, and they graciously allowed me to follow their work until after sunset, as they buried 57 souls, 23 of whom were lost to Covid-19. Throughout my coverage of the pandemic, I hoped my images would inform, combat disinformation and offer documentary evidence, as well as educate future generations. I recalled a couple of Spanish flu pandemic images, and in my down time I tried to study them. Sometimes as a photojournalist you lose sight, amid the daily work of photography, of the larger picture of what you are bearing witness to, and I attempted to remain focused on the magnitude of the worldwide trauma we were collectively living through.
I am eternally grateful to all the first responders, nurses, doctors, family members, frontline healthcare workers and 'last responders' who have allowed me to document their battles and their courage on the frontlines of COVID-19. Some governments attempted to keep the reality hidden, and I felt it was our role as photojournalists to shine a light into the shadows. I'll never forget what an ICU nurse told me, when I asked her what she wanted the world to know, "You feel like a failure as a nurse because no matter what you do the patient dies. You can't linger in your sadness. You have to move on because there is somebody else just as sick."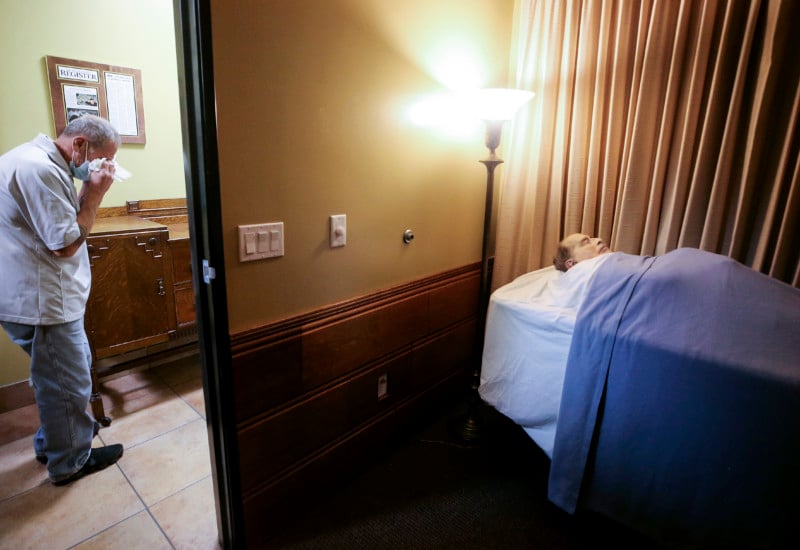 In February, I met Ken McKenzie in his mortuary amidst an overflow of the COVID-19 deceased in Long Beach, California. McKenzie opened his mortuary during the AIDS epidemic, while some of his friends were dying of the disease. He had openly received the bodies of AIDS victims without charging extra fees or turning away families. He shared a similar feeling that the public needed to see what was happening with COVID-19 and soon allowed me to document his work. He eventually introduced me to one of his clients, Mario Frausto, who had lost his husband Terrance to COVID-19. Mario gracefully allowed me to capture his final moments with Terrance in the mortuary.
Many talented Brazilian photographers captured Vila Formosa cemetery before I did, yet I felt it was critical to continue to document as a reminder that the crisis was and still is ongoing. Images are a universal language and whether we saw images of hospitals or cemeteries in Italy or Brazil or China or California, there was a human connection…and I felt it was important to continue to contribute to the global narrative. After long days of shooting in places like cemeteries, sometimes I would try to remind myself, if even just one of these images provokes one person to take precaution, to get vaccinated or wear a mask, the effort was worth it.
I first visited this nursing home on Christmas Eve as a devastating wave of COVID-19 hospitalizations swept across Southern California. Residents were not allowed to leave their rooms at that time due to COVID-19 protocols. For the kind folks at Ararat Nursing Facility, the clouds began to lift when the first doses of the vaccine were administered to residents in early January, which I documented. Their team was kind enough to invite me back to photograph their first social event — an Easter concert on April 1. The concert was set to the sounds of traditional Armenian music and the joy as well as the relief was palpable in the smiling faces and dancing feet of these vaccinated survivors of the pandemic.
---
Image credits: All photos by Mario Tama and provided courtesy of Getty Images.